Melanie Brooks was part of the CARE team that responded to the Indian Ocean Tsunami in Aceh, Indonesia. Ten years ago, she met Lia* and her family, and met with them again just a few weeks ago. 
13 October 2014
Today is Lia's 12th birthday. When I first met her after the tsunami, she was two years old, and she was dying.
"I remember when we first met," Nuraisyah said, sitting in her new home. "Lia was so sick. I was so sad, and so scared. We were living in tents. Will she be cured or not? And I thought the worst – what if she died? Then after meeting with the doctor from CARE Lia got treatment, and gradually I gained hope for her recovery. Bit by bit, the swollen belly got smaller and smaller, and she got better. It was a dream come true."
Today, Lia is a soft-spoken but confident girl, second in her class and with plans to become a teacher. Her favourite subject is English so she takes the chance to practice with me: "What is your name? My name is Lia," she says in a clear voice, then collapses into giggles as her family claps proudly. I'm clapping too – I can't believe that this is the same frail, sick little girl I met almost 10 years ago.
We are sitting in the family's permanent home that was built by CARE. This year, they finished an extension on the back of the house: a kitchen with high ceilings and a smooth cement floor. Outside, life goes on in a busy little community of streets and houses built by CARE for tsunami survivors who lost their homes.
"Things are better now. Life is normal. My family is all here. If someone asks us where we live, we say "CARE housing", and everyone knows it. It's the name of our neighbourhood now," she says, and the family members and neighbours who are sitting around her laugh and nod.
"Once in a while, we remember the tsunami," Nuraisyah says softly. "We remember the old village. But mostly, we don't think of it. There's nothing to worry about, because we can't change it. But we can be grateful for what we have."
20 November 2006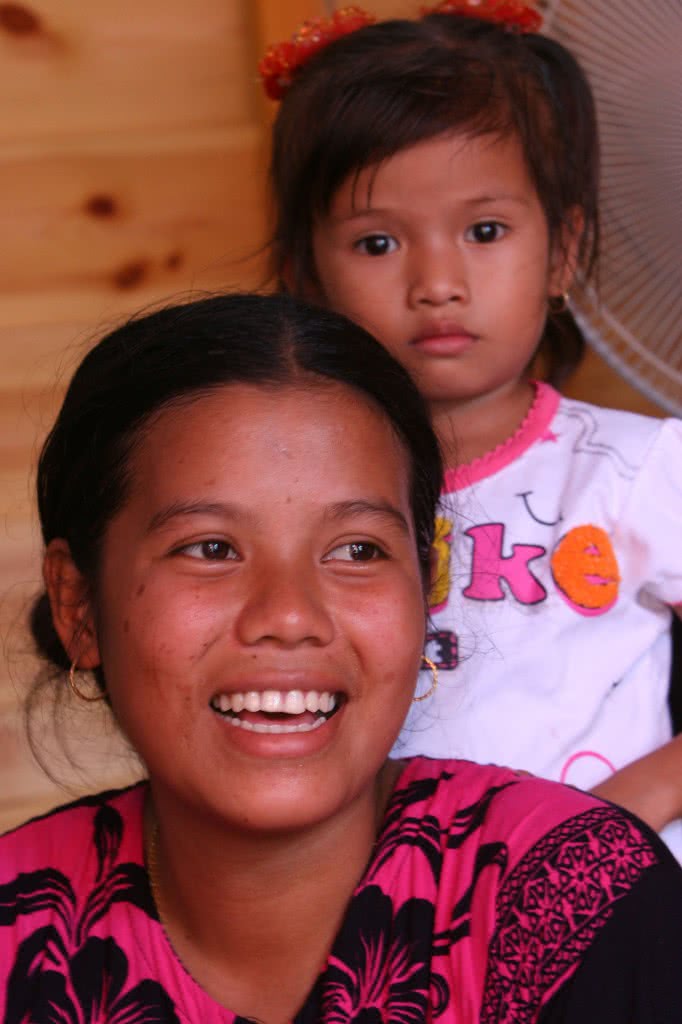 A little girl runs up the stairs to her house, yelling that she's hungry. Just back from kindergarten, four-year-old Lia has spent the morning playing with children, tsunami survivors like her, who have moved with their families to a temporary new home.
Nuraisyah and her husband, Ismail, live with 244 other families in a transitional village while they wait for their new, permanent homes to be completed.
CARE's work rebuilding their homes is nearly complete – tidy rows of houses are nestled into the green hills, waiting for the final touches and hook-up to the main water supply before their new owners can move in. The new site is already starting to feel like a community – a small restaurant, coffee shop, corner store and tailor have been established.
Community members attend CARE skills training sessions and open small shops out of their homes, eager to earn an income again. Former fishermen learn how to farm, and women learn how to run businesses for the first time. CARE organises sports and cultural events, helping the new community members learn to trust each other, work together and return to a normal way of life.
Nuraisyah is looking forward to moving into her new home soon – she is pregnant and expecting her baby to arrive in December. The meaning of the date is not lost on her, she tells me "This year, December 26 will be a happy day."
5 February 2005
Lia cries, pushing the cup of warm milk away, her tiny face crumpling, her hand listlessly tugging at her mother's shirt.
She is two years old, and weighs just 7kgs, almost 5kgs less than an average child her age. Her belly is stretched, taught and round, in stark contrast to her painfully thin arms and legs. After the tsunami, her mother wasn't able to get enough food to feed her, so Lia started losing weight.
"I tried to do everything I could, but she still got sick," said Lia's mother, Nuraisyah.
Dr. Endang, a CARE doctor showed Nuraisyah how to mix a high energy milk solution to feed to her every two hours, and give her vitamin A supplements and a box of high-protein, vitamin-packed biscuits.
If she continues the treatment, she should start to put on weight soon. Amidst all the trauma her family has experienced following the tsunami, malnutrition is one I hope we can alleviate.
 *CARE is committed to being a child safe organisation. Names of children have been changed.