Our media team is always available to help with interviews, comments, information, case studies and photographs.
If you are a journalist, we have a number of experts who are available to discuss any aspect of our work. Our areas of expertise include emergencies, gender equality, women's empowerment, sexual and reproductive health, climate change, food insecurity, education, health and human rights.
We are happy to discuss interview requests from media students, but we do receive many of these requests and may not always be able to assist you.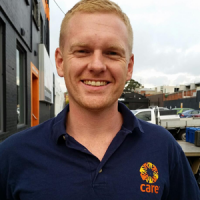 Sam Bolitho, Senior Media Advisor
Sam focuses on humanitarian emergencies and CARE's work in South Sudan, Papua New Guinea, Timor-Leste and Vanuatu. Sam is a former ABC journalist who reported on Asia and the Pacific for the network's television, radio and online news services. He has previously worked in Indonesia, Vanuatu and Solomon Islands. He speaks Solomons Pijin, Vanuatu Bislama and basic Bahasa Indonesia.
Phone: +61 419 567 777 Email: sam.bolitho@care.org.au Twitter: @SamBolitho
Nerida Williams, Media Advisor
Nerida focuses on CARE's development and humanitarian work in the Middle East and Asia and manages PR for CARE's major campaigns – Walk in Her Shoes and CAREGifts. Nerida has previously worked in media and communications in the UN and INGOs in South Africa, Ghana, Nepal, Somaliland, Lebanon and the United Kingdom.
Phone: +61 412 449 691 Email: nerida.williams@care.org.au Twitter: @NeridaJocelyn