Global Hunger Crisis
Global Hunger Crisis
It's women who eat least and last
It's women who eat least and last
It's an absolute injustice that in a world which has enough resources to feed everyone, 828 million people are hungry right now. For women and girls, there's a double injustice. Their gender means they bear the brunt of the worst effects of hunger. 
Right now around the world, hunger is a threat to women's lives, safety, their choices and their opportunities. But it's women who hold incredible power and potential when it comes to ensuring a community's health and wellbeing.
We must act now. Your urgent gift today will show your support for the survival, skills and potential of women and provide the tools and resources they need to help feed themselves, their families and even entire communities.
We must invest in women today for a future tomorrow. Please GIVE NOW.
Nurta's story
Nearly eight million people in Somalia now suffer severe food shortages. Nurta once owned a herd of 100 cows and 80 goats. But years of brutal drought and a locust plague destroyed the pastures. There was no water, and no food for animals. Or people. 
With no way to feed her children, Nurta left their home in search of food and water. When they arrived at a camp for displaced people, pregnant and exhausted, she was seriously unwell.
"My body was weak and getting weaker every day. I had lost fat and muscle from hunger, I was unable to walk or do my daily chores." 
Even months after arriving at the displacement camp, Nurta was still too weak to walk, "so they drove me to the health centre to get medical care."
Fortunately, Nurta reached the CARE supported Dhobley Health Centre in time to save her life. She was given medicine and nutrient-rich food supplements, and she regained enough strength to deliver her baby. 
Nurta's situation is unthinkable. Yet it is being played out all over the world as climate-driven extreme weather and conflict continue to create severe, life-threatening hunger.
But you can help. A gift today could help deliver food and crucial support to women so they can save not only their own lives, but their children and families.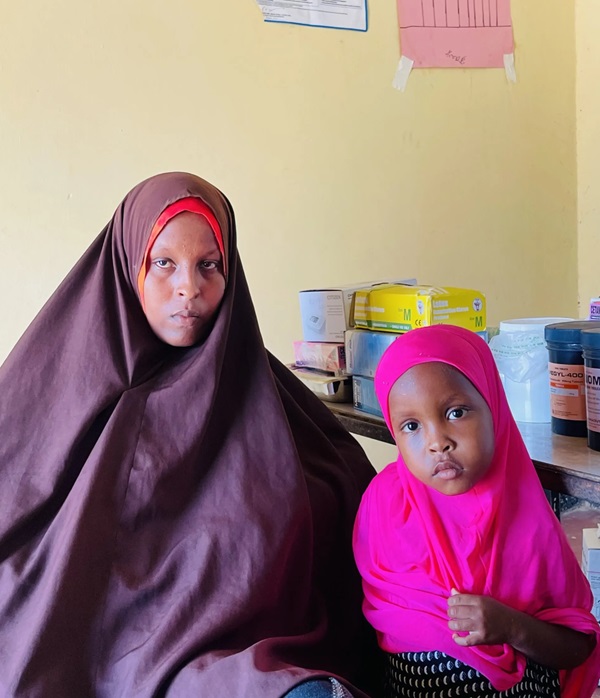 © Saddam Mohamed/CARE – Nurta Hassan Hussein, 25, at the health centre in Dhobley with her oldest child.
Donate by phone
Call 1800 020 046 toll free and pay by credit card.
Donations over $2 are tax deductible.
Your donation will go where it is needed most at this time. It will support women who are working hard to defeat poverty and build better lives for themselves and for their families and communities.