Where the money goes
Where the money goes
The impact of your donation
The impact of your donation
How much money goes to charity when you donate?
We strive to be one of the most transparent charities in Australia.
When you donate your hard-earned money to CARE Australia, we work hard to ensure your charitable donation has the biggest impact, with complete transparency.
On this page you'll find information about the impact of your donations, if you're looking for more information or for something that isn't listed below, please check our annual reports or contact us.
CARE Australia is primarily dependent on generous support from the Australian public and the Australian Government to continue our vital work.
We thank our 22,785 donors who contributed $12.3 million to our work over the past year. Every dollar counts. And that support helped us generate a further $65.4 million from other sources. It's through the incredible generosity of Australians that we were able to directly assist more than 1.44 million people across 14 countries.
The impact of your investment
In 2021/22, CARE Australia spent:
89% of total expenditure on our development, resilience and humanitarian programs, including education programs in Australia to raise awareness of poverty overseas
6% of total expenditure to raise future funds
5% of total expenditure on accountability, administration and our talented people.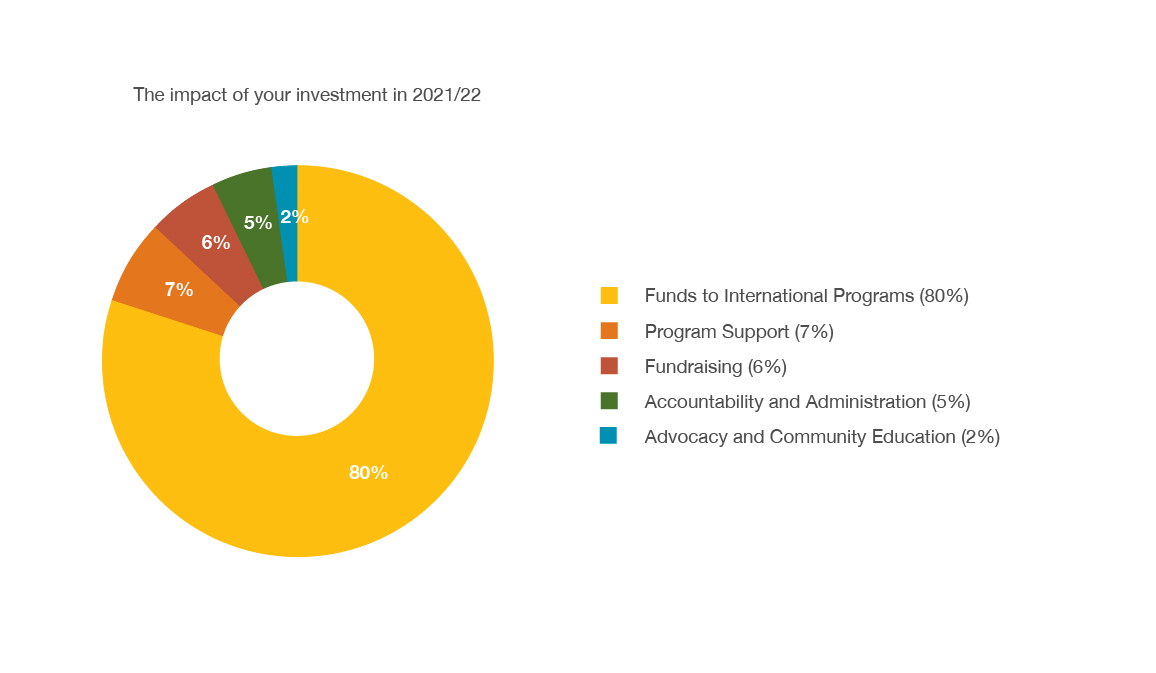 A charity with full disclosure on money spent
Funds to International Programs includes Development and Resilience Programming, which are the funds we invest in supporting local communities to run long-term development programs, the logistics required, and the costs of expert programming staff to ensure the impact is maximised. Also in this category are funds spent on Emergency and Humanitarian Action which are the lifesaving measures taken to support women and marginalised groups to anticipate, prepare for, respond to, and recover from natural disasters, conflicts and economic shocks. It includes disaster readiness and risk-reduction measures like training and prepositioning of supplies, support given to people in times of crisis, as well as the logistics required, and the costs of expert humanitarian staff to ensure the impact is maximised.
Program Support includes the experts and advisors who deliver training, guidance, oversight, and evaluation of project initiatives and urgent emergency action by CARE Australia, as well as the costs of staff who are employed by the CARE International confederation to more cost-effectively provide services and expertise to all of its members — all in the name of maximising impact for the women we work with.
Fundraising is how we secure donations, grants, and investments from long-term supporters. It covers the costs of our expert fundraising staff, our efforts to acquire new donors, and the provision of supporter care services — all of which help ensure our critical programming and advocacy can continue into the future with as much impact as possible.
‍
Accountability and Administration refers to many of the costs required to ensure CARE Australia remains a strong, innovative and accountable organisation with a team capable of achieving our goals. This includes investments in infrastructure, technology and cybersecurity, human resources, finance and accountability, quality assurance and risk management, as well as the costs of our key leadership, administrative and support staff — in effect, the costs of ensuring that we operate in impactful and effective ways.
‍
Advocacy and Community Education supports local partners to tackle inequality at a community level as well as petition for change. It also ensures members of the public in Australia and around the world are aware of social justice issues and the ways to overcome them, and are able to do their part.
A charity with low administrative costs
We work as hard as we can to get as much value out of every dollar we spend — and we spend them very wisely: on building strong and trusting partnerships with local organisations where there is mutual respect, shared values and a joint mission of working to overcome all of the reasons that keep women in poverty.
And our fundraising and administration investments are extremely important – our expert staff, strong accountability measures and computer infrastructure are critical investments and all contribute to a better organisation and better aid outcomes.
Reach and spend are important indicators of efficiency, but to show true impact, we complement these with other measures which show real, positive and lasting change to women and their communities. Read our full annual report for some inspiring stories of how your donation is having an incredible impact.