Turkey & Syria Earthquakes Appeal
Turkey & Syria Earthquakes Appeal
Donate Now to help Turkey & Syria Earthquake Emergency Survivors
Donate Now to help Turkey & Syria Earthquake Emergency Survivors
Massive earthquakes hit Turkey and Syria
Two massive earthquakes have struck in Türkiye, leaving hundreds of thousands of people there and in northern Syria in desperate need of support. Tragically, more than 45,000 lives have been lost, entire towns have been flattened and countless families have lost everything and are facing homelessness in the bitter cold right now. 
For those in Syria, this tragedy comes on top of 12 years of civil war, and an already unimaginable level of suffering. We urgently need your support to save lives before it's too late. 
Please give now to provide emergency aid including food, shelter, water and other lifesaving supplies to those affected by the earthquakes. 
Emergency in Türkiye & Syria
"Women and children have not been spared," says Sherine Ibrahim, CARE Türkiye Country Director. "To have an earthquake impact their tents, their lives, their nutritional status, and their mental health is devastating."
Tents, mattresses, blankets, food, drinking water, baby items and warm clothing are CARE's immediate priorities – and we need your financial support to procure them from suppliers in the affected regions and get them delivered as quickly as possible.
"We're in dire need of immediate support," says Sherine Ibrahim. "In the form of financial assistance to make sure that those who are out in the cold are able to find warmth, those who are hungry are able to eat, and children who are already suffering from malnutrition are able to survive."
CARE Turkiye Deputy Country Director on ABC News Breakfast
What is CARE doing?
CARE responded to the emergency immediately — working with partners and local municipalities to urgently deliver tents, mattresses, blankets, food, drinking water, baby items and warm clothing.
So far we have reached more than 411,000 people across Türkiye and Syria with lifesaving assistance. 
CARE has worked in Türkiye (previously known as Turkey) since 1959 and in Syria since 2013. Today, Türkiye hosts the highest number of refugees globally, with millions of Syrians fleeing to Türkiye since the beginning of the conflict in 2011. The Turkish Government has requested international assistance and our colleagues in the region are coordinating with authorities in the impacted countries to deliver essential supplies to those affected.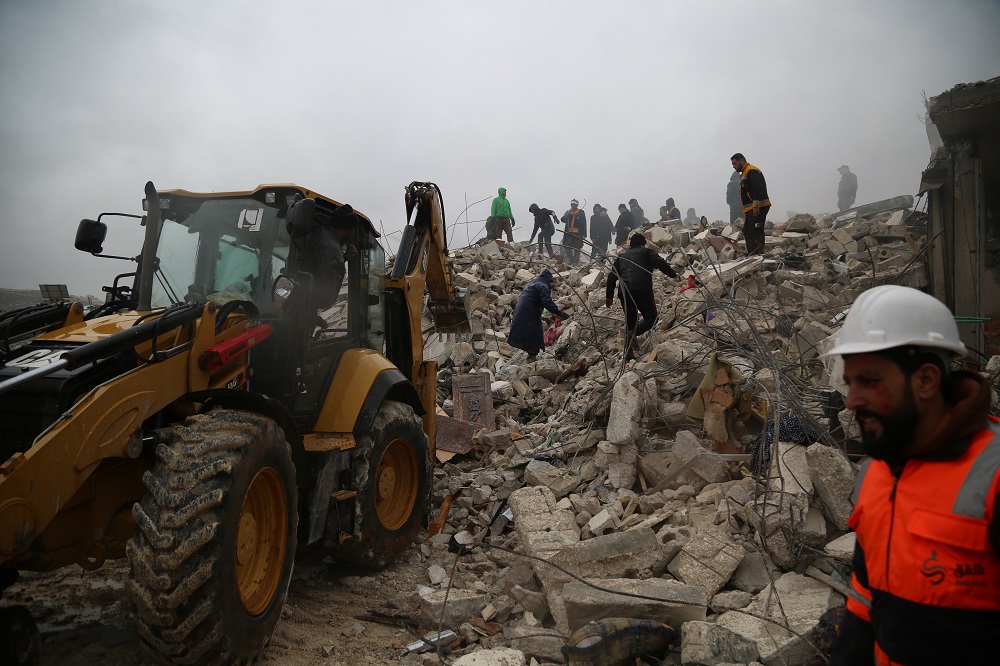 What is the situation in Türkiye and Syria?
An earthquake of magnitude 7.8 on the Ritcher scale struck Southeast Türkiye and parts of northern Syria in the early hours of 6 February 2023. A second earthquake of magnitude 7.5 was then recorded in the afternoon, 100km to the north of the epicentre of the first earthquake, impacting areas in central Türkiye and beyond. More strong aftershocks followed.
Tens of thousands of lives have been lost and countless people have lost their homes and their livelihoods. Most of the damage has occurred in southern Türkiye, home to most of Syria's refugees, and in Northwest Syria – especially Aleppo and Idlib, where millions who have fled the country's conflict now live.
A CARE-supported maternity hospital in north-west Syria has shut down and been completely evacuated, limiting services available to mothers and newborn babies.  
Many children have been separated from their parents and are being found unaccompanied by any adults.
Limited fuel and the extensive damage to roads and infrastructure is making search and rescue efforts extremely challenging – as are the harsh winter conditions.
What is CARE doing to help Türkiye and Syria?
Prior to the earthquakes, CARE and our local partners were already helping refugees and displaced people in both countries battle the harsh winter conditions – delivering blankets, food, drinking water, mattresses, tents, and other essential items. Using these existing systems, we were able to immediately collaborate with our partners to:
conduct search and rescue efforts 

remove debris

provide food, water and financial support to affected families

distribute tents and shelter materials

supply fuel to hospitals and health centres

equip women and girls' safe spaces with basic needs.
How long has CARE been working in Türkiye and Syria?
CARE has been operating in Syria since 2013 and in Türkiye since 1959. We have relationships with partners in both countries who are best placed to respond to supply shelter, food, water and other vital supplies.
Will my donation help the people affected by the Türkiye & Syria earthquake crisis?
Yes, funds raised through this Emergency Appeal will support those affected by the crisis in Türkiye and Syria. Your donation will help CARE and our partners provide immediate lifesaving support to those affected.
Can I donate physical items to help those in need?
It's natural to want to donate things like clothes, blankets, toys for kids or other helpful things that you may have. And whilst that's extremely kind and thoughtful, there are a number of reasons why CARE Australia is unable to accept donations of physical goods or items. Transportation and shipment of goods is a costly exercise at the financial burden of CARE Australia. 
The best way to help is through financial contributions, which can be used immediately to purchase critically-needed items locally – this helps people faster and also supports local businesses and suppliers.
Donate by phone
Call 1800 020 046 toll free and pay by credit card.
Donations over $2 are tax deductible.
Should the funds raised through an emergency appeal exceed the amount required to meet the immediate and longer term needs of the people in the affected areas, or if there are changes in circumstances beyond CARE's control which limit its ability to utilise all funds in the affected areas, CARE will direct excess funds to other emergency relief activities in the future.
Monthly donation will go to emergency relief & preparedness activities where it is needed most.
Photo by Muhammed Furkan Arslanoglu/Depo Photos/ABACAPRESS.COM/AAP.
Please note: As the UN accepted Turkey's request to change its official English name to the Turkish spelling, the CARE office in Türkiye has also shifted its official title to CARE Türkiye instead of CARE Turkey.