Fundraise for CARE
Fundraise for CARE
Fundraising for CARE is one of the most powerful contributions you can make to helping poor communities overcome poverty
Fundraising for CARE is one of the most powerful contributions you can make to helping poor communities overcome poverty
Join our CARE Community and become a community fundraiser! There are many ways to raise money and learn more about CARE, from taking part in a fun run to hosting a quiz night or cake stall.
With so many events on the fundraising calendar, where ever you are, you can run, cycle or swim to help support women and girls in impoverished communities.
Run, swim or cycle for CARE!
Fun runs, marathons, bike rides and triathlons are just some of the ways you can support our work.
Not only will you have CARE Australia cheering you on, we'll help you stand out from the crowd by supplying you with an eye-catching CARE t-shirt!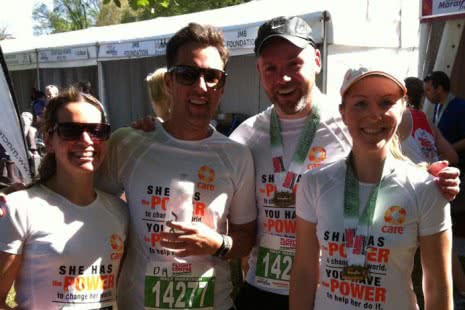 There are plenty of events to choose from in your area, just register and select CARE Australia as your charity of choice and email us at fundraise@care.org.au to let us know you're taking part!
Organise your own event
Want to organise your own quiz night, hold a bake sale or set your own individual fundraising challenge?
It's easy – just follow these simple steps:
Decide what you would like to do and when
Contact us to let us know your ideas and we can help you set something up! Email us at fundraise@care.org.au!
Alternatively, you can set up an online fundraising page on everydayhero, My Cause or Go Fundraise
Tell everyone about it! Send out your fundraising link via email and Facebook inviting friends to your event, or asking for sponsorship for your challenge
Don't forget to thank everyone that donates – and remind those that haven't!
Have fun with the event/challenge – and we'd love to hear all about it!
Our dedicated Community Fundraising team are on hand to answer any questions you may have and provide support in helping you reach your fundraising goals.
Email us at fundraise@care.org.au. You should also check out our CARE Australia Fundraising Terms & Conditions.
Walk in Her Shoes
Since 2011, more than 20,000 people have taken CARE Australia's Walk in Her Shoes challenge. Together, you've raised almost $4.5 million to help reduce the distance women and girls have to walk for water.
Be the first to know about CARE's next exciting challenge. Click here to register your interest.