Fundraise for CARE
Fundraise for CARE
Fight poverty and help create a more equal world
Fight poverty and help create a more equal world
Join the CARE Community – start fundraising today!
CARE Australia is a leading international aid organisation that works around the globe to save lives and defeat poverty. We know we cannot overcome poverty until all people have equal rights and opportunities.
By fundraising for CARE, you'll be making an amazing difference to improve the lives of people living in poverty around the world.
Organise your own fundraising event
Want to organise your own quiz night, hold a bake sale or set your own fundraising challenge?
Join us now. Set up your fundraising page today.
Join a challenge
Fun runs, bike rides, triathlons, walks and obstacle races are just some of the ways you can support our work. There are hundreds of events around Australia, so wherever you are, you can run, cycle or swim to fight poverty and create a more equal world for everyone.
Once you've registered for your chosen event, set up your personal fundraising page. Not only will you have CARE Australia cheering you on, we'll help you stand out from the crowd by sending you a great CARE t-shirt! Call us on +61 3 9009 7124 or email fundraise@care.org.au to tell us your address and shirt size.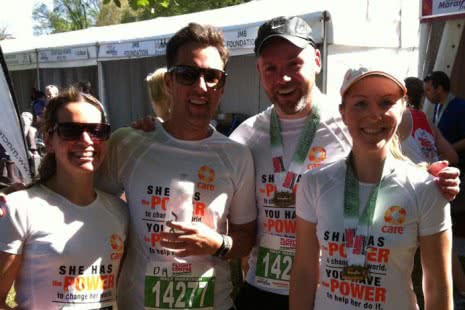 Fundraise for families in emergencies and crisis
The world's poorest people are the most vulnerable to natural disasters, war, famine, and outbreaks of disease.
When an emergency strikes, the first response is crucial. You can make a huge difference by raising money to provide lifesaving food, shelter, clean water and medical care to families who need it most.
Set up your personal fundraising page today to provide urgent support.
We are currently responding to emergencies all around the world – read more here.
Fundraise in celebration
Celebrating a significant event, such as a wedding or milestone birthday, is a time for reflection on the good fortune that has come your way. If another toaster is the last thing you need, ask your friends and family to make a donation to CARE instead.
Set up a personal fundraising page including photos and a personal message to help celebrate your occasion in the most generous way possible.
Walk in Her Shoes
Since 2011, more than 20,000 people have taken CARE Australia's Walk in Her Shoes challenge. Together, you've raised almost $4.5 million to help reduce the distance women and girls have to walk for water.
Be the first to know about CARE's next exciting challenge. Click here to register your interest.
We're here to help!
Our dedicated Community Fundraising team are on hand to answer questions and provide support to help you reach your fundraising goals.
Email us at fundraise@care.org.au or call +61 3 9009 7124. For more information, please read CARE Australia's Fundraising Terms & Conditions.