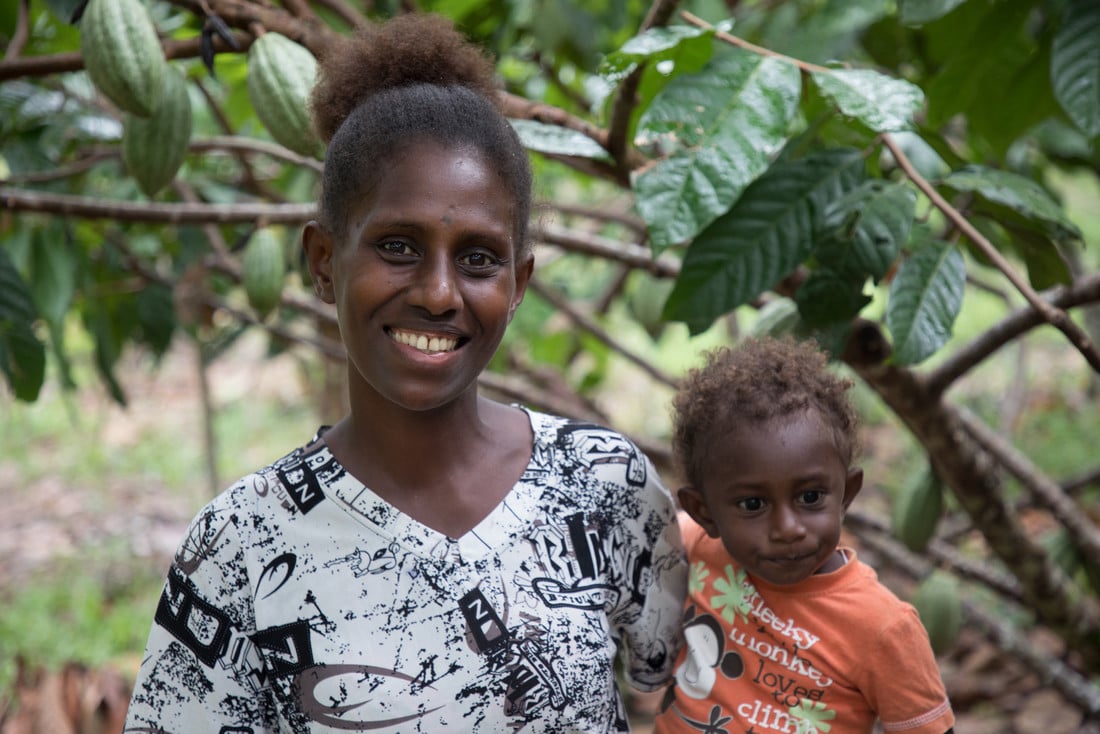 In Bougainville, Papua New Guinea, the vast majority of cocoa comes from small family-run farms. But it's hard work, yields are small, and farmers have few opportunities to sell their crop at markets.
Cocoa farmers Marlena and her husband Mishael have been working tirelessly to support their children, but have struggled to make a living from cocoa, and to save enough money for important expenses.
That is, until support from our generous donors made big changes possible!
CARE works with local cocoa businesses, co-operatives, and farming families like Marlena's to strengthen the network of coffee growers and buyers. This includes teaching new farming skills, and increasing the involvement of women in decision-making.
CARE also provided Marlena with tools to help her farm, and together with her training, she nearly doubled her yield!
"Before, we used to harvest half a 50kg bag, but now we harvest nearly two bags of dry beans!"
CARE also teaches couples to share household chores more equitably between men and women, breaking down cultural gender norms. The extra hands are making light work!
"We have seen big changes. We no longer see jobs as men's work and women's work – I help my husband on the farm because CARE trained me, and he helps me with the household chores."
With new skills in book-keeping and shared decision-making, Marlena can prioritise the family needs and put money into savings for important expenses.
"We would like to build a permanent house for our family, and for the kids to do well in school and go to university," says Marlena.
The success of Marlena's farm is a testament to the hard work and increased efficiency that's possible when working together. The rest of the community now benefits too as she and her husband share their new knowledge as model farmers.
"We train other farmers in the skills CARE taught us. It is a very important job because it can change the lives of the families when they learn these skills," she says.
Thanks to our generous supporters, an entire community is benefitting from one family's small but impactful changes, demonstrating that anything is possible with the right knowledge and a willingness to share the load together.
"As a family we want to express a big thank you to CARE for the training and skills. Now we can prosper!"
Read more about CARE's work with families in Papua New Guinea.