Support Her Circle with a donation and help women create lasting change for themselves and their communities.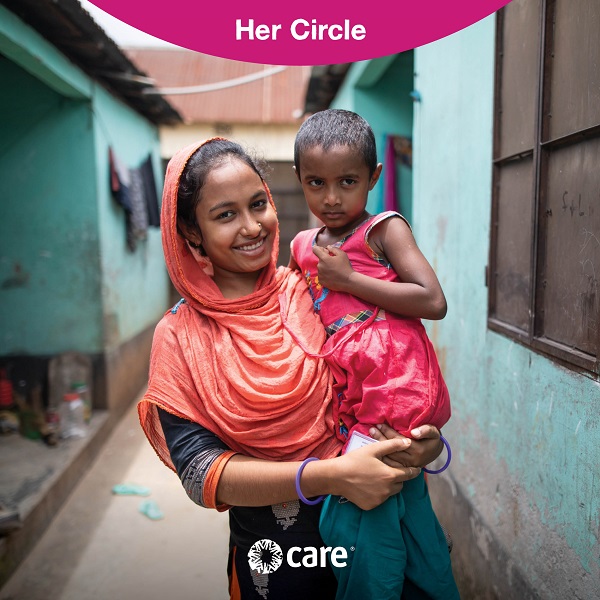 CARE Australia works with local communities to provide opportunities for women to earn an income, access their fair share of resources, lead and participate in decisions that affect their lives, and withstand the impacts of disasters and crises.
Make an individual or group donation
Bring together your friends, book club, or workmates to support Her Circle with a donation. There are countless ways you can fundraise in a group; from a gold-coin morning tea or lunch, to setting up a fundraiser on Facebook. You can raise funds to support leadership programs, training and opportunities for women to lead their communities out of poverty.
Your donation in action around the world …
The

STOP Sexual Harassment

project has tackled sexual harassment in the garment industry across the Mekong region.

Village Savings and Loans Associations

have enabled women to save for the future and overcome financial hardships together.

The

Boosting Coffee Production

project in Papua New Guinea has trained female coffee farmers to increase their yield and income.

Leftemap Sista

has delivered leadership and skills training for women in Vanuatu.

EMERGE

has supported migrant women in Cambodia, Laos, Myanmar and Vietnam to participate and lead in their communities.
The Multiplier Effect
All over the world, we have seen women reinvest significant amounts of their income back into their families — and when a woman speaks, she speaks for others too. When she escapes poverty, she brings four others with her. We call this the 'multiplier effect'.
The multiplier effect is based on decades of research from around the world that all concludes the same thing: even though women are the most impacted by poverty, they are also the key to overcoming it. 
Our experience shows that when women are healthy and educated, their family will be too. When women earn an income, they invest it in the health and education of their children and families. It's why we must clear the way for women to claim their fair share of resources, opportunities and decision-making power in order to create lasting change in their lives — and in the lives of the people around them.
All a woman needs is the right opportunity.
Images: © Jorja Currington/CARE, © Kishka Jensen, © Sincerely, Alexia Rae/WIBDI/C, © Georgina Ishmael/CARE, © John Hewat/CARE, © Ben Calvert, © Valerie Fernandez/CARE, © Luis de Araujo/CARE and © Douglas Diave/CARE.
Ambassador images: supplied.
Donate by phone
 Call 1800 020 046 toll free and pay by credit card.
Donations over $2 are tax deductible.
Your donation will go where it is needed most. You are helping families living in poverty and together, we can transform lives and create a better world for all.