By CARE Australia
For 30-year-old Isabel, feeding her family is a daily struggle. There is a lot to do – farming, cooking, collecting water and firewood, and making the four hour walk to the market to sell vegetables grown in their home garden. It's physical work and it's a family effort – everyone who is old enough must help.
Despite the many hours they all work, there isn't enough of the right food to keep the family healthy; Isabel and two of her six children have been identified as being malnourished.
Isabel and her husband, Januario, are subsistence farmers. Together with their children they live in the remote highlands of Timor-Leste's Liquica district in a traditional bamboo hut with a corrugated iron roof.
Their diet consists of vegetables, corn and greens, and tropical root crops such as cassava with little nutritional value. Meat is rarely eaten and Isabel pads out meals by adding rice to the green vegetables for lunch and dinner. The lack of variety and protein in their diet means this hard working family are not getting the nutrition they need to keep healthy.
Holding back tears, Isabel explains: 'When my children are hungry they cry… even if it's just a little, I give them some soup… but it doesn't last long until they are hungry again. Sometimes they just cry until they fall asleep.'
Life as a subsistence farmer is physically hard work. Isabel starts each day at 5am to collect water and firewood, cook, clean and look after the children on top of the hours she spends farming. Twice a week is market day and she gets up at 3am to make the four hour return journey on foot through steep rugged terrain. She carries as much produce as possible to sell in the market, the family's only source of income.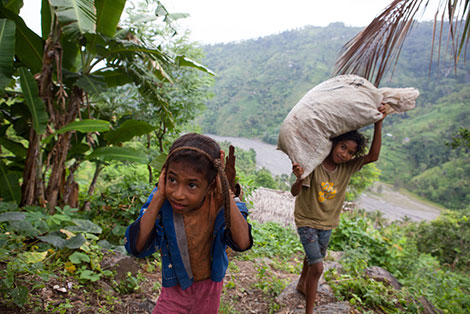 Isabel is able to earn just $15 for her efforts. The money they earn is used to purchase staples such as rice, oil, salt and kerosene. Whatever money is left is used to purchase clothes for the children.
Isabel is not able to save money and she fears her children will miss out on an education because they can't afford school books and uniforms. But it's not just Isabel who has to work long hours –her husband also spends hours farming and her oldest daughter Natalina* often works up to 12 hours a day as well as attending school and studying.
Her mother tells us, 'I fear my children won't finish school because there is no money.'
Fortunately, things are starting to change – the family is part of CARE's Healthy Villages program. Working at village level , CARE trains and works alongside government staff and community volunteers to improve access to and quality of community health services, especially for malnourished children and pregnant and breastfeeding women.
CARE supports families in the most remote communities by providing health and nutrition education and access to nutritious food, such as the establishment of kitchen gardens. The health program also aims to increase access to sanitation and raise awareness about hygiene issues in rural communities.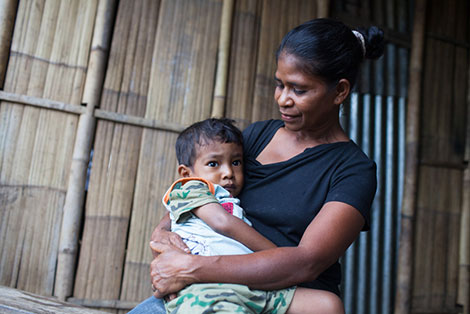 Through the program, Isabel has also learnt about nutrition and the importance of hygiene for her family. She is already seeing progress.
'They [the children] were sick often – coughing, high temperature, diarrhoea – things have improved.'
Such information is making a real difference to families. In Timor-Leste, 70 per cent of people face food shortages at some time in the year and over half of children under five suffer from chronic malnutrition.
During the program's monthly monitoring activities, mothers and children are weighed and checked for signs of malnutrition. For Luis, the good news is that his malnutrition has been identified early and he can now be put on a supplementary meal program and have his weight monitored. Isabel will find out next month if he has improved.
Help children like Luis overcome hunger. Donate to CARE's Hunger Appeal today.
*CARE is committed to being a child safe organisation. Names of children have been changed.