CARE has been working in the Philippines since 1949, with extensive experience helping communities prepare for and respond to emergencies. We work in areas that are geographically diverse but disaster-prone, including those areas recently affected by Typhoon Haiyan. Our efforts to support families affected by Hagupit and 2013's Typhoon Haiyan will continue in 2015.

In places like Panay and Samar, we're focused on supporting affected communities over the long term. Our Livelihoods Assistance Programs, for example, provide small-scale grants and support to help communities return to work. We're also supporting women's groups, cooperatives and other community-based organizations, ensuring that our efforts directly improve the lives of those most vulnerable.
Fast Facts
Population: 102.62 million (July 2016 est.)
Life expectancy: 69.2 years (65.7 years male, 72.9 years female) (2016 est.)
Infant mortality: 21.9 deaths/1,000 live births (2016 est.)
Under-5 mortality*: 28 deaths/1,000 live births (2015 est.)
Maternal mortality: 114 deaths/100,000 live births (2015 est.)
Adult literacy rate: 96.3% (95.8% male, 96.8% female) (2015 est.)
Access to improved drinking water: 91.8% (93.7% urban, 90.3% rural)
Access to improved sanitation: 73.9% (77.9% urban, 70.8% rural)
HIV/AIDS adult prevalence rate: 0.08% (2015 est.)
GDP per capita: $7,300 (2015 est.)
Source: CIA World Factbook, *UNICEF
Typhoon Haiyan – one year on
Over the past 12 months, CARE and its local partners have reached more than 318,000 people – 68,000 households – with lifesaving food, shelter and support to rebuild their lives. This work was made possible through the donations of thousands of generous Australians. Thank you!

54,200 households received food packages
9,400 school children received emergency food

13,900 households received emergency shelter materials

15,400 households received shelter repair kits to help them build back safer

27,000 households received a cash grant to help them restart their economic activities

Typhoon Haiyan: one of the strongest storms ever recorded
Typhoon Haiyan hit central Philippines on 8 November 2013, causing destruction on an extraordinary scale. The 600-kilometre-wide typhoon was one of the strongest storms ever recorded in the world. Around 16.1 million people were affected and 6,300 were killed. The typhoon damaged or destroyed 1.1 million homes, and 4.1 million people – the equivalent of the population of Melbourne – became homeless. Houses, schools, roads and livelihoods were wiped out.
'One year ago, I arrived in a town that had essentially been wiped off the map. Thousands of lives were lost, palm trees had been snapped like toothpicks, ships were lying on their side hundreds of metres from the coast. Nothing had been spared.   'Yet just 12 months on, the progress that has been made is remarkable. Homes are being rebuilt stronger and safer, and lives are getting back on track. The stark difference between then and now is a true testament to the resilience of the people of the Philippines.' – CARE's Sandra Bulling, from Tacloban
Restoring livelihoods
The typhoon caused $723 million in damage to crops, livestock, fisheries and agricultural infrastructure. Around 5.9 million workers lost their source of income. Our focus is now on helping people to rebuild their lives by giving them the means to earn an income. CARE is supporting post-Haiyan recovery in the following ways:
a second round of household cash grants
assisting female entrepreneurs to establish their businesses
support for community groups to establish activities such as pig and poultry raising, rice and root crop farming and retailing.
Lex Kassenberg, CARE's Country Director in the Philippines, said many communities were pooling funds and investing in small businesses that will provide a reliable income for many families. 'Families are coming together to build small vegetable or pig farms to help generate an income for their barangay (village). Our focus is on helping these communities support each other through the recovery.'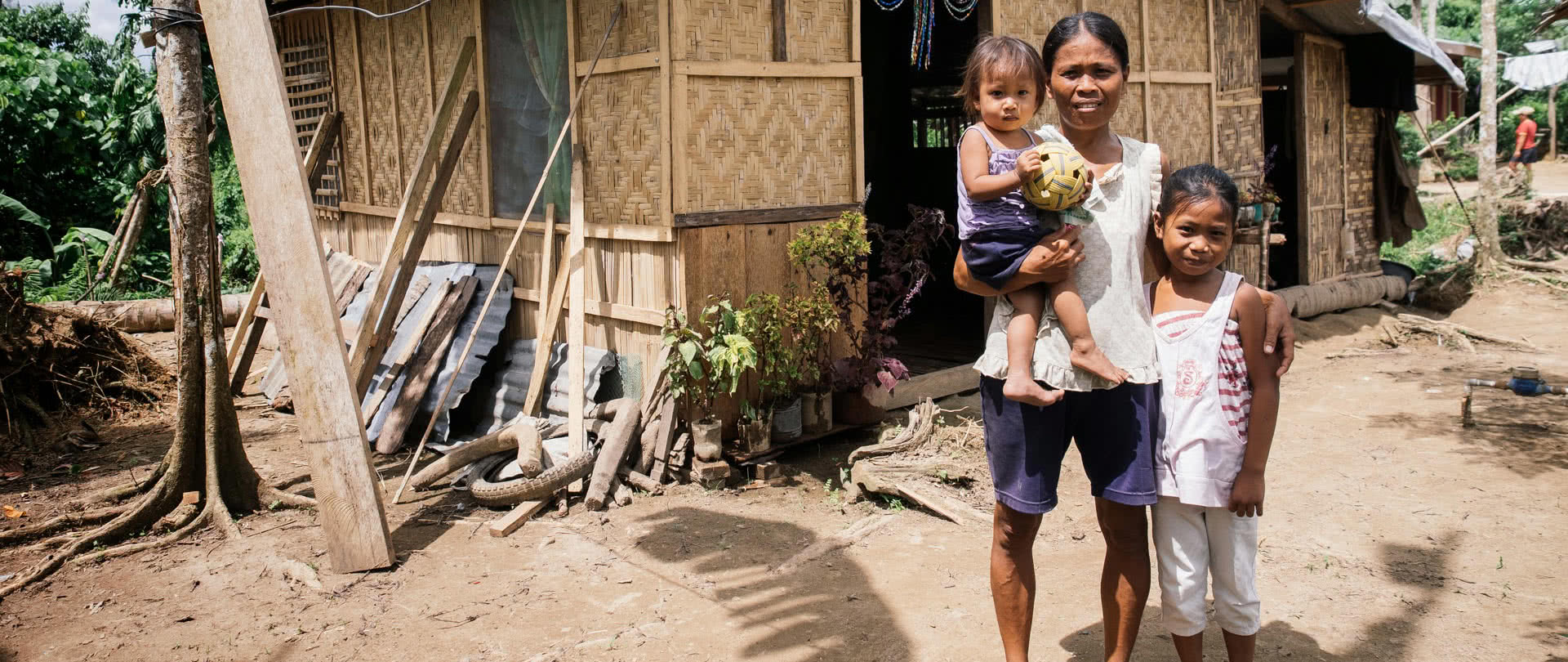 Other resources and highlights