Cambodia
Cambodia
Despite abundant natural resources, one in five people in Cambodia live in extreme poverty
Despite abundant natural resources, one in five people in Cambodia live in extreme poverty
Since emerging from war and internal conflict, Cambodia has experienced high levels of growth over the last two decades. Yet one in five people continue to live in extreme poverty.
A lack of education and skills training means fewer job opportunities, with those in rural and isolated areas often the most affected.
Since 1973, our work in Cambodia has shifted from emergency relief operations to longer-term projects in the areas of education, health and rural development.
Today, we're working closely with some of the most affected – poor and vulnerable women, and marginalised ethnic minorities – to help provide tools for sustainable change.
Fast Facts
Population: 15.96 million
Life expectancy: 64.5 years (62 years male, 67.1 years female) (2016 est.)
Infant mortality: 48.7 deaths/1,000 live births (2016 est.)
Under-5 mortality*: 29 deaths/1,000 live births (2015 est.)
Maternal mortality: 161 deaths/100,000 live births (2015 est.)
Adult literacy rate: 77.2% (84.5% male, 70.5% female) (2015 est.)
Access to improved drinking water: 75.5% (100% urban, 69.1% rural)
Access to improved sanitation: 42.4% (88.1% urban, 30.5% rural)
HIV/AIDS adult prevalence rate: 0.63% (2015 est.)
GDP per capita: $3,500 (2015 est.)
Source: CIA World Factbook, *UNICEF
Our programs focus on a particular group of vulnerable people, making sustained improvements in their lives over a 10–15 year period. In Cambodia, we focus on:
Marginalised ethnic minorities
Cambodia is home to a number of ethnic minorities, often among the poorest and most marginalised people. For those in remote areas, we're providing bilingual education programs, so that young people from remote ethnic groups can attend school for the first time while learning in their local language.
We're training teachers and providing textbooks so that students who may otherwise have missed out on education can build a brighter future.
'We have two reasons to teach both Kreung (a local Indigenous language) and Khmer. Firstly, when the young children cannot speak and write in Khmer it makes them afraid to go to school, so we use the indigenous language to teach them to read and write and it becomes a bridge to the national language. Secondly, we don't want the children to lose their culture because they speak in Khmer in the future. We are Kreung. If we don't speak Kreung, who will?'

– Krunh Kasung, Deputy Chief of her Indigenous Kreung village and a member of the School Board
We're also helping ethnic groups to grow food and earn money by providing training in crop production and farming techniques.
Poor and vulnerable women
Cambodia ranks poorly in international measures of gender equality, especially in areas like school enrolment, maternal mortality and gender-based violence.
Young women who migrate from rural areas also face a significant risk of trafficking and being drawn into jobs that exacerbate their vulnerability, such as commercial sex work, beer promotion and garment factory work.
In urban areas, we work with local women to ensure they enjoy access to safe and fair working conditions, health services and microfinance loans. We're also working to provide opportunities for young people who did not finish school to gain the skills and confidence to enter the workforce.
We're working to remove the barriers to women's inclusion in decision making at a provincial and national level. This helps to remove the obstacles that prevent so many people, especially women, from overcoming poverty.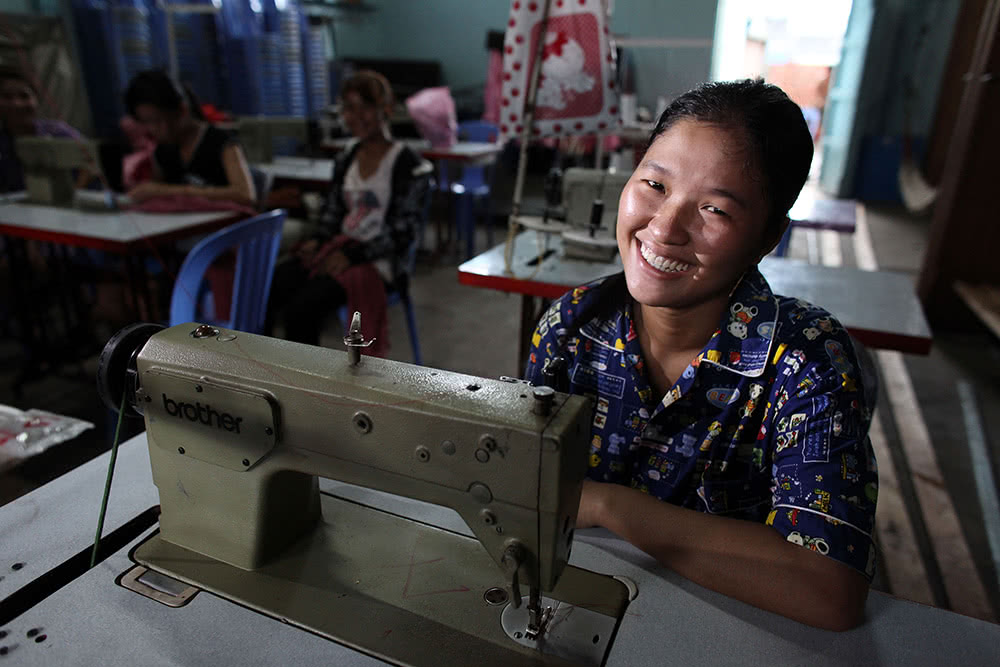 Lessons and impact
We analyse and evaluate our projects to monitor results and learn how we can improve programs. Below is a selection of recent reports on CARE's work in Cambodia.
More CARE evaluation reports from Cambodia and other countries are available at CARE's Electronic Evaluation Library.
Other resources and highlights