Here's some food for thought for World Food Day this Friday 16 October: 795 million people around the world do not have enough to eat. That's why CARE is working with communities like Judith's in Timor Leste to help bring this number down to zero.
In Judith's rural community in Timor Leste, child malnutrition was extremely common. Despite labouring long hours on farms, Judith and her husband were barely making ends meet.
They were only able to provide their daughter Melia* with two meals a day, and became worried when she began to show signs of malnutrition such as yellowing hair, dull eyes and dizziness.
But thanks to a CARE-supported project, Judith and her husband are now better able to grow their own food.
The project helped the family with seeds, tools and agricultural training meaning Judith and her husband now not only grow their own crops, but are able to put three meals a day on the table for their young daughter.
Support CARE's poverty-fighting around the world by making a donation today.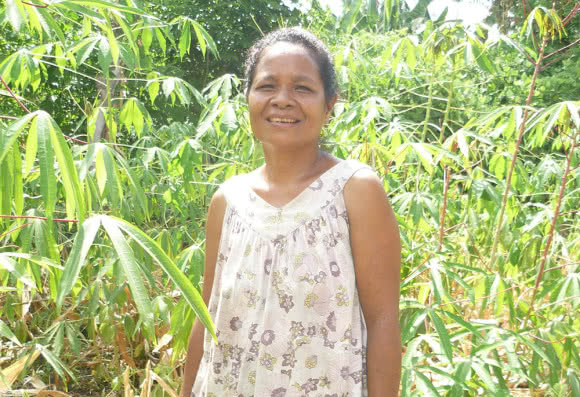 Recently, members of our team visited Judith and her family to see how they were going. They were delighted to find Judith and her family were thriving; Judith had even become leader of her local farmers' group.
"I feel happy as in the past the crops were not very good," explains Judith of the farming situation in her village. "But now the crops are bringing good results and yields have increased."
Judith and her farmer's group members sell their excess crops and share the profit. She adds, "I try to save the money I make from the vegetables so I can pay school fees, buy shoes, books and pens".
The family's food situation has greatly improved as well. "I'm happy as in the past I used to have to buy vegetables for my family but now I have my own … we now cook three meals a day; we eat breakfast, lunch and dinner."
Most importantly, Melia's health is now improving. "I'm happy that my children are now more healthy," Judith says with a broad smile. "They are fatter and are not getting sick as much."
World Food Day is a day of action against hunger. This year's theme is about breaking the cycle of rural poverty through social protection and farming. Find out more.
*CARE is committed to being a child safe organisation. Names of children have been changed.