Ukraine Humanitarian Crisis Appeal
Ukraine Humanitarian Crisis Appeal
Donate Now To Help Ukraine
Donate Now To Help Ukraine
War in Ukraine – please help now
The humanitarian catastrophe in Ukraine has surpassed the worst-case scenarios predicted. Thousands of civilians in Ukraine have been killed or injured and we are expecting more casualties, mass displacement and soaring humanitarian needs. Please donate now to provide lifesaving support to the most vulnerable who have been caught up in the deadly conflict. 
In just six months, more than 15 million people have fled their homes – leaving behind jobs, belongings and loved ones. Your donation to CARE will support our teams and partners in Ukraine and neighbouring countries to provide food, water and other vital supplies to those affected by the conflict.
"Every day is a fight for survival," says Sofía Sprechmann Sineiro, CARE International Secretary General. "Besides fear of attacks and violence, millions of people have no access to essential resources and services. The current situation is deteriorating by the hour. The need for humanitarian aid and protection is rising fast."
Please give now to help rush lifesaving aid to those affected by this crisis.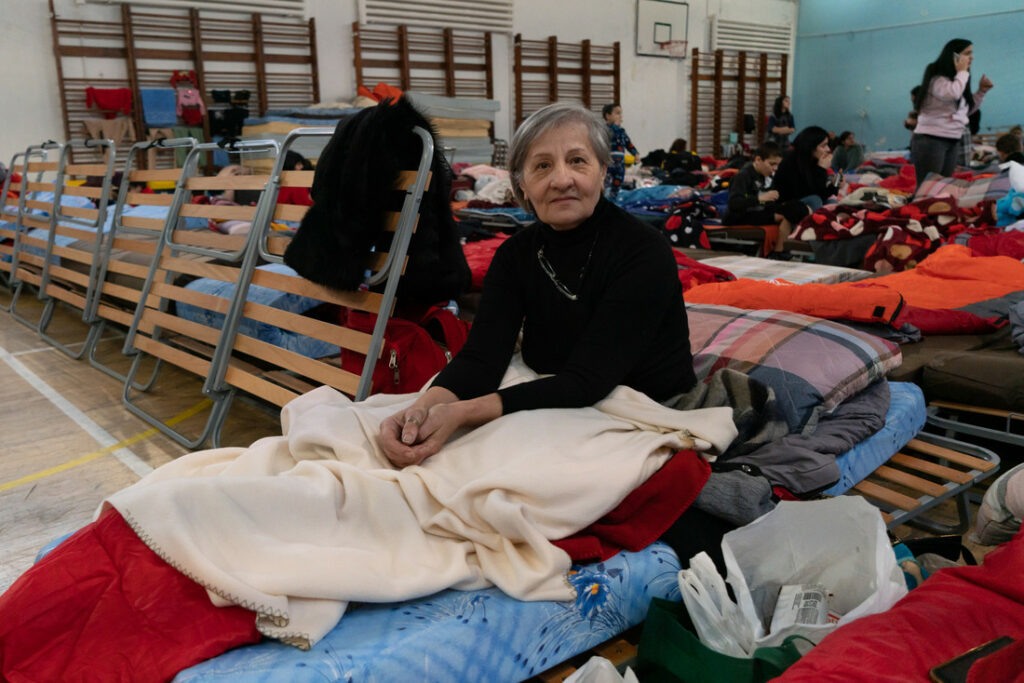 "It doesn't feel real," says 64-year-old Lydia, who is now safe in a CARE-supported refugee centre in Romania. "We are so thankful to the volunteers who have helped us." But Lydia's mind remains on her family who are still in Ukraine: "I think all the time about my son, I'm so worried, I can't sleep at night … like any mother in this situation." © Lucy Beck/CARE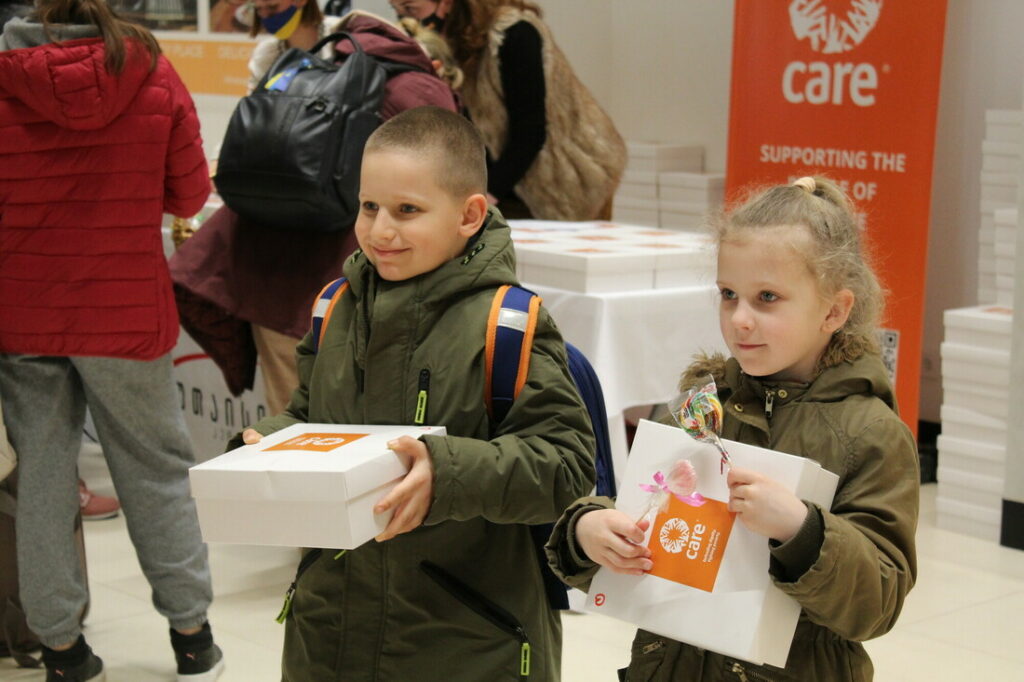 Around 17,000 people have fled Ukraine for Georgia, where CARE is providing families with vital relief items including hygiene kits, emergency contact information and access to support services. Image © Natia Nadirashvili/CARE
What is the situation in Ukraine?
Ukraine has been enduring a protracted humanitarian crisis since conflict broke out eight years ago in 2014. The recent escalation in violence has dramatically worsened the situation.
The humanitarian needs in Ukraine are becoming increasingly urgent, especially for those in the East and South of the country where conflict is the most intense. The UN estimates that 24 million people – more than half the population – require lifesaving humanitarian support. More and more families are facing fear and uncertainty and being cut off from basic services such as water, electricity, medicines and food in some of the worst conflict affected areas. For them the situation is becoming more and more dire every day the conflict continues.
We are seeing a devastating impact on civilian infrastructure, further restricting peoples' movements and disrupting essential public services such as water, power, transport, markets, health facilities and banking. People report supplies are running out in areas affected by conflict – stores are empty of basic stocks, food and fuel have been severely rationed, there are limits to cash withdrawals, and medical supplies are scarce. 42% of businesses are now closed in Ukraine, with increased poverty and inequality in the longer term on the cards.
Across Ukraine families are being torn apart, fathers being separated from their partners and children, who then undertake a perilous and uncertain journey to safety without knowing when they may be reunited. Safe passage – to get people out and get supplies in – remains one of the most serious challenges to the humanitarian response.
What is the situation in neighbouring countries?
Around 20 per cent of the population of Ukraine – over 9 million people –  has now fled the country. 90 per cent of those fleeing Ukraine are women and children. Many of those arriving in neighbouring countries have travelled long distances with little rest and have left everything – including their male relatives – behind.
People arriving at border points are in need of everything, including basic supplies such as toothbrushes, wet wipes, baby food and nappies as well as hot food and drinks on arrival as temperatures on many of the border points still remain freezing.
The need for psychosocial support both to those arriving from Ukraine and the volunteers working along the borders is huge. People are arriving scared, traumatised, stressed and confused and overstretched local volunteers are working tirelessly, often in 24-hour shifts and face the real risk of burnout and secondary trauma.
Current services in neighbouring countries such as Poland, Romania and Moldova are quickly becoming overwhelmed.
What is CARE Australia doing to help?
CARE is working with partner organisations in Ukraine, Georgia, Poland, Romania and Moldova, and has so far reached more than 466,000 people with support including:
immediate relief and aid in the form of cash, food, water, temporary shelter, blankets, medication, nappies and hygiene products to those who have lost everything.
psychosocial support to help people recover from what they've been through.
safe spaces and support for mothers and babies, the elderly and those with disabilities.
Will my donation help the people affected by this crisis?
Yes, funds raised through this Emergency Appeal will support those affected by the crisis in Ukraine, including those who have fled to neighbouring countries.
CARE has relationships with partners in Ukraine and its neighbours who are best placed to respond to this emergency. Your donation will help provide immediate lifesaving support to those affected by the conflict.
How long has CARE been working in Ukraine?
CARE does not have a direct presence in Ukraine but provides funding and logistical support to our partner organisations there and in neighbouring countries.
Donate by phone
Call 1800 020 046 toll free and pay by credit card.
Donations over $2 are tax deductible.
Should the funds raised through an emergency appeal exceed the amount required to meet the immediate and longer term needs of the people in the affected areas, or if there are changes in circumstances beyond CARE's control which limit its ability to utilise all funds in the affected areas, CARE will direct excess funds to other emergency relief activities in the future.
A monthly donation will go to emergency relief & preparedness activities where it is needed most.
Top image: Ukrainian refugee Marina embraces her daughter Arina after crossing the border into Poland, where CARE's partners Polish Humanitarian Action are providing food, water, clothing and other necessities. Image © Laura Noel/CARE