Morocco Earthquake Emergency
Morocco Earthquake Emergency
Thousands affected by devastating earthquake in Morocco. Donate Now.
Thousands affected by devastating earthquake in Morocco. Donate Now.
Just after 11 pm on Friday, 8 September, western Morocco was struck by a 6.8-magnitude earthquake that has devastated the region. The strongest earthquake to hit Morocco in more than 120 years, it has affected more than 1.8 million people. 
While search and rescue efforts are still underway, the death toll is rising each day — already exceeding 2,500. Thousands more are  injured and in need of urgent care. The next few days will be critical, as the authorities continue to rescue those trapped under the rubble – particularly as efforts extend to more remote, rural areas that have been blocked off by debris.
CARE has deployed a Rapid Response Team in response to the crisis in Morocco, whose job it is to assess the immediate needs of affected people and provide assistance. 
Please give generously to our Global Emergency Fund so that we can continue to deploy Rapid Response Teams when emergencies like this strike to quickly provide lifesaving aid and services.
Impact on families
Hanane was lucky as she had gone out to her cousin on the night of the earthquake. "I was on my way back home. If I had arrived a few minutes earlier, I don't think I would have survived." Her small house is a jumble of collapsed roof and walls. Her nephew helped her salvage from the rubble what matters most to her: her papers and her laptop.
But what really concerns her are the children: the primary school where she teaches, and which serves several other villages beside Asni, has been badly damaged and now 400 children aged six to 12 have nothing to do the whole day. "I see so many children who cling to their mothers, they are deeply scared and don't really understand what happened. They didn't know anything about earthquakes. What we really need now are spaces for the children to play, and activities so they can forget about what happened." On Hanane's wish list there are also coloring books and a clown visiting "her" kids so they can finally have a good laugh.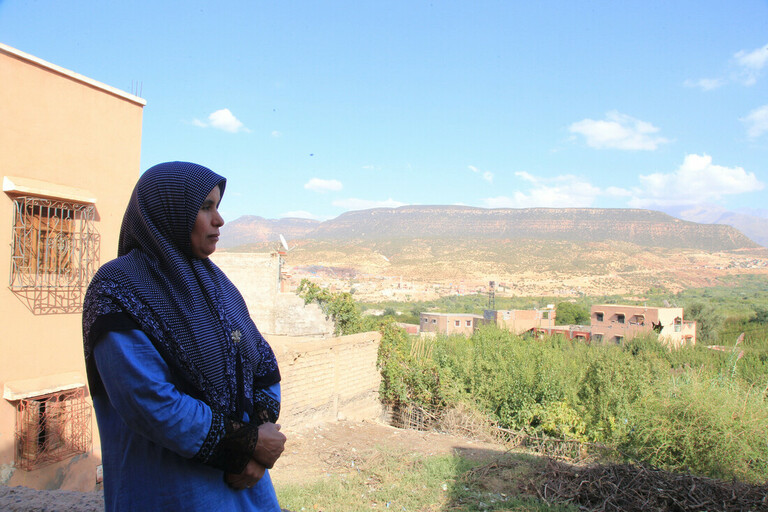 Hanane, primary school teacher
Devastation in Morocco
"After 11 pm last night, the most powerful earthquake in more than a century struck near Morocco's city of Marrakech. More than 1,000 deaths have already been reported. CARE's emergency response aims to reach survivors with water, food, shelter, and medical support. As we have since 2008 in Morocco, CARE will pay special attention to women and girls, youth, and disadvantaged groups.
Many already struggled in Morocco prior to the earthquake. Now, hundreds of thousands have lost everything in a matter of seconds. Every hour, the level of devastation is increasing." 
– Deepmala Mahla, CARE's Vice President of Humanitarian Affairs
Interview with CARE Morocco's National Director, Hlima Razkaoui
Photos from the Earthquake
The CARE Morocco team survey the devastation from the earthquake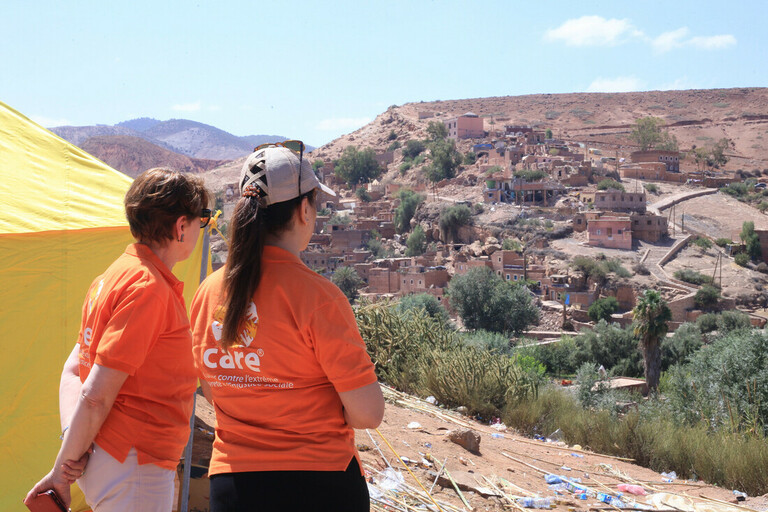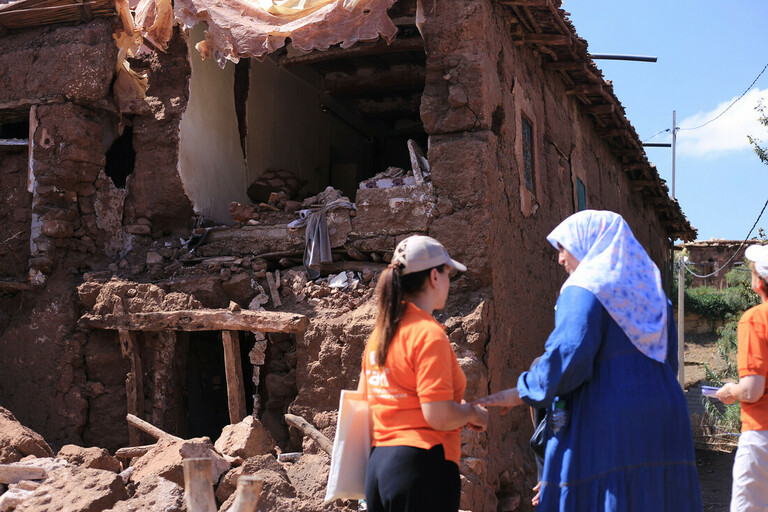 How long has CARE been working in Morocco?
Established in 2008
Key CARE Morocco objectives:
Education

Economic empowerment of women and

young people, particularly the most vulnerable, by supporting them to improve their income

Civic participation of the most disadvantaged, particularly women and girls, in order to empower them to defend their own rights
What is the situation in Morocco?
Right now, CARE Morocco needs quick financial support to deliver the first necessary humanitarian kits of water and food, hygiene kits and shelter. These are needed urgently. 

Many are trapped in rubble and in these areas, rescuers are at work, searching for survivors among the devastation of collapsed houses, while residents are already digging graves on a hill to bury the victims.

It is essential to address not only immediate needs, but also secondary impacts such as health: it will be necessary to take into account the damage caused to water supply systems that often causes outbreaks of waterborne diseases after this type of disaster. It will be necessary to ensure a restart of health systems to avoid secondary disasters.

Reconstruction is likely to take months.
What is CARE doing in Morocco?
CARE already has a presence in the earthquake-affected areas of Morocco, and we are ready to support the Moroccan authorities as they lead emergency operations, by shifting our existing programs to respond to urgent and growing needs. Our first priority will be to provide hot meals, safe water supply, emergency shelter and medical support to families that have been impacted by the earthquake. 
As the situation on the ground evolves, CARE will adapt our response strategy to ensure that we can provide timely, culturally appropriate and gender-sensitive assistance to families in need. Earthquake-affected families have suffered not only a physical toll, but also a mental one. People near the epicentre of the earthquake experienced severe trauma, and they will require psychosocial support.
CARE has been working in Morocco since 2008, established under Moroccan law as an explicitly apolitical, independent and non-denominational organisation. In Morocco, CARE's mission is to support individuals and families from deprived communities, promoting equal access to economic opportunities. Our programming focuses on three main areas: education, economic empowerment and governance. CARE works extensively in Al Haouz, one of the cities that was most impacted by Friday's earthquake. 
In the aftermath of emergencies like this, CARE's focus is on immediate lifesaving supplies followed by the necessary support to help people build long-term solutions. With our partners around the world, we are:
saving lives now

with immediate shelter and food supplies, cash vouchers, access to job opportunities, and prevention of life-threatening malnutrition;

growing resilience

and livelihoods to help people recovery from this crises and be better prepared for future emergencies; and
changing systems by working with private sector partners and donors and advocating for governments to prevent repeat crises.
Can I donate physical items to help those in need?
It's natural to want to donate things like clothes, blankets, toys for kids or other helpful things that you may have. And whilst that's extremely kind and thoughtful, there are a number of reasons why CARE Australia is unable to accept donations of physical goods or items. Transportation and shipment of goods is a costly exercise, takes time, and it is preferred to support the affected local economy.
The best way to help is through financial contributions, which can be used immediately to purchase critically-needed items locally – this helps people faster and also supports local businesses and suppliers.
Donate by phone
Call 1800 020 046 toll free and pay by credit card.
Donations over $2 are tax deductible.
CARE will use donations to our Global Emergency Fund to provide emergency relief and services to those who need them most. This will help the world's most vulnerable people prepare for, and recover from, emergencies and disasters.