Afghanistan Emergency Appeal
Afghanistan Emergency Appeal
Rapidly escalating crisis in Afghanistan - Donate Now
Rapidly escalating crisis in Afghanistan - Donate Now
Massive earthquake hits already critical situation in Afghanistan
Early in the morning of 22 June, an earthquake of magnitude-6.1 shook the country's south-east, killing at least 1,000 people. The death toll is expected to rise as search and rescue continues but the destruction of homes and infrastructure will affect thousands more. Shocks were felt as far as 500km away from the epicentre near the city of Khost, where CARE runs health, education and livelihoods programs.
"CARE is very concerned for the most vulnerable who may not be living in the sturdiest houses," says Dr Mohammad Anwer, CARE Afghanistan's Head of Health Unit. "Today CARE sent a mobile health unit to the earthquake-affected area. They will provide first aid trauma care and lifesaving primary health care to those most in need."
CARE is also sending emergency relief supplies to the area and plans to scale-up its response to support families in urgent need of shelter, food, water and medical supplies. 
The situation in Afghanistan has been tumultuous for some time: conflict forced more than 700,000 people from their homes in 2021, while drought, rising food prices, COVID-19, and economic decline have contributed to around half the country going to bed hungry each night.
Please give now, to help lifesaving humanitarian assistance reach the most vulnerable families affected by this escalating crisis in Afghanistan.
What CARE is doing
Since July 2021, CARE has reached over 200,000 people with humanitarian assistance, 75% of whom are women and children. CARE Afghanistan has reached the most vulnerable with: 
emergency supplies and cash so they can afford food, shelter, and protection. This will also support the local economy and the livelihoods of host communities, which have been severely impacted as well by the worsening crisis.

critical health services, winter kits and livelihood assistance. 

hygiene kits to prevent further risks of COVID-19 transmission.
In the wake of the earthquake, CARE is sending a mobile health unit to affected areas to assess the situation and provide support to those in need. We are also sending emergency relief supplies to the area and will scale up our response to support families in urgent need of shelter, food, water and medical supplies. 
More information on our response to the earthquake will be available as details emerge.
The triple crisis of the economic hardship created by the pandemic, drought and the current insecurity is rolling back the hard-won gains made by women and girls.
Some are resorting to selling their own organs just to put food on the table. The international community must not turn its back on vulnerable Afghans, including women and girls.
How will my donation support people in Afghanistan?
The funds raised through this appeal will be used to provide and advocate for immediate and longer-term humanitarian assistance to communities affected by the immediate and ongoing crises in Afghanistan. 
This includes:
critical emergency relief assistance, such as food, water, sanitation, shelter, health, and protection;

longer-term assistance, with a focus on protection, education, health, shelter, water and sanitation, and livelihoods;

support as possible and needed for those displaced both internally and across international borders by the humanitarian crisis in Afghanistan.
CARE has worked in Afghanistan since 1961. We are a trusted provider of humanitarian assistance, with strong relationships in local communities. Today, we work both directly and through local partners.
Please give now, to help lifesaving humanitarian assistance reach the most vulnerable families affected by the ongoing crises in Afghanistan.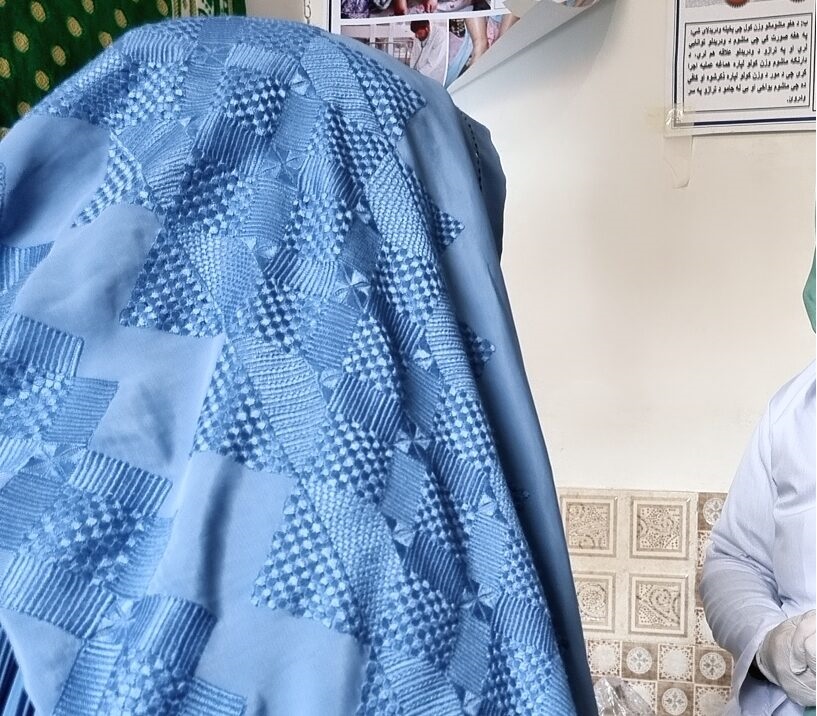 Farzaneh* (with her back to the camera) visits a doctor at the CARE-run health clinic. Farzaneh is nine months pregnant, and had only seen a doctor once before during her pregnancy. She heard CARE was running a clinic in her community and, as she was feeling dizzy that day, decided to walk down and meet with one of the doctors. Farzaneh told a CARE staff member that if it weren't for this clinic, she wouldn't have seen a doctor, as she can't afford the transport costs to travel to a regular clinic. This is unfortunately all too common in Afghanistan, which is why these critical health services are so important. Image © Suzy Sainovski/CARE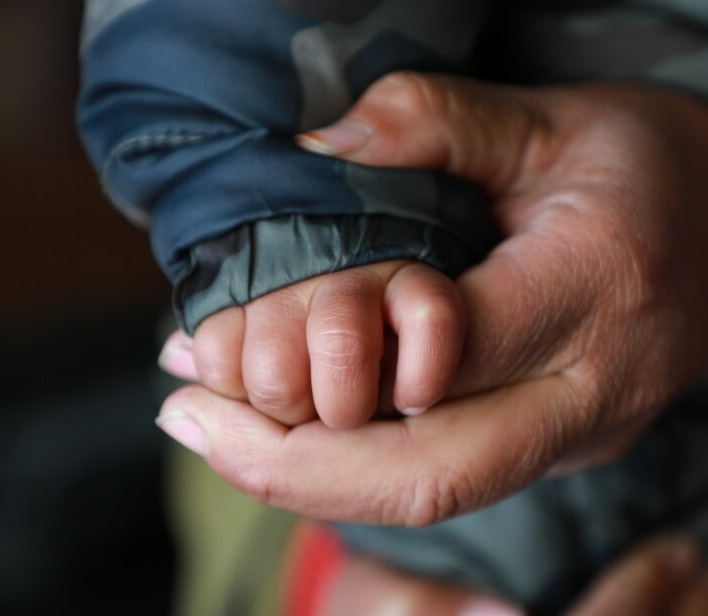 Fatima's* husband has been sick for years, so can't work, and her work is very irregular. Fatima said, "My neighbour knew our desperate situation. They asked if I would sell my seven-month-old daughter to them for between 20,000 and 30,000 Afghanis ($300 to $450). We didn't want our baby and our other children to die so we agreed to sell her. I didn't sleep for the next week knowing I was losing my baby. Then we got a call from CARE saying we would be getting cash assistance. I just started crying. We stopped the sale of our baby. Now I can buy my children food and have some food for me as I am still breastfeeding. We will also get treatment for my husband." Image © Suzy Sainovski/CARE
We simply cannot stand back and watch this happen. We must act like lives depend on it, because they do. More funding is urgently needed to support the humanitarian needs of the Afghan people like Fatima and Farzaneh.
Donate by phone
Call 1800 020 046 toll free and pay by credit card.
Donations over $2 are tax deductible.
Should the funds raised through an emergency appeal exceed the amount required to meet the immediate and longer term needs of the people in the affected areas, or if there are changes in circumstances beyond CARE's control which limit its ability to utilise all funds in the affected areas, CARE will direct excess funds to other emergency relief activities in the future.
Monthly donation will go to emergency relief & preparedness activities where it is needed most.
Images: Sardar Shafaq/Anadolu Agency via Getty Images and OCHA/Linda Tom