CARE is working in Fiji with local partner Live & Learn to provide relief in the aftermath of Cyclone Winston. But for local staff, cleaning up after the disaster doesn't stop once they clock off work – many, like Ba Provincial Council Conservation Officer Sophy Buinimasi, have had their houses damaged and are worried for loved ones. Here she tells her story:
That night, when Cyclone Winston hit, I didn't even know my house got damaged. I was on top of a hill half an hour from home, checking on an evacuation centre; the local primary school. We got stuck there when the cyclone hit and we had to take shelter.
My sister and cousin, who are 23, were looking after my son who is four. [We] didn't think the cyclone would be bad, so they were at home watching cartoons and eating food in our house … Then they heard the roof in the kitchen beginning to tear and break.
They were so scared – they just took their things and my son and ran. Luckily the District Office – a double story strong concrete building – was next door and they were able to find shelter from the storm there.
I came home from work the next morning and found a huge branch in my kitchen. It had come through the roof and landed there. My corrugated iron roofing had ended up across the road and I had to collect it.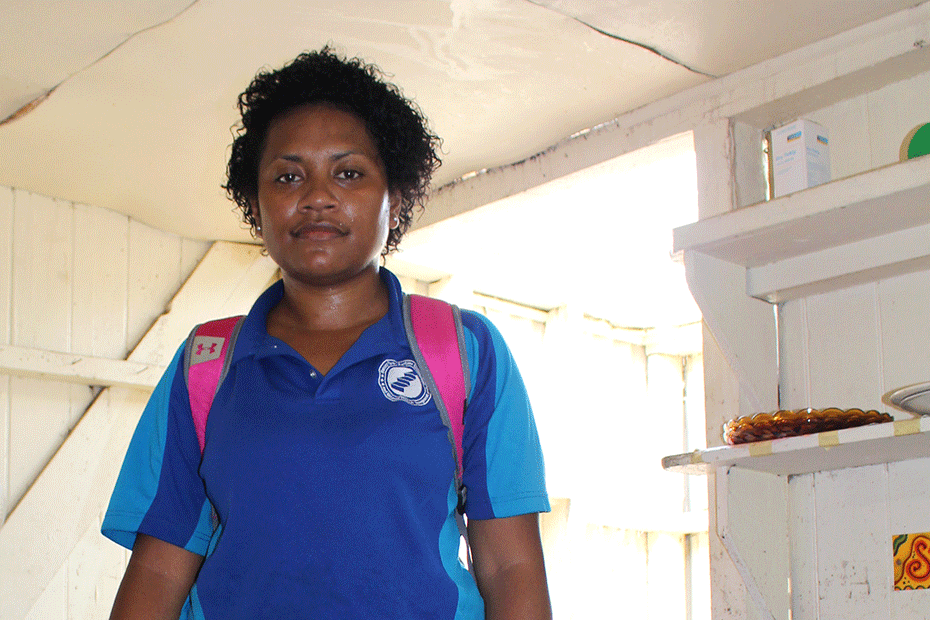 After the storm
Even though my house is damaged, I still have work to do at Live & Learn's District Disaster Management Centre [Sophy works for Ba Provincial Council, who support Live & Learn's relationships with local communities]. But as long as my family is okay, I don't care.
In my job, we have to look after other people first, before we look after our own house. But it's okay. Some people don't even have houses now.
I have no clothes. They were blown everywhere and got wet and dirty. I am going to Japan in a week for work to present on a Yasawa Islands fisheries project. A friend in Japan called to say it's cold there and I should bring warm clothes. But I have no clothes now.
Fijians will pull together
People have started organising themselves and started the clean-up. Most of our evacuation centres in Nadi [a main city in Fiji] are now closed.
My mum's village is gone. She lives on Vanuabalavu, one of the hardest-hit islands. We have aunts and uncles on the island. They survived, but their houses are destroyed. … But they were more worried that we were okay!
There is just so much sadness, but people still try to put on a happy face. Fijians will be smiling in front of a destroyed house or a dead relative's grave. Even if they have nothing and we arrive they will still try to look after us and feed us. It's part of our culture in Fiji.
It was amazing to hear about all the people sheltering together in the evacuation centre; children, mothers, ministers. It's great to know that when something bad happens, we all pull together.
Help communities like Sophy's to recover in the aftermath of Cyclone Winston.
Read more about CARE in Fiji, and donate to our lifesaving work.