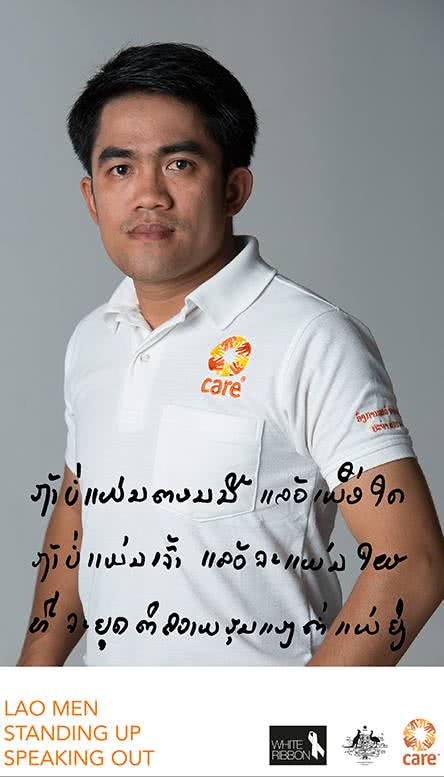 In Laos, a new CARE campaign aims to change common attitudes towards domestic violence, with local men 'Standing Up (and) Speaking Out'.
The initiative, with support from White Ribbon Australia and the Australian Embassy in Laos, sees prominent 'champions of change' pledge that they will never commit violence against women.
Violence against women remains one of the most pervasive and systemic human rights violations in the world, with one in three women worldwide having experienced physical or sexual violence according to the UN's latest International Women's Day report.
In Laos, another recent UN report found that while there is little data on the prevalence of violence against women, anecdotal evidence suggests that where such violence does occur, it is often accepted as normal, or remains hidden.
"Violence against women both reflects and perpetuates a deep injustice. Gender inequality is the fundamental cause of violence against women and we will only see an end to violence when equality is understood," said Glenn Bond, Country Director of CARE International in Lao PDR.
"At the same time, gender equality will never be achieved if a third of the world's women have their right to health, participation and justice compromised through violence."
While using men as role models in triggering change is not new to White Ribbon or to CARE International, it is new to the Lao context. To highlight the campaign, CARE will hold local awareness raising events in coming weeks. Coupled with community conversations, these will yet prove a vital step towards changing attitudes that aim to improve the lives of women and girls.
"Men have a critical role to play on both sides of this coin: ending violence and making gender equality a reality. I'm proud to be associated with Lao Men Standing Up, Speaking Out," says Mr. Bond. "I hope other men find inspiration here to reflect the principles of gender equality in their public and private lives."
Follow the 'Laos Men Standing Up Speaking Out' campaign.