12 June marks International Day against Child Labour.
With every passing day the number of Syrian refugee children being pulled out of school and into the workforce rises. Over 600,000 refugees in Jordan and 1.18 million refugees in Lebanon are struggling to cope with rising costs of living. A recent survey by CARE revealed that 90 per cent of refugees in Jordan are in debt to relatives, neighbours, shopkeepers or landlords, with rental costs having increased by almost a third in the past year. In Jordan, the government estimates that 60,000 children are working to support their families.
'In a lot of cases young sons have to earn the income for the family in order to survive,' says Salam Kanaan, Country Director for CARE Jordan. 'It is an easy equation: The longer refugee families live in neighbouring countries, the more financially vulnerable and destitute they become. With no more assets and no male head of household who could work, children have to contribute to cover the monthly expenses and have to quit school.'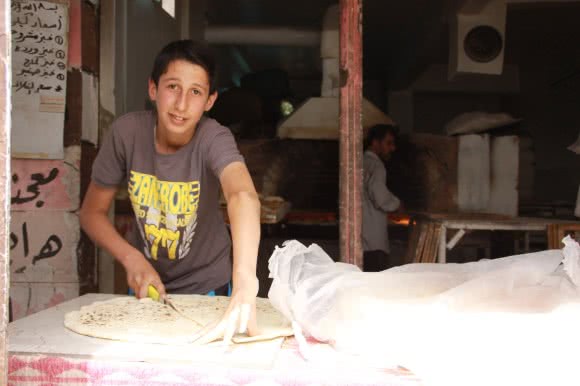 Majd,* 14, works every day from 7 am to 10 pm. In between, he goes to school. His father is ill and has trouble finding a job. The family fled from Homs two years ago. Majd has already worked in a coffee shop, in a mall and in a restaurant. He now works in a bakery. He misses his best friend in Syria. He has not heard from him for the past two years. He says: 'I would prefer to go to school and learn something. But for now, I am proud to support my parents, my brother and my two sisters. Without me, we could not survive.' (Photo: CARE/Johanna Mitscherlich)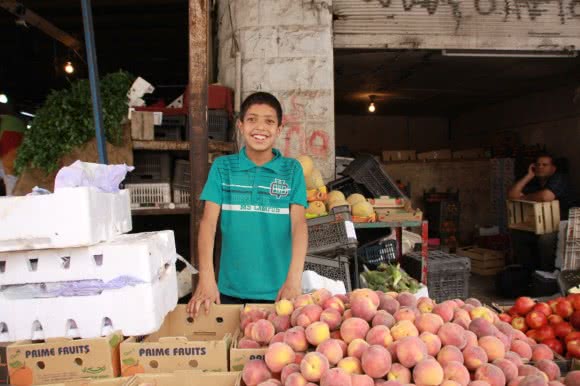 Sami* does not say a lot. Sitting on a green box with holes, he plucks styrofoam from a package. His big brown eyes are staring at the white flakes as they fall onto the ground. His father Hamid explains: 'During the last three months in Homs we had nothing to eat. We collected leftovers from the street and searched the trash cans for food that was thrown away. The past two years were a nightmare.' First their house was looted and then someone set it on fire. But then their house was destroyed by a bomb and the family had to flee. They walked for 11 days from Homs to the Jordanian border. They had to hide behind trees and were forced to watch as two of their uncles were kidnapped and their aunt raped and then shot. Sami starts his work in the vegetable store at 8am and finishes at 8pm. He drags cases from the back of the shop to refill the stalls. He has only one dream. 'I want to go back. I miss my best friends. I want to go back to school to become an engineer and rebuild Homs.' (Photo: CARE/Johanna Mitscherlich)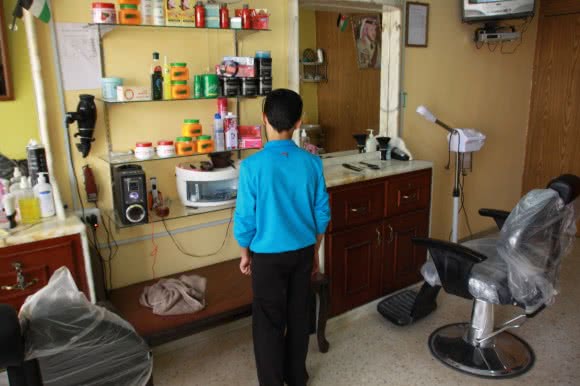 Alaa* is 12 years old. He fled to the North of Jordan half a year ago. To help his family make ends meet both he and his 13-year-old brother have to work. He starts his job in a barber shop at 9am and works until 10.30pm at night. He sweeps the floor and cleans the scissors. He earns around $7 per week. He says that he sometimes gets very dizzy when he has to stand all day, but his family cannot afford more than one or two meals every day. (Photo: CARE/Johanna Mitscherlich)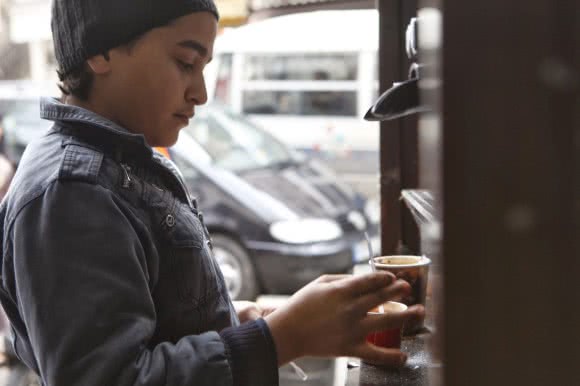 Yousef*, 13, fled to Syria with his family. He now works in a coffee shop in Lebanon. He has been working ever since his family fled from a village outside Damascus. His father is unable to work because of a heart condition. Without Yousef, his parents and four siblings could not survive. His father said: 'We would prefer if he would go to school. He is too young to work and we do not want to depend on him. But we are in an impossible situation.' In Syria, his father had a good job in the tourism industry. The family had a big house and a car. But after his father was arrested and detained, his health condition deteriorated and the family had to flee to Lebanon. Yousef says: 'If I don't work who is going to provide for my family?' (Photo: CARE/Harry Chun)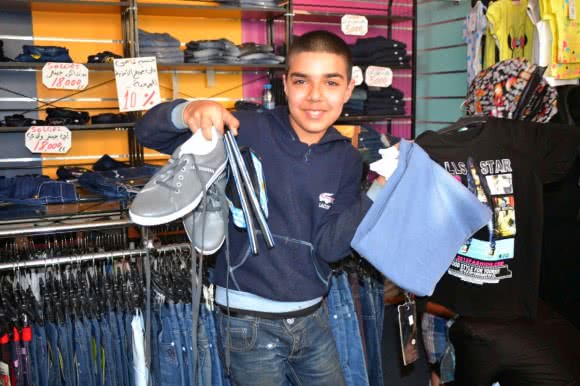 Yousef* fled Syria three years ago when the war started. A former school in Lebanon has become his new home, where he lives together with his parents and younger brother. Yousef was just nine years old when he left Syria. He says that he misses his home, but the memory of Syria is fading. He does not have time to remember. He works in a bakery every day from 5am until 4pm. He earns around $35 every month. 'My parents are old and sick. They cannot work. If I did not work, we would not be able to survive.' What does Yousef wish for? 'I wish I could die, because I am tired of this life, there is nothing positive or joyful in living like this. When I was in Syria, my friends and I used to fantasise about how life would be when we grew up to become teenage boys and men. Nowadays I sit by myself laughing about how I could even dare to have even dreamt about those things.' (Photo: CARE/Racha El Daoi)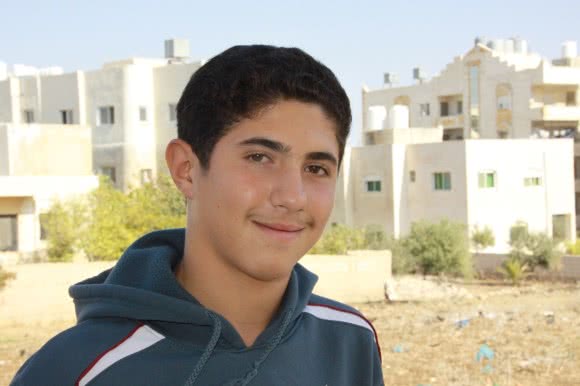 About a year ago, Victor* was an average 15-year-old boy. He attended high school, met his friends after class to practice break-dancing, played tricks on people from time to time and wanted to become an English teacher. As is the case for many other Syrian refugee families, it's Victor who contributes the greatest deal to the family's earnings. Six days a week, from 9amto 6pm, he cleans birdcages, feeds animals and sells them at the local market. He earns around $5.70 a day, adding up to $137 each month. But Victor misses his school and his friends. He misses learning and reading. 'I am working because we don't have another option to make ends meet. But in an ideal world, if life in Syria were still the way it should be, I would first finish my schooling and work afterwards. I should not be working full-time now. This is not how it should be.' Once he can return to Syria he says he will cram for his exams night and day and get closer to achieving his goal of becoming an English teacher. 'That would be awesome,' he says in English and smiles proudly. (Photo: CARE/Johanna Mitscherlich)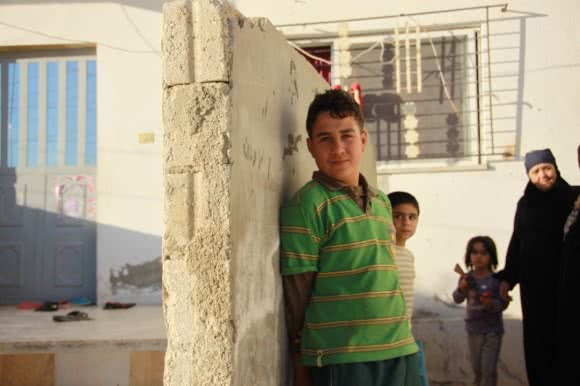 'I don't like to think about Syria. It makes me sad.' Tarek* doesn't have much time to think about Syria anyway. As the 'man of the house', he is expected to take care of his mother, Lina, and his seven siblings. He works in a coffee shop 14 hours a day, six days a week. Before leaving Syria, Tarek was shot in the leg and finds it hard to be on his feet all day. When their house was burnt down the family stayed in a bunker. After ten days they thought it was safe to return and rebuild it. Tarek's scarred leg still reminds them they were wrong. He was wounded when they tried to reach their home. His mother decided to flee to Jordan so her children would be safe. Tarek said: 'I am tired after work. My leg hurts, I cannot play soccer anymore. Going up and down the stairs to our apartment is as exhausting as running a marathon is for healthy people.' (Photo: CARE/Johanna Mitscherlich)
Donate to CARE's Syrian Refugee Crisis Appeal
 *CARE is committed to being a child safe organisation. Names of children have been changed.