Julia Marango, CARE Vanuatu Resilience Manager
Julia has been with CARE Vanuatu for more than eight years. She has responded to many disasters and was the Acting Response Manager during Tropical Cyclone Harold.
In early April, when Cyclone Harold tore across Fiji, Solomon Islands, Vanuatu, and Tonga, tens of thousands of people were injured and made homeless across the three nations.
In Vanuatu, more than half of the country's population were impacted by the widespread destruction to houses, food gardens, and infrastructure. The Category 5 storm knocked out communications, wiped out homes and flattened entire villages across a large number of islands.
Thousands of families found themselves in urgent need of shelter, water, food, and basic supplies.
Julia sprang into action and managed teams on the ground in Ambrym and Pentecost – a challenging task in the aftermath with limited communications. She coordinated distribution plans with team leaders, and provided logistical support to the response teams to ensure that relief supplies went to those who needed them most. 
Julia travelled by any means necessary to reach the remote communities in disaster affected areas – including regions only accessible by helicopter – where she spoke directly with women and girls to ensure that their voices were heard and their particular needs and concerns were being understood.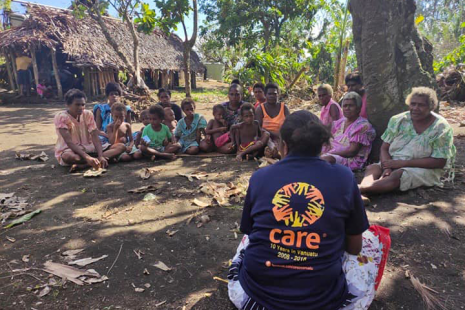 "I think being a woman leading the response in emergencies really gives me the confidence to help other women who have been affected by Tropical Cyclone Harold and only have limited access to services or lack opportunities for decision making," Julia said.
"It was good to see women gathered at the distribution sites in Ambrym and Pentecost getting the information they needed. It was often challenging to involve the women as they were concentrating on looking after the children or listening from a distance.
"I made sure to speak directly with the women and asked another female staff member to sit with me while we talked. I feel that it is really important to empower women affected by disasters and ensure that they are supported, heard and involved in the decision making."
Acting fast when a disaster hits is critical. You can help prepare communities to respond to emergencies by contributing to our Global Emergency Fund.