29-year-old Rosaline is a nurse in a CARE-supported health facility in Sierra Leone.
She was a front-line worker during Ebola and is now helping her community prepare for the COVID-19 coronavirus.
What is the situation like in Sierra Leone right now? 
The situation is not easy. People worry a lot. We, the nurses, are putting everything in place. There are suspected cases in Guinea, and they are our nearby neighbours. So we worry a lot about this disease.
What kinds of things are people doing? 
We have set up handwashing stations at every public place – in community gathering places, in schools, at the health facility, everywhere. And people don't shake hands. Most of the gatherings that were happening before have been stopped. 
Right now the country is at a standstill. Infection Prevention and Control protocol is our first area of work; we do community engagement meetings, we do our outreach. In our centres, we wear our masks, we don't touch patients, we take their temperatures, and we wash our hands regularly.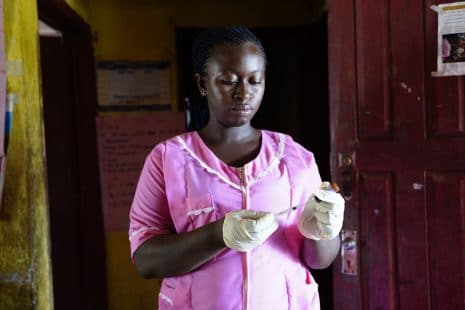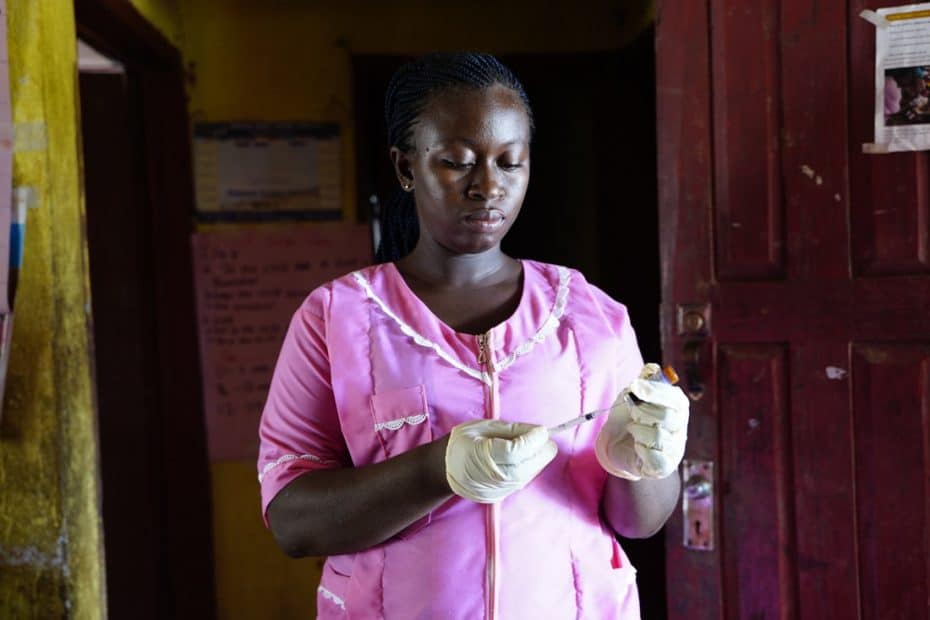 How do you do community outreach?
I take my motorcycle and go out to the communities and explain this new virus and how they should be aware and start to protect themselves. Sometimes they are hesitant, and they don't believe me at first, but then I explain it and they come around. They trust me because I've come from them – I was born in this area and they know me. So, they know to trust me when I tell them something that is this important. 
What are you worried about – what do you think will be the worst case scenario?
We are worried because it will affect us as health workers. We are on the front line because we interact with patients. So we are worried a lot, and hope that it will not spread easily, because this is a very dangerous disease.  
We have our personal protective equipment which we received from CARE, but we need more to be able to protect ourselves. What we have right now is not enough. 
We're worried because we don't know if we will receive international support to fight this disease, because the whole world is fighting it too, and there may not be enough resources to help us fight here too. It won't be easy for us.
What did you learn from the Ebola outbreak that is applicable with this coronavirus outbreak?
During Ebola the first and most important thing was to wash our hands. Each house should have a handwashing station to be able to wash hands – this was a really important thing to have.
I learned how important it was to follow Infection Prevention and Control protocols – don't touch patients, and refer people to higher levels in the health system when they experience symptoms. I also learned how important it was to do community outreach, to call community meetings, to inform every person about the disease, and how to recognize and to prevent it. 
What advice do you have for workers fighting the epidemic? 
During Ebola, many of us health workers died. My advice is to make sure you take care of yourself, think about your life first, about your family, and protect yourself. Don't rush to the patients, follow the protocols, and take care of yourself. 
Why do you choose to work on the frontline and respond to disease outbreaks?
I became a health worker because my father died from sickness, and I wanted to save people's lives in my community. 
CARE's response to COVID-19 will focus on scaling up safe water supplies to facilitate good personal and household hygiene, provision of supplies such as face masks, gloves, hand wash liquid soap, aprons, safety boots, hand sanitisers, running community meetings focused on prevention and preparedness planning and educating communities about stopping the spread.
Your donation to CARE can help us conduct our lifesaving work in countries like Sierra Leone.