More than two million Syrian refugees have fled across the border to southern Turkey. CARE is assessing needs and coordinating with the Turkish authorities and other organisations to distribute food, blankets and hygiene items to newly arrived refugees most in need. Here are some of their stories.
Alan Abraka* is a lawyer from a village 50km from Kobane, Syria. He is helping CARE to carry out assessments in Turkey.
"We are no longer in control of our village and many of my family have had to flee. It is very frightening. They took my cousin for five days and they killed a girl who had an injured finger as they thought she had been fighting against them.
My father is 87 years old. He walked 20km at night as it was his only option to save himself. It is uncivil there."
Suleyman Aiyab*, aged 26, is a student from Kobane has been helping CARE do assessments of his fellow Kurdish Syrian refugees.
"I saw people sleeping on the border, and in the morning many of them go back to their homes if they can. The situation is very bad. They need medicine, they have no water, food or electricity, even the simplest way of living is lost during this fighting.
People are sleeping in areas along the border that may have landmines. These are old landmines, but yesterday I saw a young boy step on one and get badly injured.
The psychological situation is terrible for those people at the border. Something must be done to help our people. I went back yesterday to do what I could to help. The people coming to Turkey are desperate, they are living in parks and drinking dirty water but local people are trying to help by giving them water and blankets.
People need everything – they are arriving just with the clothes on their back. One family had just 200 Syrian Pounds ($1.25USD) with them. People are coming without their shoes. They are terrified they will be killed, but they are also afraid about diseases spreading among them as they are now living and sleeping in such cramped conditions. If one person gets sick, they will all get sick."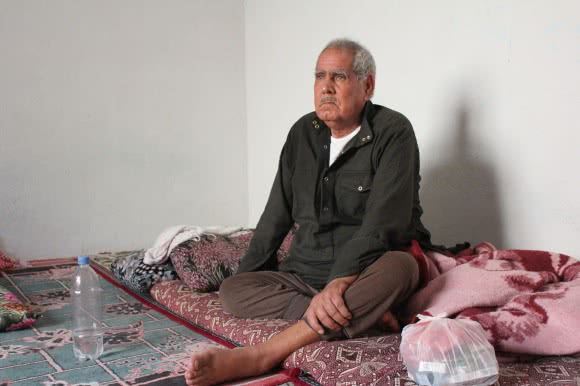 Mariam Üstün is 25 years old. She sits on the floor along with eight other adults, including two very elderly men and numerous children. The elderly man, Ismail Yousef Hessi, aged 70, holds up the plastic bag containing just a few more days of his medicine. He implores us to help as his eyes well up and then look away in despair. There are 25 more family members coming to share their cramped space in the coming days.
Mariam is also ill, her skin is acutely jaundiced and she looks exhausted.
"There is bombing and we were scared and had to leave. We had no time so we just left in the clothes we are wearing. My uncle is sick, so we were let through, but we have family sleeping on the border. When there is no bombing people go back to their houses in the day to get food.
We only have medicine for a few days. I am sick with hepatitis but we left without our papers so we cannot get treatment.
Our town used to be peaceful. Other people affected by the war from all over Syria and left to be safe but now we have all had to flee.
We have no idea what will happen next; we are just hoping it will get better as we have no income here. We really just hope for peace because the situation is very bad for us here."
Azad Zada* stands at a bus station surrounded by a huddle of people looking exhausted and surrounded by a meagre few bags of possessions.
"I arrived six days ago. My people there are suffering a lot and we have to help them. I have rented a flat, and now many others have arrived and we have to take them in. We cannot bear the situation there but it is not comfortable here either. We are afraid to go home, the children are terrified. The people have nowhere to go. Some are trying to find shelter in warehouses or building sites."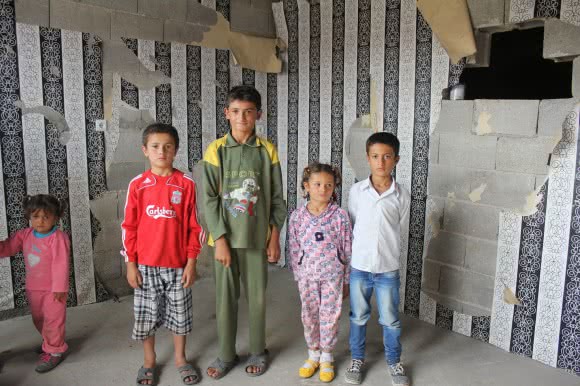 Hasan Izada, aged 38, is a driver who arrived with eight other families. They are seeking shelter in three bare concrete rooms that seem to have been used for storage.
"We escaped when the fighting was about four kilometres from us. There were lots of injured people and burnt cars on the street. Our homes are destroyed.
We left everything there and fled with my children. We have just the clothes that we are wearing.
The border was difficult. We had to wait for seven hours; there were so many people waiting to get into Turkey and not everyone could get through. There are landmines in the ground along the border. They are old but we saw people step on them – they were losing their legs and their arms and even cars were going over them and being blown up.
We knew someone in this town who told use to come to this place. We don't know what will happen to us next."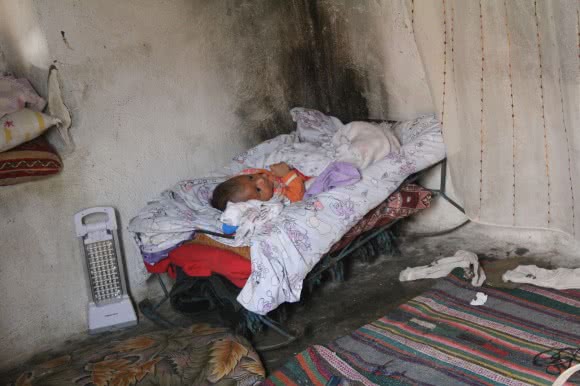 Four women, a baby, two toddlers, a young girl and a small boy of about three or four who is blind, sit on a threadbare rug in a concrete room in their new home in Turkey near the Syrian border. It is three metres by two metres with no electricity, and no door, except for a ragged curtain. The children have a skin infection on their scalps; their heads look raw and flakey in their matted hair. The young baby, Camar*, though small for his 40 days of life, looks content and smiling in his mother Halima's Ali's* arms as she tells their story.
"We all live here in this room. The children have skin diseases, but we cannot get them treatment. We have no food to eat. We buy the food that has gone bad from the market as it is the cheapest we can get. We take the children in the street to beg for money. We arrived from Damascus three months ago. We travelled in a vehicle with animals to get here. Most of our men have stayed in Syria but it is at least safer here.
My baby was just three days old when we fled from Damascus to Turkey. We needed to go somewhere safe. We let an elderly lady stay with us. She has nowhere to go so everyday she goes to a different home."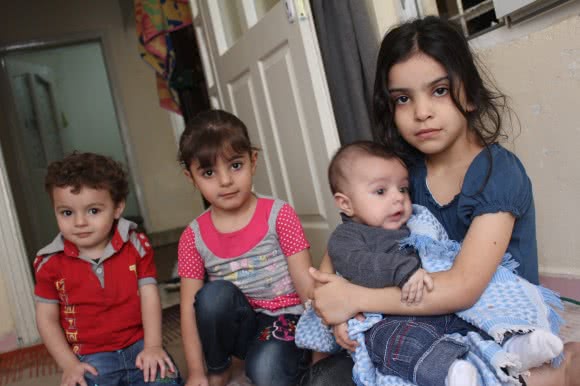 Suria Masa*, surrounded by her grandchildren 
"After the massacre in Homs we just had to get out. Our home was destroyed and we walked and got cars to the border. We suffered a lot to get to the border. There are 13 of us living in three rooms now. When my children manage to get some work, we have food but, if not, then we have nothing and my grandchildren go hungry. As long as there is no peace in Syria we cannot go back."
CARE is assessing needs and coordinating with the Turkish authorities and other organisations to distribute food, blankets and hygiene items to newly arrived refugees most in need. CARE has been supporting more than half a million Syrian refugees in Jordan, Lebanon, Egypt and Syria since the beginning of the crisis. 
Donate now to CARE's Syrian Refugee Crisis Appeal
*Names changed at the request of the interviewees