Today's news cycle is dominated by three international crises: the outbreak of Ebola in West Africa, the ongoing conflict in Gaza and the rise of ISIS in Iraq and Syria. Yet there is one international crisis that seems to have gone missing from the headlines. In the world's youngest country, South Sudan, tens of thousands people have been killed by war, hunger and disease, and more than 1.8 million have fled their homes and villages in what the United Nations has called 'the world's worst food crisis'.
The situation for girls in South Sudan is particularly horrific. According to CARE's recent report, The Girl Has No Rights: Gender-based violence in South Sudan, more women and girls are engaging in sex in exchange for food or water for their families, and rape and sexual assault have become a weapon of war. Even before the crisis, South Sudan was one of the world's worst places to be a woman. Forty-five per cent of South Sudanese girls are married before they are 18 years old, and seven per cent are married before age 15.
Meet a group of girls who have experienced far more in the past nine months than anyone, no matter their age or gender, should ever have to.
Nyabel*, 15
Nyabel is 15 years old. The oldest of seven children, she is the de-facto leader of the children in her family. When fighting exploded across South Sudan in December, soldiers attacked Nyabel's hometown.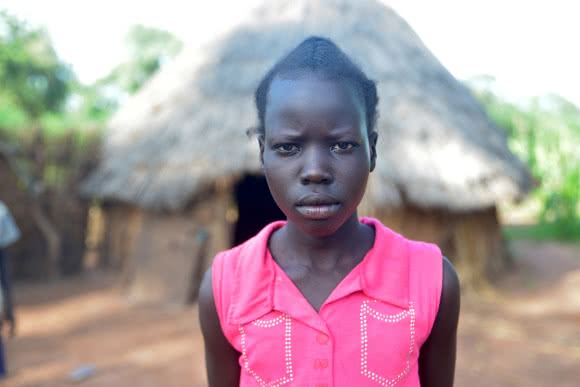 Hundreds of men, women and children were killed in the attack. Cattle, goats and other animals were rounded up and butchered, homes were torched to the ground. Nyabel's aunt and uncle were both killed in front of the family.
Nyabel and her family ran, Nyabel carrying her younger brother and an eight-litre jerry-can. Some six days later, exhausted, thirsty and badly malnourished, they arrived in the town of Yida, where they sought refuge with a family friend, who has given them a place to sleep in a small mud hut, already home another family. They are now living in Yida, but Nyabel can longer attend school, and she says she and her brothers and sisters are always hungry.
"I really feel pity about what's happened to my life. I was going to school, I was in Form 4. Now I've lost this year without any study."
"We have nothing to eat,' said Nyabel. 'I just hope peace comes, so that we can get the possibility of going to school, for a better future."
Muhayya,18
Eighteen-year old Muhayya was with her family in their home when fighting first broke out in December. After many days of bloodshed throughout the town, the fighting subsided.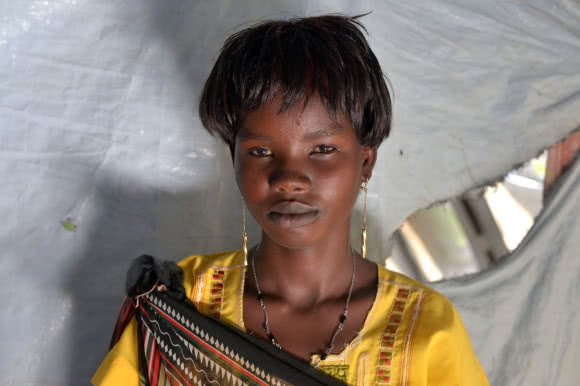 In early January this year, the town exploded again with the sound of bullets and rockets as government and opposition forces attempted to capture and re-capture the town. Having already experienced the fear, hunger and thirst of being trapped by the fighting, Muhayya quickly went outside to gather water from the nearby water pump, knowing that she and her family would potentially have to stay in indoors for many days.
As she went outside, a bullet hit the table next to her, leaving her paralysed with fear. "It was dark. I was so terrified, and immediately, our house was full of soldiers," said Muhayya.
Muhayya's family fled to the nearby bush for some days, before seeking refuge in the UN's Protection of Civilian site, where she is still living today. In the panic of that January night, Muna became separated from two of her younger siblings. She has not seen them since.
She says that not knowing where her younger siblings are has left her deeply traumatised with grief. Some months later, another relative who had also fled during the January attack returned to Malakal to tell Muhayya that her siblings were safe but are now living in a refugee camp in Ethiopia.
"Not knowing where they were, I couldn't eat, I couldn't shower. Knowing how [the soldiers] were firing their guns, I'd assumed they were dead," said Muhayya. "I just wanted to know where they were. Now, I feel happier knowing that they are at least alive."
Aarya, 18
Aarya, pictured here with sister Nyan Deng* and daughter Akuch*, were present when soldiers attacked their community in Panang, in South Sudan's Unity state, killing their uncle, burning their home and possessions to the ground, and slaughtering their livestock.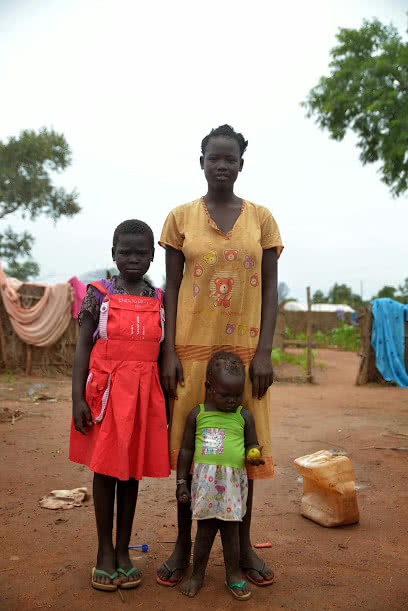 Together with their blind aunt Mary, Aarya, her sister Nyan Deng and daughter Akuch made the two-day walk from Panang to the town of Yida, where they are now sleeping on the floor of a home belonging to a stranger who took them in.
Aarya says they have very little food, and her daughter Akuch is now always hungry. They are dependent on the edible plants they find in the bush, and on handouts from others to survive. CARE has provided Aarya and her aunt Mary with seeds to help grow much-needed vegetables such as tomatoes, eggplants and cabbage near the community that has become their home.
Aarya says life has changed so much in just a few short months, and her biggest hopes now are just to survive and find a more permanent place to live.
"Before the war, we were not worried. We had our belongings, we were cultivating crops, we had enough food. We could take our goods to sell and we could buy clothes," said Aarya.
"Now, I have no option of going anywhere, I just want to have a permanent place to live. While I can no longer go to school, I do hope that my daughter can when she is older."
Rose, 18
Rose is 18 years old, and comes from South Sudan's Upper Nile State. When fighting ripped through her hometown in December last year, Rose fled to to a location further up the Nile river.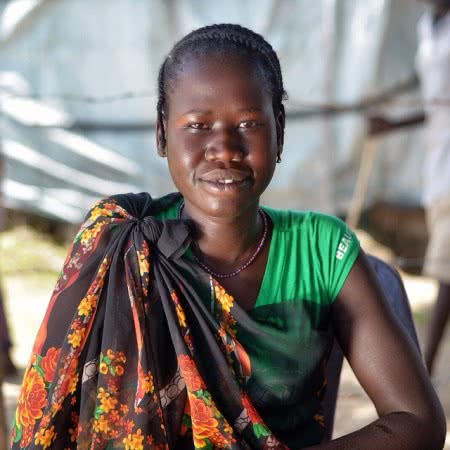 In the past 12 months, Rose has experienced far more fear than most people have to experience in their lifetime. "When you hear the sound of the gun, you just run," said Rose.
When asked of her hopes for the coming year ahead, Rose's three-word answer was simple: 'I want peace.'
 —
CARE is providing healthcare, sanitation and the means to grow food to families living in South Sudan's three hardest-hit states of Jonglei, Unity and Upper Nile, and has already reached more than 250,000 people.
Donate now to CARE's South Sudan Appeal
* CARE is committed to being a child-safe organisation. Names of children have been changed.