When a 7.8 magnitude earthquake hit Nepal on 25 April 2015, the world's attention was suddenly on the developing Himalayan country. But six months on – and after all the TV crews have left – how are communities faring? CARE's Lucy Beck tells.
Arriving back in Kathmandu airport after nearly six months from my initial visit is a surreal experience. Gone are the piles of rubbish, plastic and "left luggage" that was all a result of the chaos of the first few days after the 25 April earthquake. The teams of international search and rescue men and women carrying their stretchers and rescue materials and the hordes of foreign correspondents are replaced by locals visiting from the Gulf and a smattering of tourists cautiously returning.
I have come back to see and document the progress that has been made in CARE's earthquake response over the past months in four of the worst affected districts of the country. When I left, at the end of June, monsoon was about to set in and people – communities and aid agencies – were seriously concerned about how this would affect aid access and living conditions. Now, as monsoon season is reaching its end, I am going to try and revisit some of these remote communities in the district of Sindhupalchowk.
Most of these areas have become almost impossible to reach with the monsoon rains and landslides making roads impassable, so the only way to get there is by hiking up steep mountain tracks. This year's monsoon has actually been around 60 per cent less heavy – good news for the people living under temporary shelters and on already unstable land. However, this is bad news for a majority agricultural population that relies on the rains for the planting and cultivation of their crops which are meant to see them through the coming winter months.
Nepalese communities still need your help. Donate today to CARE's Nepal Earthquake Appeal.
The day after I arrive back in country we begin our journey to Sindhupalchowk; a car trip as far as the vehicle can go and then a three hour uphill hike. As dusk begins to fall on our hike, we experience our first (but by no means last) taste of typical Nepalese kindness. Two ladies we meet on the path offer to carry my bags, and won't take no for an answer … despite the fact they are wearing only flip flops and saris and I am in my full hiking gear, and it's starting to rain … they accompany us all the way to our lodgings for the night and then bid us goodnight with a huge smile.
Nepalese mountain nights are beautiful; sparkling yellow lights dot the hills like hundreds of small candles. Looking around, six months on, these villages may seem like any other across the world – full of small iron-roofed houses. But in fact this is a community of temporary shelters where once there were stone and concrete structures. Most of these people had spent their lifetime (and taken out high-interest loans) in order build these houses. Now they are all partially, if not totally, destroyed by the earthquakes.
The hospitality of the people we meet is overwhelming. We are offered hot milky tea in almost every home we pass, even if it is just a flimsy temporary structure made out of iron sheeting and wood. As I sit and chat to families I find that no one has been left unaffected by the earthquake. 49-year-old Kumar tells me how he had spent his life building six homes for himself and his family in the area, all of which were wiped out by the earthquake.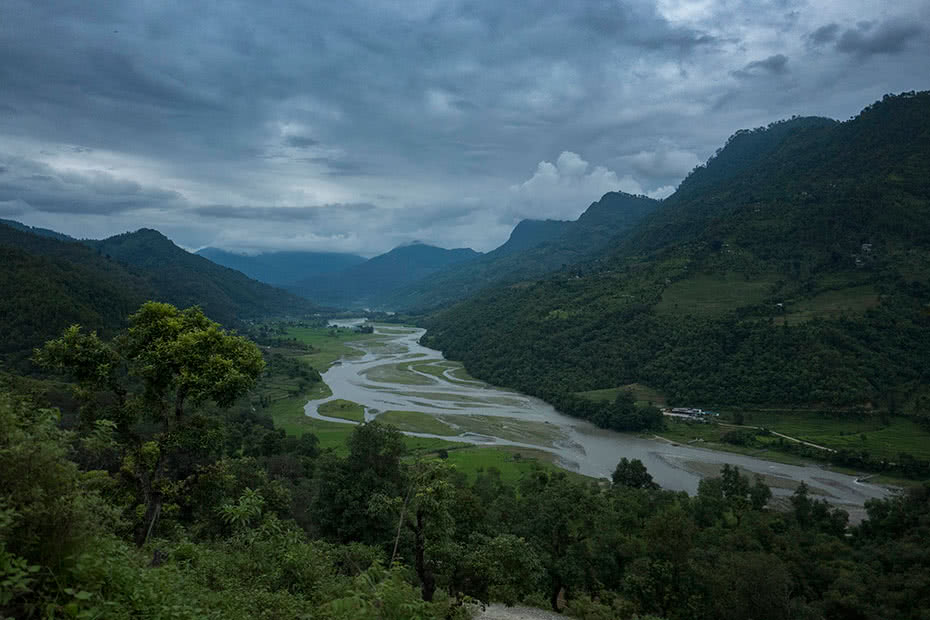 On our third day, as we sit around drinking the traditional sweet tea people start to tell me of their fears and worries going forward. As it was back in April, the number one concern remains shelter. Then, it was just having some kind of roof over their heads. Now – with most people living under temporary corrugated iron sheeting provided by CARE and other organisations – people are starting to think about more permanent structures. One villager in Daubachour village tells me: "Don't worry about giving us food or clothes; just give us shelter – that is all we need."
In the village of Chap, 33-year-old Budran tells me that over 50 per cent of the village took out loans with banks or private lenders to buy land, expand businesses and build homes prior to the earthquake. After the earthquake, everything has been destroyed and they have no idea how they will pay back these loans and the high interest rate attached to them, let alone find the money to rebuild. Many spent years overseas (mainly in the Gulf) working to pay off these loans and are reluctant to do it all over again.
For most of the trip we've been pretty lucky with the weather but that all changes on our last day, when it begins to rain, and rain and rain … Half way through our hike back down the mountainside we are forced to stop and seek shelter with a local family as the path becomes impossibly slippery and everything we own is soaked through.
Finally I start to really understand the implications of "monsoon season". How everything comes to a grinding halt at the mercy of Mother Nature.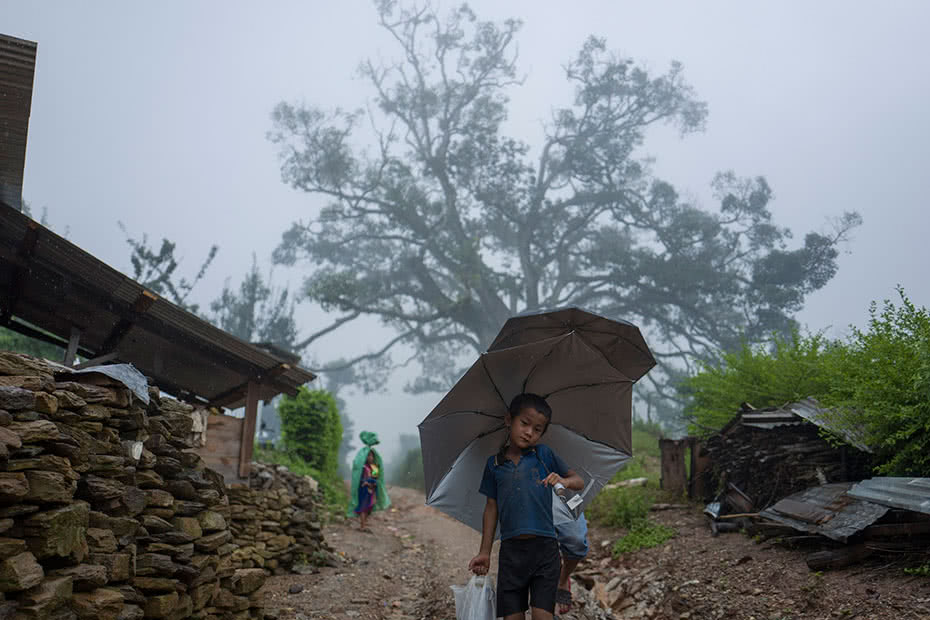 CARE is now starting to think about the next phase of the post-earthquake recovery – the longer term rehabilitation and recovery and how to help people to build back proper structures that will be more resistant to future potential earthquakes and to regain their livelihoods that were largely destroyed by the earthquake.
This is not an easy process. Building homes – even the simplest ones of mud and stone – is expensive and require skilled labour and people remain fearful of further earthquakes. In the words of the popular TV show Game of Thrones "Winter is coming" and the coming months will pose their own and very real challenges for the communities of mountainous rural Nepal.
Six months on from two consecutive earthquakes, Nepal is still recovering and will be for some time. You can help families devastated by the disaster to rebuild their homes and livelihoods by donating to CARE's Nepal Earthquake Appeal.