Sabine Wilke, CARE Haiti
Situated just west of Port-au-Prince, Carrefour suffered severe damage when the earthquake struck on 12 January 2010. Life has never been easy for the people living here, but since the disaster, things have become almost unbearable.
In just 35 seconds, the earthquake transformed 90 per cent of Carrefour into a heap of ruins. Astek was one of the hardest-hit areas. Nestled in the hills overlooking the Bay of Port-au-Prince, this community offers amazing panoramic views. It's the type of setting where one would expect to see villas and mansions. Instead, tiny concrete houses and huts are scattered across the hillside, separated by patches of cleared land and piles of debris. Narrow rubble-strewn roads lead uphill. Our CARE vehicle is panting and scrambling over the stony ground, each bump telling the story of how difficult it is to get people and goods to this neighborhood.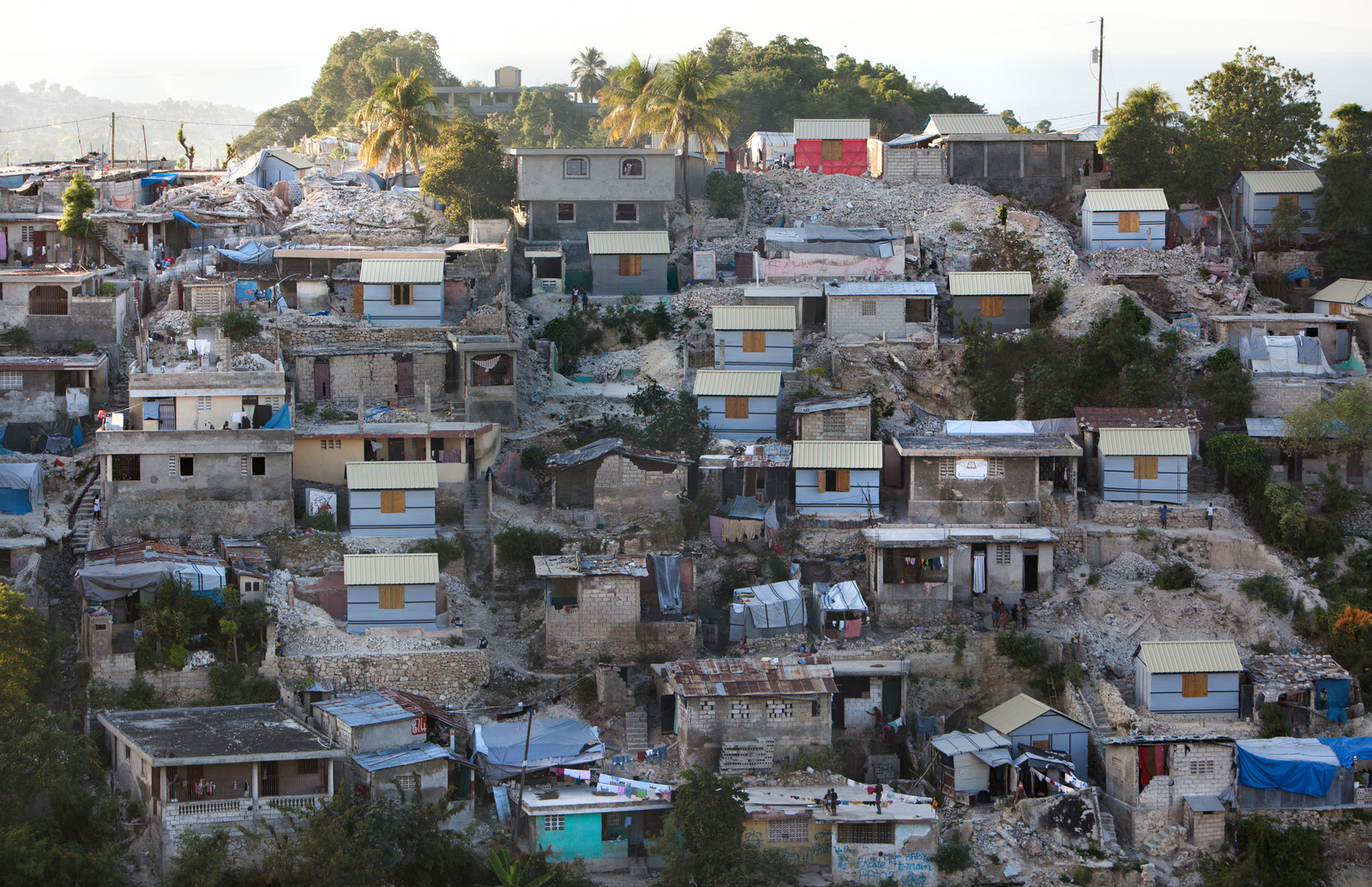 Masseleine Dorwilus sits in front of her house and soaks up the last sunbeams of the day. She holds her youngest son in her lap. Baby boy Dave Raphal was born just after the earthquake and spent the first months of his life on the street between rubble and dust. 'Before the earthquake, we lived in a blockhouse with two rooms. We even had a tin roof,' the 34 year-old mother explains. But like millions of other Haitians, Masseleine's life was cruelly interrupted that January afternoon. 'It was a terrible day. Our house collapsed, muggers took our belongings. But no one died.'
Masseleine has four more children, aged 4 to 12. She used to sell vegetables, but now she can hardly afford to buy anything. And there is no money to send the children to school anymore. 'In the mornings, they see the other kids leaving for class. It makes them cry. I try to keep them distracted, but it's hard.'
Another daily struggle is water. Masseleine has to walk for an hour to get to the nearest water point, and she can hardly carry enough for the whole family, even if the older children help out. So she goes there three times a day. Ever since the first cases of cholera were reported in Carrefour, it is even more important to maintain a minimum level of hygiene.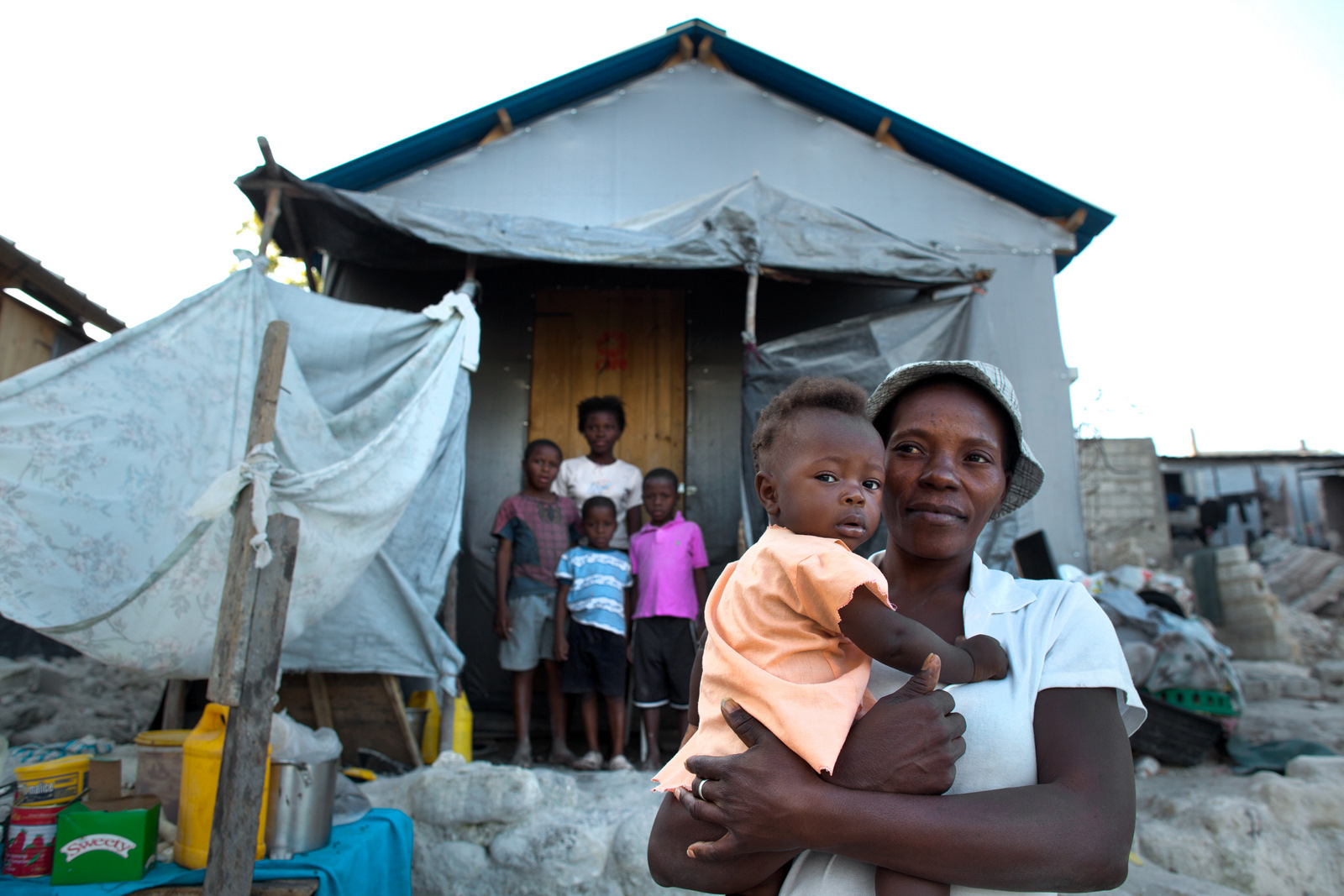 Setting up transitional shelters is no easy task. Land has to be cleared, material procured and land ownership defined. It's also difficult for families to move back to neighbourhoods where everything has been destroyed. Many people are reluctant to leave the camps, even if they are offered a transitional shelter. Most neighbourhoods lack water wells and latrines. After the first round of shelters has been built, CARE will look into ways to set up latrines and water facilities in Astek.
Even faced with so many daily hardships, the transitional shelter still lifts a major burden off Masseleine's shoulders. 'It only took two days to construct it. And I am very happy. Before, we were living on the street.' The shelter's surface measures 18 square meters and Masseleine and her husband have added some features. They set up a covered front porch with the help of plastic tarps and put up a lace curtain to make it more inviting. Inside, everything is neatly organised. With seven people in one room, everyone needs a lot of discipline.
Haitians have a distinct way of answering to the cordial question of 'How are you?' They say 'pas pi mal', which literally means 'not bad'. This is a means of neither bragging nor complaining, in case things are going really great or very bad. For Masseleine, life is 'pas pi mal' right now. This chapter of her life story starts with the end of her world in January, and leads to a wooden frame, plastic tarps and a tin roof by autumn. The next pages will have to be written carefully to lead to a happy ending.