Around the world, we are all facing the uncertainty and anxiety of the pandemic. But imagine having to choose between buying soap or food, or trying to social distance in an overcrowded refugee camp, or to fear violence while you are supposed to be safe at home. Now more than ever, maintaining sound mental health is fundamental to getting through this together.
Here are five ways CARE is supporting people's mental health during the COVID-19 pandemic:
1. Telephone hotlines
"With the quarantine, my husband lost his job and all of us are starving. My husband was thinking of returning to Venezuela but the situation there is so dangerous, we don't have any kind of protection. I want a future for my children, a place where they can study." – Anonymous caller to CARE's telephone helpline in Ecuador.
With 500,000 Venezuelan refugees in Ecuador facing uncertainties about their migration, CARE Ecuador's telephone hotlines provide legal support as well psychosocial counselling.
In Jordan, CARE hotlines are staffed by teams of case managers and counsellors to respond to inquiries, provide referrals and offer counselling to cope with the challenges and new circumstances across the country.
In Palestine, calls from women regarding abuse and domestic violence from partners have gone up by 38 per cent.
2. Counselling and advice on gender-based violence
"I am the victim of several acts of violence on the part of my husband. Before, he did nothing to contribute. I used to fight to feed the children… I ask him for money to feed the family… he also rapes me for sex." – Anonymous support recipient in Cameroon.
CARE is focusing on tackling gender-based violence by setting up online and telephone services for GBV survivors in places like Ecuador, Timor Leste and Egypt, and by creating national GBV awareness campaigns on social media, radio and TV.
CARE partners with the SIT Centre, the only NGO providing mental health counselling for men and adolescent boys in Kosovo, where we run lectures on mental health, yoga, mediation sessions and information on gender-based violence.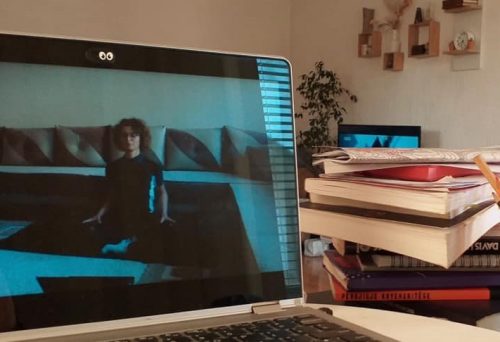 3. Online safe spaces for youth
"We are a team of young people that are working for young people… We saw the crisis as an opportunity to expand and we just had to make it happen. We have 12 recorded podcast episodes and they're about mental health." – Jana ŠARIĆ, Coordinator at Centar E8, CARE's partner working on the Young Men Initiative in Serbia.
CARE partner Centar E8 created activities for young people, including Zoom calls, yoga sessions, live lectures with psychologists, Instagram contests, mobile counselling and even a new Youth Podcast. "We'll talk about our feelings, our experiences. We have talked at least one time a week. And sharing our feelings makes us discharge the negativity. We are happy we have such great support," said 18-year-old Rubin, a participant in Albania.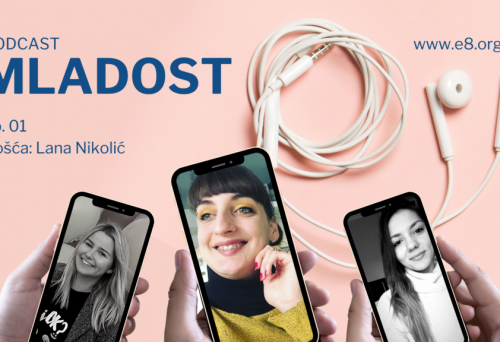 4. WhatsApp support groups
"We know many women risk using their aggressor's phones to reach out for help. It is extremely challenging to support women under these circumstances, but we have found ways to do it. We have created a coded system of emojis so the women can communicate with us undetected, via WhatsApp." – Amparo Peñaherrera, who works for CARE's partner organisation which runs a shelter for women survivors of GBV in Ecuador.
CARE staff have had to adapt quickly due to COVID-19, turning to technology to communicate with participants and conduct programming. In Ecuador, partners carefully communicate with GBV survivors trapped in their homes through coded emojis. For example, a mouse might mean "I need to hide" or a cat "I need help to escape."
WhatsApp's accessibility and voice note options for illiterate populations across west Africa makes it a useful tool for many who struggle to type. It helps members stay connected and reinforces an atmosphere of solidarity.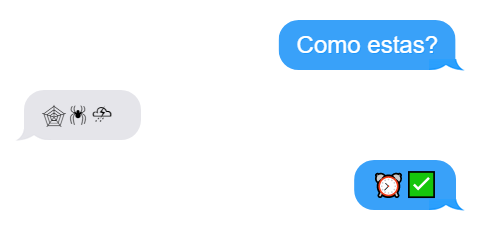 5. Peer-to-peer psychosocial support training
"Volunteers are trained in communication and counselling skills. So, in this situation, when we can't get into the camps, the volunteers can provide care for their patients." – Aimee I. Mateo, Health in Emergencies Project Coordinator for CARE Philippines.
Due to travel bans within the Philippines, CARE staff are prevented from going to certain isolated communities, including displaced people in Marawi City. CARE found a way around this by equipping volunteers with psychosocial and health support skills, through a series of training sessions on gender-based violence, family planning, and conflict resolution.
"I think this is a domino effect, like if mental health is not addressed… there will be more problems," says Janerah Abdulmoin, CARE Philippines' Partnership and Advocacy Officer. When she can finally go back to Marawi City, she will meet with the community volunteers to hear about their work and provide psychosocial support to the volunteers.