By Amelia Poxon, CARE Australia Communications Coordinator
Young parents Bophu and Lojeuw have no way to earn an income.
They are part of the Akha ethnic group, living high in the remote mountains of northern Laos.
If they need money, there is only one option – sell the rice they harvest from the mountains that surround their one-room home.
'Before we finish the rice harvest, we keep some rice in the house to sell,' Lojeuw explains. This further reduces the amount of food they have to eat, but it is one of the few opportunities they have to purchase items like clothing or medicine.
The couple have two daughters; one is two and the other just 20 days old. However, the joy of having a new family is overshadowed by their desperate lack of income, and lack of food.
For one to four months a year, the family runs out of rice and they have to rely on eating with relatives. The only additions to rice in their diet are whatever they can collect or hunt in the forest – vegetables, flowers and rat.
As the sole worker on the rice field since the birth of their youngest daughter, Lojeuw doesn't have time to forage in the forest for vegetables at the moment.
'There is nobody to help collect the vegetables from the forest. I can only collect food on the way to the rice field,' he says. 'If I don't find anything along the way we just eat rice with water and add some salt [and MSG].'
Lojeuw's plan for the future is similar to that of many parents in their village – they want to have sons who will stay with the family to care for them, as traditionally daughters move to live with their in-laws once married.
'We need [sons]. When we have boys we will send them to school. If one boy can get a good job he can go and leave the village but we will need one to stay here and look after us….We would like to send our girls to school but we don't have anything to support them with,' Lojeuw says.
In the past few months, CARE has begun working in Bophu and Lojeuw's village to give vulnerable families new opportunities to earn an income, address gender inequalities and improve health and nutrition.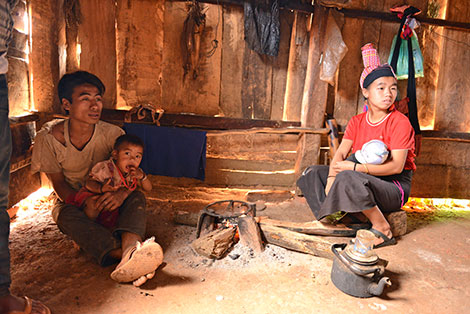 Lojeuw and Bophu have already received materials from CARE to build a fuel efficient stove to speed up cooking time and reduce the amount of wood needed to cook.
'The stove will save my wife time, because she won't need to go and collect [as much] firewood,' Lojeuw explains. This also increases the likelihood of the family drinking boiled water, which will further improve their health. The traditional fire also caused a lot of smoke and frequent lung and eye infections, whereas the new stove will have a chimney to take smoke outside the home. All these benefits will significantly improve the family's health.
They will also have the opportunity to work with CARE to access a more sustainable income and improve their nutrition through harvesting and selling galangal (similar to ginger) and cardamom, growing vegetables close to home and accessing livestock banks. These activities mean that Lojeuw and Bophu will not need to spend as much time searching for food and items to sell.
Before any of these activities begin, the workload variations between men and women is discussed with participants so the common burdens placed on women – such as collecting water and food – are shared and women are involved in decision making processes.
Overall, these activities can provide many improvements to the lives of Bophu, Lojeuw and their daughters – greater nutrition, income, more time and greater equity in the roles they play and opportunities they can access.

You can help families overcome hunger.
Donate to CARE's Hunger Appeal today!