By Amelia Poxon, CARE Australia Communications Coordinator
Pa never imagined her children would be able to go to school.
The 40-year-old mother-of-two lives in a remote mountainous village in northern Laos. Five years ago, she and her husband Bounmy struggled to provide for their family. Pa didn't get the chance to have an education herself and the couple had limited opportunity to earn an income.
Their main focus was having enough food to eat and they spent their time growing and harvesting rice, hunting animals and collecting food from the forest.
Then, in 2008, CARE started working with their community to support people to develop new ways of earning an income and improving food supply, health and hygiene.
Pa was one of the first people in the village to sign up to be a part of the pig bank CARE introduced. She received pigs and training in how to raise them. 'I learnt that I have to keep their sty clean and then the [piglets] are very beautiful and healthy,' she says proudly.
Animal banks allow the risks and benefits of livestock raising to be shared amongst members. Each family receives their own pigs and the sow is rotated on to the next family after giving birth.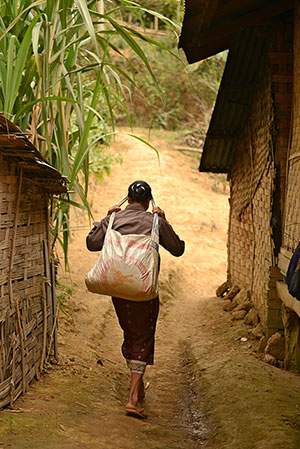 Pa is so dedicated to her new business that she walks for two hours every day to feed the pigs and check on their health. She explains, 'My sty is far away, so the pigs have not contracted diseases… If my pigs were close to other pigs they may get sick, but they are so remote that they are healthy.'
Her efforts are paying off. By 2010, Pa was thrilled to have 12 healthy piglets and was earning around 3.5 million kip a year from her new livestock business ($AUD  437). She continues to go from strength to strength – in early 2013, she had 30 pigs and this year hopes to earn an income of over 10 million kip ($AUD 1,250).
Yet, it's what she has done with her income that has changed her family's life forever.
Her family now has enough food to eat all year round. In the periods when they can't grow enough rice, they have money to purchase some, and Pa has also learnt how to grow vegetables close to home, and grow and sell galangal (a market crop similar to ginger) with CARE's support. She spends her income on other items that improve her family's health, like mosquito nets and large cooking pots.
With enough food on the table and the ability to buy additional items to improve her household, Pa now hopes to give her children the future she never dreamt of for herself – one that is supported by a good education. It's a goal that she is now close to fully realising: Today, her daughter is in grade six and her son has finished high school and is studying medical science.
'I never expected that my children would finish school, let alone go on to university. Thank you CARE for the program, I had no knowledge about keeping pigs before it and would not have been able to send my children to school without it. They have a good life at the moment.'
It looks like they will have a good future, too.
You can support more families like Pa's to overcome hunger. Donate to CARE's Hunger Appeal.