Lao men are taking a stand against violence against women, thanks to a CARE and Australian Government-supported program "Standing Up, Speaking Out". The program recently staged a light-hearted "cook-off" to raise awareness.
The cook-off was part of a "16 Days of Activism to end violence against women" campaign and was organised by the Australian Embassy and CARE International. The friendly competition involved male participants stepping out of their comfort zones and into the kitchen.
Last year, using Australian Government Direct Aid Program small grants funding, CARE enlisted the support of ten male Lao community leaders willing to talk about violence against women and promote social change as part of the SUSO campaign.
In Lao, as elsewhere in the world, entrenched gender roles play an important part in defining what it means to be a man or a woman. For too many men, this includes attitudes and behaviours that normalise or accept violence against women. CARE International has been supporting Lao men to challenge these norms around masculinity.
Modelled on a similar event staged by Australia's Embassy in Hanoi, five "Standing Up, Speaking Out" (SUSO) champions entered the kitchen on Lao's White Ribbon Day for a cook-off, to spread the message that violence against women is not acceptable.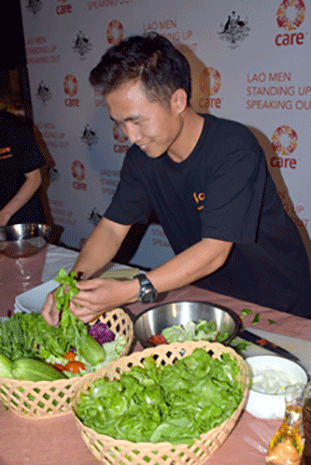 The sight of Lao men competing to impress peers with their cooking skills is a novelty in Laos, where it is usually women who work in the kitchen. Popular Lao musician and SUSO champion, Sam Intharaphithak, found the experience challenging. "Women make cooking look easy but it requires many different skills; cutting and slicing vegetables and meat, rolling up a fresh spring roll … I don't think I did a very good job at cooking these dishes, maybe I did okay with the lime and soda drink!"
The ten SUSO champions include two Lao pop music stars (one an Australia Awards alumni), a prominent academic, an ethnic Hmong student activist and a senior Lao Government official. The event was covered by Lao National TV, which will broadcast a story on the SUSO campaign for a national television audience.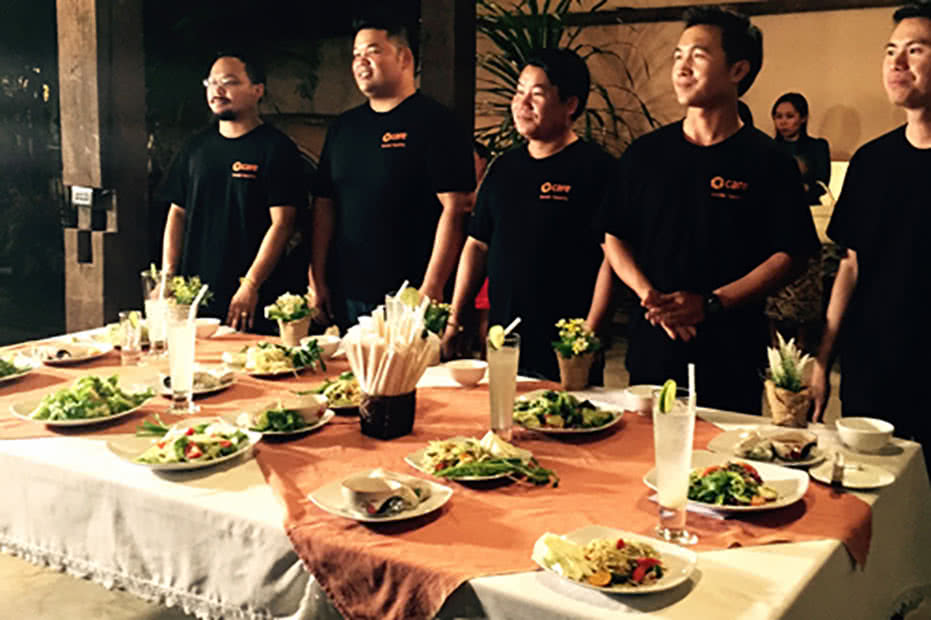 CARE Lao Country Director, Glenn Bond, said the SUSO campaign was an important initiative to help reverse the acceptance of violence by perpetrators and their communities.
"Our hope is to reach an even wider audience of Lao men this time around, who will, in turn, take greater responsibility for their role in ending violence against women," he said.
Australia's Ambassador to the Lao PDR, John Williams, said it was vital to start conversations around how to change men's attitudes in a country where more than one in every seven women experienced physical and/or sexual violence at the hands of an intimate partner.
"SUSO, established by CARE with Australian Aid funding, is an excellent vehicle to raise public awareness about the responsibilities of men and their role in standing up against violence against women," Williams said. He said CARE's SUSO champions engage in public appearances and messages to challenge stereotypes about what makes a man.
"Experience shows engaging men and boys to challenge views that see violence as part of manhood is vital to achieving greater equality between women and men" the Ambassador said.
CARE's work on SUSO seeks to enable men and boys to become agents and activists for change, and to challenge and explore alternative masculinities based on justice and human rights. Find out more about the program or make a donation to support CARE's work around the world.
This article first appeared on dfat.gov.au. You can find an overview of the Australian Government's aid program in Laos here.