Today marks six months since Azraq refugee camp opened in Jordan to cope with the wave of refugees fleeing conflict in Syria. CARE Jordan's Team Leader in Azraq Camp, Marten Mylius, reflects on Azraq's opening night.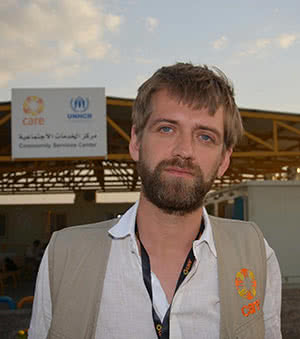 The wind had really picked up and I started to shiver. The desert seemed to be hell-bent on showing its inhospitable face.
"Already past 4.30 am, I don't get it," mumbled the old man into his steaming coffee.
His neat uniform holds the emblem of a private security company. In the moonlight, I could see the rolling hills with their bare, small patches of grass and bush in a sea of stones and dust. No houses, street lamps, or mosques in sight. Not even a moving car. At least nowhere near the perimeter that marks the boundaries of what could turn into one of the biggest refugee camps in the world.
"It is probably just the registration in Rabah Sarhan that is taking them longer," surmised one of my senior team members.
The sense of anticipation kept us on our toes, even though we had already spent more than four hours walking through the area which was designed to receive refugees. We would eventually hand them all the items they need to live in the camp before they are shuttled in the morning hours down into the camp.
My team members seemed to radiate the confidence that the systems and partners would jump into action, turning this place into a lively, safe and dignified environment.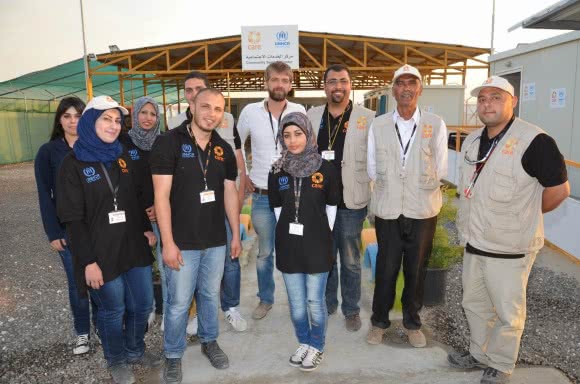 This is not our first time working in a refugee camp. The media stories about what happens in refugee camps also kept lingering in my mind; will we face angry crowds, ready to hurl rocks at us at the smallest provocation? Do we need to worry about the team that has been trained so extensively over the past months and that is so eager to assist our brothers and sisters from Syria?
My gloomy thoughts have been swept aside. Now, I realise how contagious my team's optimism is. It is not blind; they know that a split-second can release the tension that exists under the surface. What gives them comfort and this positive outlook is the nature of our program in Azraq and the mutual reassurances that everything will be different here.
It might not be fair to compare Za'atari and Azraq camps. The former was established in the midst of a formidable humanitarian emergency. Thousands flocked day after day to Jordan seeking safety and help. Within the shortest time span, the camp had 100,000 inhabitants. All energy went into making the basic necessities available as fast as possible. It was a tremendous logistical achievement.
However, it came at a price. People need more than water, food and a place to dwell. They need something meaningful to do and a seat at the table where decisions are being made.
Za'atari's capacity wasn't endless. The conflict in Syria did not show any sign of abating. Millions continued to find themselves displaced within Syria. The longer the conflict lasts, the more their coping mechanisms eroded and the harder it became to survive on their own accounts, leading to more pressure on neighbouring countries to host even more refugees. That is when Azraq camp came in.
We had the luxury of studying Za'atari and seeing what needed to be done differently. Azraq camp wouldn't have a mass of shelters, but a neighbourhood of various villages. In the middle of each village, you would find community centres that CARE built with the support of UNHCR, to encourage an active community life, and combat idleness and misinformation.
I still remember vividly the event of the opening of the camp in late April, when we all stood shivering in the cold. There was already a sense of achievement, even though we had not received any refugees yet. That sense of achievement was not at all misplaced. More than 12 months of work had already gone into the preparation of this place.
Water tanks on the tops of the hills were connected to pipes running down to tab stands and more than 100km of tarmac roads had emerged in the north-eastern Jordanian desert. Even the supermarket had come up at an impressive pace during the last four weeks.
When the buses finally brought the first refugees to the reception area of Azraq camp, the sun was about to rise.
The number of children was striking. Even now, six months after the camp opened, more than half of the 14,000 refugees living in the camp are children. They are almost completely deprived of any belongings. Many of them just carry the clothes they are wearing.
This would warrant CARE to undertake the distribution of clothes, even though this was not planned. So far, the community centres have been quite successful in addressing most problems, involving the other 20 agencies that work in Azraq camp and engaging the refugees with options and solutions. We are not complimenting ourselves too much when we state that we have, to a great degree, contributed to a successful first six months in Azraq camp.