"I'll never abandon school"
September 23, 2015
0 comments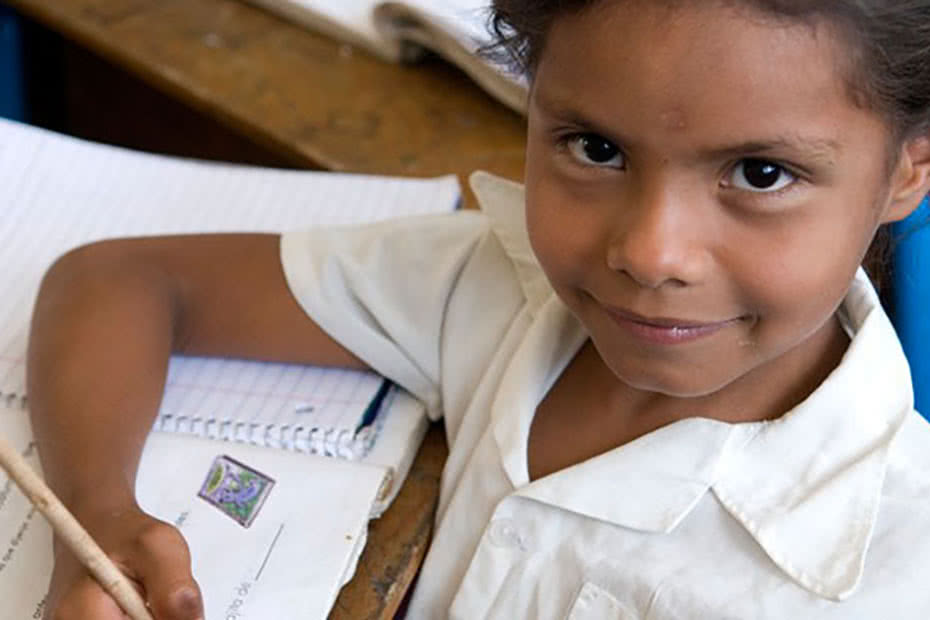 Anna Maria, age seven, from Nicaragua, is already well on her way to being a leader. While other students stare out the window or talk amongst each other in class, Anna Maria watches her teacher with steadfast concentration.
She attends primary school in her rural community in northern Nicaragua. It is an area rife with poverty; small homes constructed of mud and tin line the dirt lanes, whose residents are largely subsistence farmers.
For the past four years, CARE has been working in the local school to provide students with a high quality education. Working alongside local leaders, CARE is helping improve the quality of education by providing school supplies and equipment, establishing student governments and tutoring groups and training teachers.
"Now teachers get together each month to create lesson plans,"explains Sonia, a schoolteacher for the past 18 years who last year became the director of the rural school. "In the classroom, communication between teachers and students has improved, and you can see that students are more confident as a result."
Because parents heavily influence their children's success in school, the project also raises awareness among parents about the importance of education and encourages their active participation in school activities.
"There are many parents in this community who can't read and write – maybe a third of the parents altogether. But, most of them want their children to succeed in their education," Sonia says. "When children drop out of school, it's almost always for economic reasons, because their parents need them to work."
The region faces harsh economic realities. Therefore the project strives to make parents understand that the long-term benefits of completing an education outweigh the short-term economic gains accrued from pulling a child out of school to work.
Doris, a single mother of four children, understands this. Her youngest daughter is attending another CARE-supported school a stone's throw away from Anna Maria's. If you are not educated, you cannot find good work," Doris remarks. "I didn't have the chance to go to school, but I don't want my daughters to have to work from four in the morning until sundown on a farm like I do. "I want them to have something better. If they don't want to go to class, I talk to them about what the problem is."
Sonia and her fellow teachers check-up on students when they don't come to class – a practice encouraged by the project. "When students are out of school for three or four days, we (teachers) visit their homes to talk with the parents and see what the problem is," Sonia says.
"Altogether, parents are more involved in the school now. They help us with rehabilitation projects and organise recreational activities for the children. We also have a group of mothers who cook lunch every day for students," Sonia explains.
"For me [the CARE-supported program's] biggest contributions have been increasing retention rates and motivating students to be leaders at school and within the community," Sonia remarks. "Last year we had a 100% retention rate."
A quality education is a ticket out of the vicious cycle of extreme poverty often seen in the rural areas of Nicaragua.  For students like Anna Maria a new determination to strive for a better life is already apparent. "I will never abandon school," she tells our local CARE staff. She wants to be both a teacher and doctor.
In 60 schools in six municipalities of Nicaragua, CARE's project is working to improve the quality of education to give Anna Maria and thousands of other students the chance to realise their ambitions. Support life-changing projects like these by making a donation to CARE.
*CARE is committed to being a child safe organisation. Names of children have been changed. This story was first published by CARE UK.