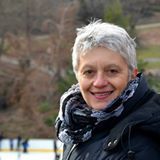 June is workplace giving month and we would like to say a huge thank you to all of our wonderful workplace givers.
Rose Stellino, Relationship Director at Westpac, is one of our most passionate supporters and wanted to share with us why she chose to support CARE through her Workplace Giving Program.
At Westpac, we are regularly reminded just how easy it is to give. And as an added incentive, Westpac has pledged to 'match gifts' – to match each donation dollar for dollar!
The process is super easy: it takes just a moment to select a charity, choose the amount we want to give each fortnight, and then Westpac matches it. Simple as that.
I chose CARE because of a personal experience I had a few years ago while on holiday in Vanuatu. The people in the area I visited impressed me so much: even though they lacked access to clean water sources, basic sanitation and essential health services they were so happy and caring!
Not long after I returned home, Cyclone Pam devastated that community.
I knew I needed to do something and I remembered seeing a CARE sign posted on a little hut where their staff were working. I looked them up and learned that CARE has been in Vanuatu since 2008, working with communities to build resilience to disasters, and increasing women and girls' involvement in community and national leadership.
I subscribed to the CARE newsletter, which has become my trusted source of news and up-to-date circumstances in Vanuatu.
I am loyal to CARE because I trust them! They are on the ground with local staff and delivering programs that are empowering local communities. The extent of their research and work is outstanding.
Communication, acknowledgement and recognition of my donation are important to me. CARE provides me with this comfort and I know they are only a phone call away if needed.
Giving must come from the heart and with CARE, I am glad to be emotionally and intellectually involved.
For the last four years, I have purchased my Christmas presents from the CAREgifts catalogue. Last Christmas I gave my granddaughter some chickens (she has enough toys)! She is five years old and this was a perfect opportunity to start talking about how easy it is to help other little girls all around the world!
Thanks to all of our workplace givers who help make our life-changing work possible. If you would like to find out more about how your workplace can get involved and make a difference, email us at workplace.giving@care.org.au for more information.