As mentors on the Girls Rise Up! project, Lyn and Bethlyn understand the importance of providing a safe and supportive space for adolescent girls in the Solomon Islands to learn new skills and confidence.
"Many young girls don't go to school and often don't have much of a voice in my community," says Bethlyn.
Girls drop out of school because their families can't afford it, but also because of strong discriminatory social norms that limit girls' opportunities. Education for boys is valued and prioritised while girls are expected to do household chores, look after siblings and aspire to be a wife and mother. Another factor is the stigma and shame around pre martial relationships and pregnancy. Both adolescent boys and girls lack knowledge about sexual and reproductive health and access to services limiting their ability to make informed and safe choices within relationships. Fewer than 1 in 10 (7%) of adolescent girls in the Solomons graduate high school, one of the lowest rates in the world.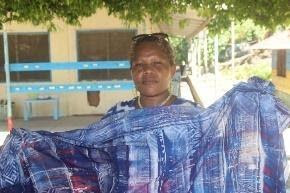 According to Lyn, lack of educational opportunities leads to vulnerability, as young women are less able to support themselves or their family. "Some young women end up financially dependent on their partners for survival," she notes. This dependence often leads to violence. In the Solomon Islands 64% of women experience physical or sexual violence by partners in their lifetime. According to the YWCA, violence in the home can also lead to girls running away to live on the streets with no source of income. Some go on to be exploited through transactional sex.
For young women with a disability, these challenges are amplified. They are often invisible and undervalued, subject to high rates of violence and with limited access to health and education services.
With significant underrepresentation of women in public decision making, there are few female role models for young girls and limited opportunities for them to take on and practice leadership skills. Currently only four out of the 50 MPs in the national parliament are women.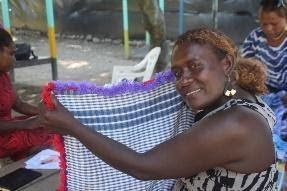 The Girls Rise Up! Project, led by the Young Women's Christian Association (YWCA) of Solomon Islands in partnership with CARE International aims to address this situation. It is supported by Australia through the Pacific Girl program, managed by Pacific Women Shaping Pacific Development (Pacific Women). The project aims to develop the confidence, skills and knowledge of at-risk adolescent girls aged 13-18 and to establish supportive peer networks, providing girls with the opportunity to safely advocate on issues that affect them, while engaging service providers to support the needs and priorities of the girls. The project actively includes girls with disabilities.
Lyn and Bethlyn are huge fans. "This program is free for girls to attend and will support them in their lives. It is really helping us as mentors to reach out to our communities to engage with our youths and empower them financially," Lyn says.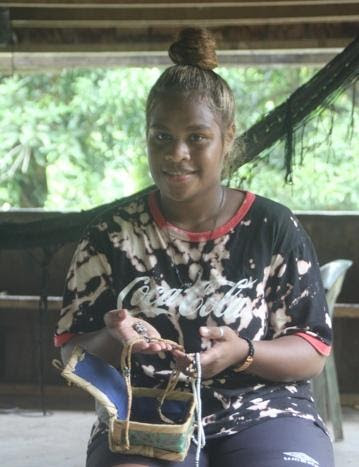 Clera Tegu describes Girls Rise Up as life changing. Seventeen year old Clera, one of 200 young girls involved in the project, is deaf and credits the project with not only providing her practical skills, but also the confidence to advocate. She recently took part in a talk back radio segment with the Solomon Islands Broadcasting Corporation to promote support for girls with disabilities.
"I have learned a lot through the life skills program, such as how to make jewellery and dye fabric (lava lava) which I can sell to earn money to buy food, church offerings and clothes. Now I can contribute to my family's income." Clera's confidence has been boosted and she has recently been recommended by the project mentors to attend the Red Cross Special Disability Centre in Honiara which provides support for people with disabilities to develop independence and go on to mainstream schooling or employment.
References:
Plan International, "Our Education, Our Future", 2020. https://www.plan.org.au/wp-content/uploads/2020/08/our-education-our-future-pacific-girls-lewading-change-to-create-greater-access-to-secondary-education-solomon-islands.pdf
Plan International, "Our Education, Our Future", 2020. https://www.plan.org.au/wp-content/uploads/2020/08/our-education-our-future-pacific-girls-lewading-change-to-create-greater-access-to-secondary-education-solomon-islands.pdf
UN Women, https://evaw-global-database.unwomen.org/en/countries/oceania/solomon-islands
https://www.rnz.co.nz/international/pacific-news/431245/fourth-woman-elected-to-solomon-islands-parliament