A girl is forced into marriage somewhere in the world every two seconds. Just think about that for a moment, it takes longer to boil an egg. But improved education and reduced poverty could help set her free.
Isadora Quay, CARE International's Gender in Emergencies Specialist, has seen things most of us only read or hear about on the news. While speaking with ABC Local last year for an Australia Day Appeal, she admitted to being interested in how conflicts can lead to some extraordinary changes in societies; especially in the relationships between women and men.
She cited Rwanda as an example. The previously male-dominated country, crippled by the devastating genocide in 1994, today has the highest proportion of female politicians in the world.
Thanks to dedicated humanitarians such as Isadora, we are given a real insight into what millions of people living in poverty or fleeing war are facing on a daily basis and what is needed to support them within various cultural settings. Isadora told ABC Local that sometimes, a misunderstanding in terms of culture could have devastating consequences.
At the moment, concern is mounting around the impact the civil war in Syria is having on the country's people. This is especially of concern in relation to the increase in child marriages among Syrians stranded inside and outside of the country.
As it stands, over 12 million people are in need of humanitarian assistance inside Syria with a staggering 5.6 million of them being children. It's alarming facts such as these that remind us that every dollar slashed from Australia's aid budget, is a dollar that isn't available to help people rebuild their lives.
In response to the growing crisis, the Australian Government has so far contributed over $130 million to agencies responding to the Syrian conflict, like the United Nations and CARE International, since the war started in March 2011.
When we dare to look closer, it's clear more needs to be done as is highlighted by many reports such as CARE International's Protect Her Honour. These reports remind us that we can't forget countries such as Syria where, for example, rates of registered child marriages have dramatically increased among Syrian refugees sheltering in Jordan.
Consider these alarming facts:
From 2011-2014, the number of registered marriages in Syrian refugee populations in Jordan involving a girl aged between 15 and 17-years-old has tripled.
Girls aged between 15 and 17, made up 12 per cent of all registered marriages in 2011. In 2012, that percentage rose to 25 per cent and in the first quarter of 2014, it increased yet again to just under 32 per cent.
In Isadora's words, "child marriage has gone from being something relatively uncommon, affecting about one in ten Syrian girls, to nearly a third."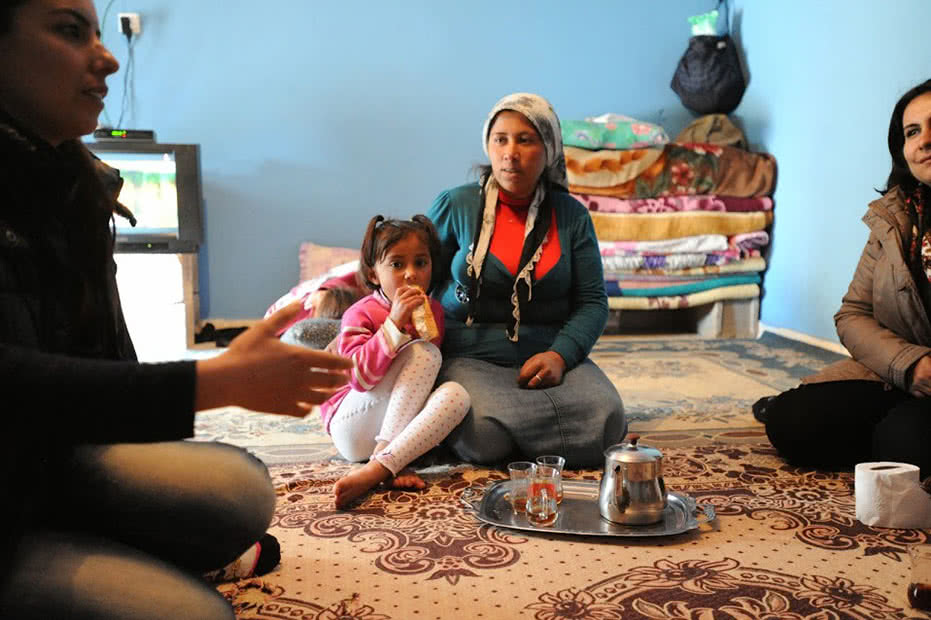 Why is this happening?
According to Isadora, "in times of conflict a whole range of issues around gender based violence and child marriage get worse."
According to reports from those on the ground, parents are marrying their daughters early to either "protect their honour", fearing they could be sexually assaulted during the conflict, or ensure their future by finding an older man who can provide for them. Sadly, while many families think they are helping their daughters, research shows child marriage often acts as a gateway to domestic abuse or health complications from pregnancy at a young age.
This is backed up by the findings of Isadora's assessments, "The first reason is families think it's the best ways to protect their girls in times of conflict. They want to protect their honour, but we know sadly that the consequences of getting married very young can be devastating."
Girls under the age of 15 are five times more likely to die during childbirth than women in their twenties. Not to mention, these girls are often denied an education. We know that for every year of school a girl completes beyond year 4, her income earning potential increases by 20 per cent.
So what impact is the situation having on the Syrian refugees?
Isadora was recently on the ground in Turkey, holding tele-conferences with displaced people inside Syria and she told the ABC's PM program that women's groups were very concerned about child marriage or "early marriage" as they called it. It was the first issue they brought up when speaking with her.
However, when she had the same set of interviews earlier with groups of men, they didn't mention child marriage at all and only admitted it was a problem when Isadora brought the issue up.
"We had long phone conversations with groups of displaced people inside northern Syria. With the men we talked about jobs, education and safety and then after an hour raised the issue of child marriage. They acknowledged it was an issue but didn't bring it up themselves.
This was put into stark contrast when we asked a group of women and girls and they brought it up themselves. It was the first thing they talked about, they wanted to talk about child marriage. To them, it was a big issue," said Isadora.
Clearly, the perception in terms of men and women differs greatly within the region itself, however, we must all ask ourselves: would we want our daughters married at such a young age?
Sometimes, it can seem as though it's all too big a problem to solve, but together, we can make a difference.
Off the back of the announcement of the UN's Sustainable Development Global Goals (SDGs) in which Gender Equality has an entire goal dedicated to it, we must work towards improved education, poverty reduction and peace building in order to reduce the frequency of child marriage (defined as being marriage of those under 18).
We can also help by writing to our new Prime Minister to ask him to repair the Australian aid budget. After all, Australian Aid goes towards building a more prosperous future for our country, our region and the rest of the world.
This article was first published by Campaign for Australian Aid.