Stories from the province of North Kivu in eastern Democratic Republic of Congo (DRC) where more than 330,000 people have fled their homes due to violence and conflict. 
"We heard shooting and when we realized it was coming closer we took our baby and ran."  Twenty-year-old Jean and his wife had no time to take any belonging.  "I waited for a few hours until the gunfire was gone and then went back to the house to get food, but the village and my house were burnt down,"  he recounts of his escape.
Over the last couple of months, tens of thousands of people have been fleeing similar attacks by rebels in southern Masisi territory in the province of North Kivu in DRC and several rival armed groups are continuing to create havoc.
The CARE team visited the spontaneous displacement camp in Kibabi on a sunny day early September, Jean, his wife, and five-month old baby had left their home village Ngululu three weeks ago.
They had walked for four days until they arrived in Kibabi seeking safety and shelter. They collected hay to construct a little hut where the family now lives. With the arrival of more than 13,800 people, the camp has grown into the size of a village.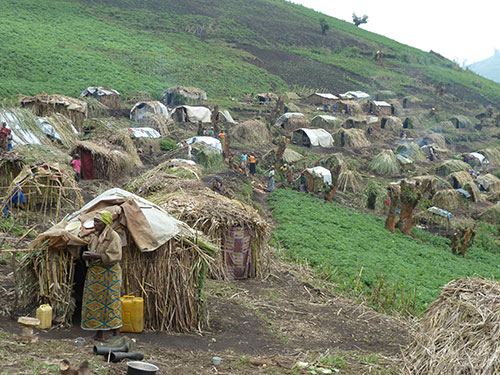 "I don't know when we will be able to go back home," Jean says as his head is tilted down. "We are cold at night and when it rains, we are not protected because our hut has no plastic sheeting."  Temperatures drop to close to zero degrees at night and the rainy season has started in full swing.
Jean continues, "We usually manage to eat once a day, I work in the fields of the local community, and my wife goes around asking for donations. But it's not every day we eat and we eat very little." Luckily, Kibabi has a natural water source where people collect drinking water.
"It came as a relief, when we received food from CARE. We've got beans, flour, sugar, and some cooking oil.  We have shared it with the people around us because not everybody received a voucher to go to the market. We can eat from it for a whole week."
CARE together with local agencies has organised a week long food distribution for almost 24,000 people, through a voucher system. CARE spearheaded the innovative voucher system through which beneficiaries buy their food on the local market, which not only empowers them to choose items they need most, but also supports and safeguards the local economy.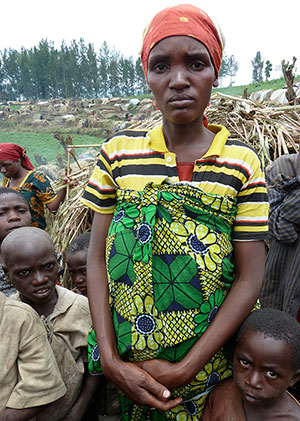 Marie-Claire, a 32-year old single mother, arrived from Kasheke two weeks ago with her six kids and one on the way.
She is grateful for the beans, flour, and oil she was able to purchase using vouchers received from CARE, but is worried that it won't last for long enough. "We share the food with everybody and when it is finished, we will die just like that," she says with an exhausted voice and fatigue in her eyes.
Others echo similar sentiments of thankfulness. "Ever since we fled home, I've had difficulties feeding my six children. With the food fair, we finally have something to eat," 47-year old Charles says with a sigh of relief.
"We are going to eat for the first time since we left our home, Katoyi, four days ago," 23-year old Julienne says as her newborn baby sleeps silently in a cloth tied around her back.
30-year old Francoise expresses similarly, "with the food fair, CARE is helping displaced people, children who are suffering of hunger."  She rests on the lawn next to her bags filled with rice and beans to regain some strength before she starts her four-hour walk back to Bukumbirire where she is sheltered with a host family.
As clouds suddenly appear on the sky, wind starts blowing down the hills, and chilliness overtakes the place, hundreds of women, children, and men continue to stand patiently in line to receive their food coupons, which will allow them and their families to eat for up to two weeks.
CARE provides life-saving assistance through various emergency projects in North Kivu and has already reached 84,000 people in need since the outbreak of the most recent crisis in eastern DRC.
Read more about CARE's work in emergencies
Donate to CARE's Global Emergency Fund