by Lyrian Fleming-Parsley, CARE Australia
When my colleagues first met Edda in rural Malawi in 2012, her situation was dire. She and the four grandchildren she cares for had been sleeping in a neighbour's kitchen for a month because their home collapsed.
'When the house began falling down around us I didn't know what to do or who to turn to,' explained Edda.
Edda is a subsistence farmer, which means she grows most of the food her family eats. She grows maize, cotton and peanuts, but without fertiliser, she couldn't grow enough food to feed her family.
'Life is hard for me and the grandchildren,' she told us. 'I try to do the best for my family, but it's impossible for me to provide food all year round.'
To raise the $50 needed to repair her home, she spent months working in other people's fields instead of tending to her own small farm.
She said: 'I feel angry and upset that this has happened to me. I don't really want to start over, but I have no choice. I'm ashamed that I don't have a safe, warm house for my family.'
Sadly, Edda's situation is common in Malawi, where rural poverty is high, food insecurity is widespread and women lack social and economic support.
'I fear hunger,' she told us. 'Many households in this village find it difficult to grow enough food and every year we manage to get through the lean season [the period between food running out and the next harvest], but I worry what next year will bring. I am tired of living miserably and I dream of a better life – one where we have a good house, enough food and the children go to school.'
It was around this time in 2012 that CARE began working with Edda and her community to support women who struggle to provide food all year round.
'CARE's arrival in our village couldn't have come at a better time. My children are hungry and sick and I had almost given up on farming because very little grows from the land anymore, but the winds of change have arrived and now I have hope again.'
A lot has grown from that hope in two years…
I travelled to Malawi in January, and the Edda I spoke to was strong and tenacious. She has been saving money regularly through a Village Savings and Loans group CARE established, and with the money saved so far, she has bought rabbits, a pig, pigeons and chickens to breed and sell.
'My animals are an investment so when they grow up and I need something for the house, I can sell them,' says Edda proudly.
She has also learnt small business skills through the project, and put them to good use selling local snack food in her village.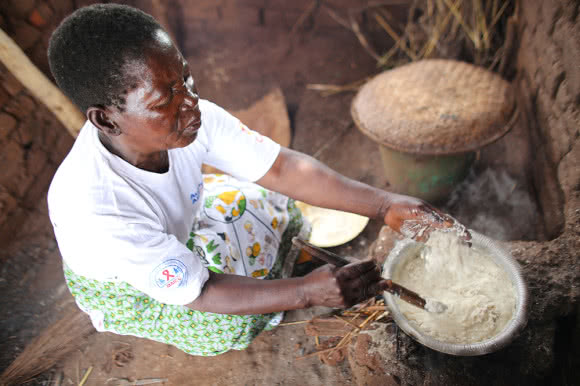 'I have been trained in business, how to set it up, and how to run the business. This has helped my business, has helped me buy some things like maize and meat,' she explains.
The best news is that the family is eating more now. It is the lean season again, a period when her family used to suffer with just one meal per day. Yet Edda's farm is doing better than ever, now that she is applying her new farming skills. Now, the family are eating two meals of maize porridge with vegetable leaves a day instead of one. Sometimes, they are able to add kidney beans to their meal too.
The change in Edda's life is significant. In just two years, her children are eating more food more often, and are not as susceptible to grave risks of hunger. Edda is also able to use the profits from her small business activities and the money she saves through the Village Savings and Loans Group to provide the things her grandchildren need to go to school, including uniforms, school books and soap.
With more food on the table, more opportunities to earn an income and support her family, and with her newly learned skills in savings, spending and small business, Edda is in a better position than ever before to escape the cycle of extreme poverty and hunger.
Now, Edda looks to the future with excitement instead of worry.
'I expect to get bumper yields [of maize] this year compared to last year… This year I plan to save 10-15,000 kwacha ($30-40) and will spend the money on fertiliser and food,' Edda says of her plans.
Thanks to CARE's supporters, around 15,000 people like Edda, across two districts in Malawi are being supported through this project. They are receiving training in reading and writing, financial literacy, saving and budgeting, modern farming techniques, crop management and nutrition in order to overcome hunger, improve their family's health and deliver previously unimaginable opportunities.
Thank you for making this change possible, for Edda, and millions of people like her around the world.