Seven women from Australia are currently participating in CARE's I am powerful cycle challenge from Vietnam to Cambodia. Participants will visit CARE projects and hear first-hand from the communities about how CARE is empowering women and helping to overcome global poverty.
Belinda from Inspired Adventures is sending regular updates on how the group are going and what a CARE challenge is all about.
Day one: The ride begins! 7 fabulous women from the east coast of Australia have joined forces to empower women in South East Asia. We're a small yet determine group who have raised a staggering $32,000 with more sponsorship coming in with each rotation of the bike peddle!
Let me introduce to you the team; Tonina Cleland and Lynn Potter from Marebra in QLD, Pam Joseph from Melbourne and the crew from Sydney, Jane and Ginni Leonard, Natalie Jenkins and Alisha Williams. Karen Elliff from CARE Australia is supporting the team.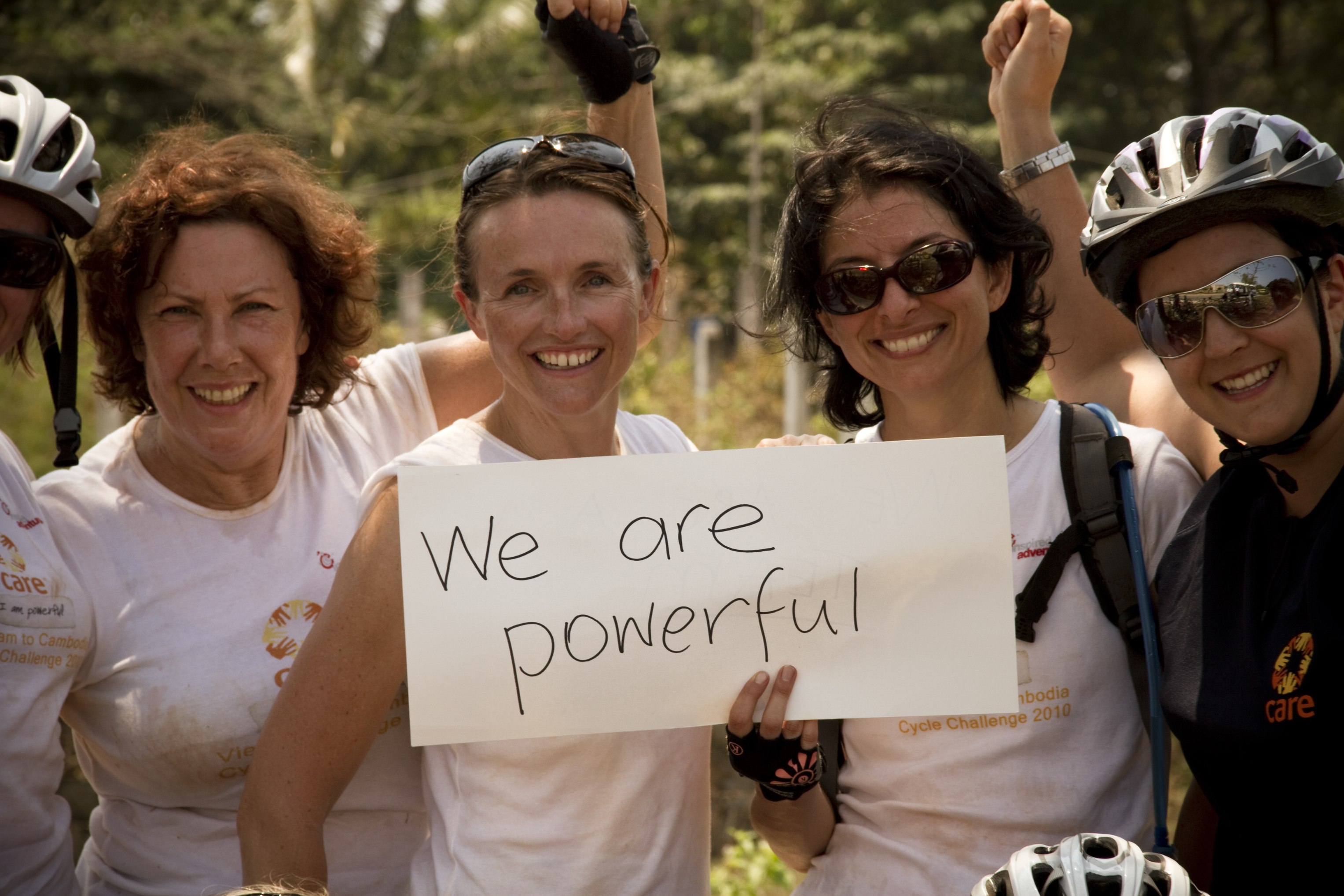 Days two and three: So, everyone thought that yesterday was fun and challenging. Let me introduce you to today: 39.5 degrees celsius, cycling in the peak of the midday heat, crazy traffic consisting of buses, bicycles, 3-wheeled motorised vehicles, pedestrians, livestock, and a market. All of this equals 50km cycled, with all of us exhausted and in bed at 8.30pm!
Day four: Tam Biet Vietnam, Sawsadaa Cambodia!
The boarder crossing included 2 hours of paper shuffling and a dramatic difference in the landscape as we stepped foot into Cambodia. Gone was the hustle and bustle of a city racing to modernise. Ahead, fields for as far as the eye could see; salt pans on one side, rice fields on the other.
The first 17kms cycled on Cambodian soil were extremely bumpy, orange and full of some of the happiest people you have ever met.  The Cambodians we met were minimalists, not by choice however, but are extremely welcoming and excited to have new faces cycle through their villages. Waves, smiles and hellos became an immediate part of the cycle challenge.
A great pace was set, ensuring that we all lasted the distance. It was another 40 degree day, and at 11:30am this can sap even the most finely tuned athlete of all their energy.
After 3 rest stops, durian biscuits, lots of water and litres of sunscreen we arrived into the beautiful beach side town of Kep. Everyone has fallen to bed, exhausted but proud and more determined than ever to successfully complete each day's challenge as it comes.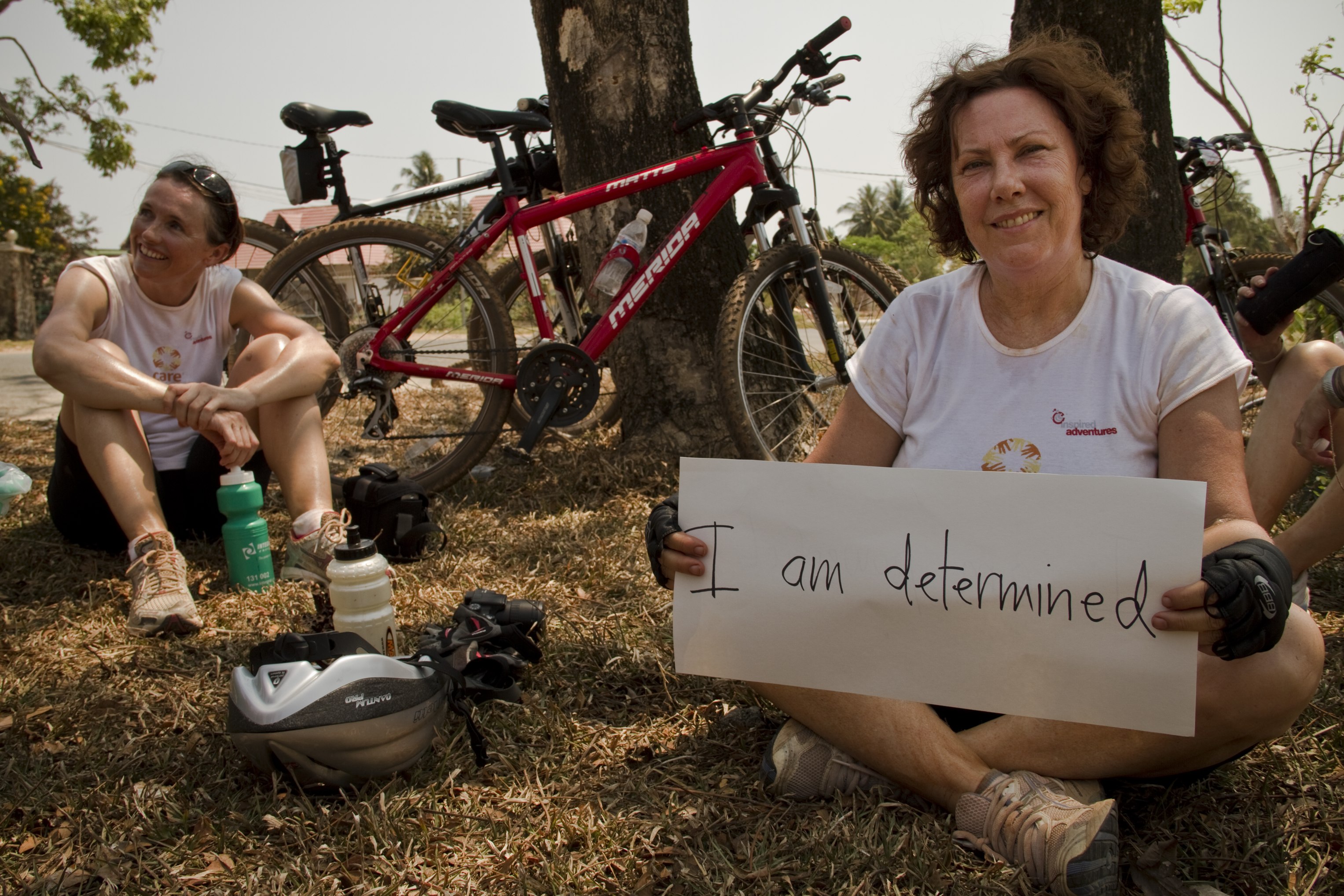 Day five: Today's cycling was BEAUTIFUL!
The cycle route took us along the coastline where the mountains meet the sea… we travelled from Kep through Kampot, negotiated our way through the local traffic, which once again included the usual suspects: cars, trucks, cows, people and the chaotic markets.
We travelled by boat through mangroves and eventually arrived at Sihanoukville. A little beachside town – perhaps best described as what Thailand would have been like 30 years ago.
Tonight we had the national dish for the first time – Amok Curry, usually served with either fish, vegetables, chicken or beef, in a spicy coconut curry! YUM!
We cycled 30km in total and had a fabulous day.
The next two days are going to have some full-on riding so today was about preserving energy levels to ensure we are all successful in completing the mammoth challenge ahead.
Day Six: What a fabulous day! Our team travelled over 2 hours out of Phnom Penh to Kompong Trabek where we had a briefing at the CARE office about the various projects they are involved in.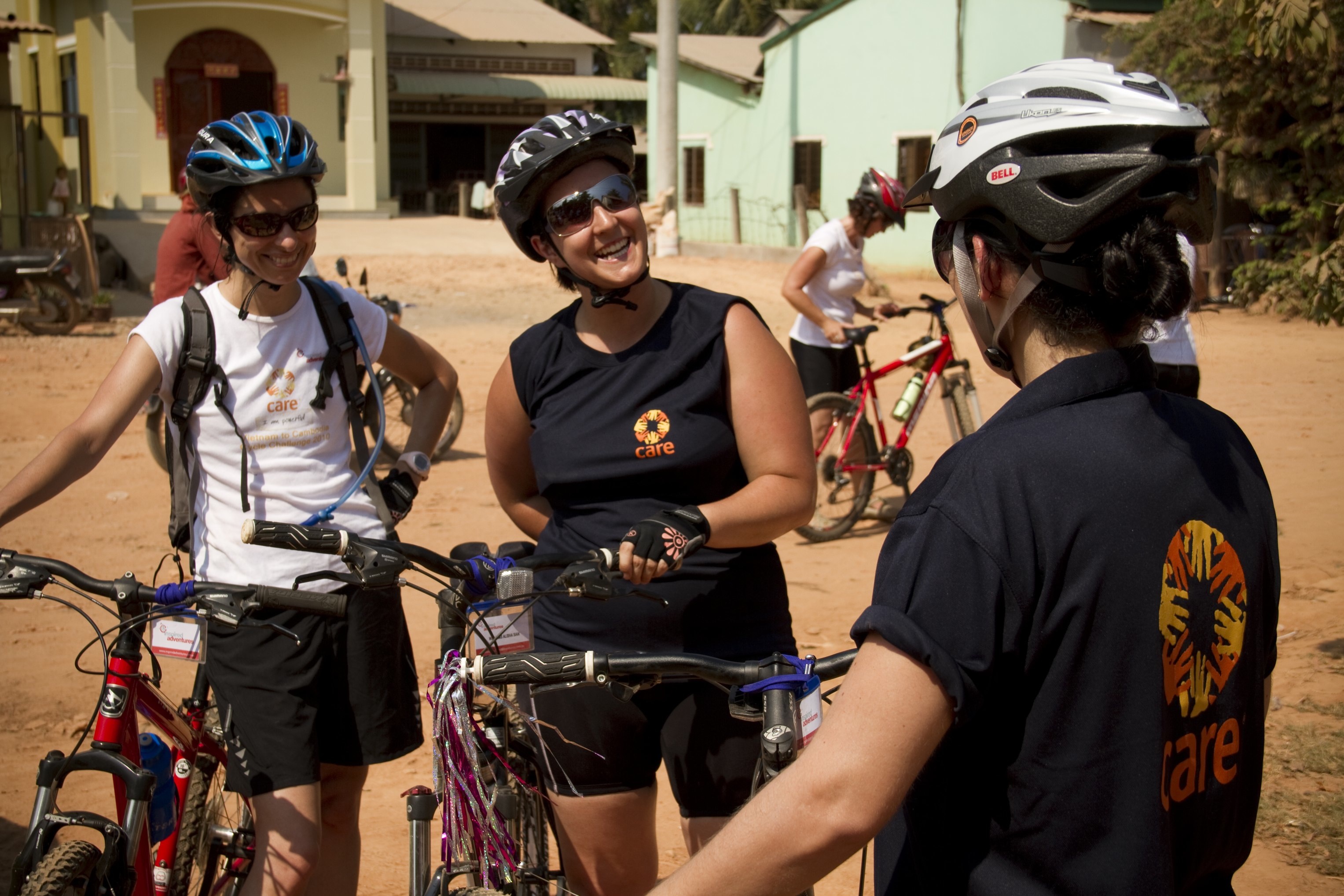 Our first visit for this morning was to Koko Kchok Commune. We had an overwhelming greeting from over 100 women from all the surrounding villages. We all walked in with tears streaming down our faces, it was such an incredible sight. We sat down and enjoyed a play performed by the students from the local school. The children depicted the problems faced by families in small communities and the need for a family to earn money to survive, which is often at the expense of children's education. A growing problem in Cambodia is the fact that young girls move to larger cities to earn money to support the family back in their village. Unfortunately, these young girls are often exploited.
From Kok Kchok commune we drove through the drought stricken rice fields to Kroal Village. A small village, but it is home to the biggest smiles you have ever seen. We learnt about the credit and loans program CARE is facilitating there – enabling the locals to buy livestock and fertilizer which helps in turn to generate a sustainable income for them and their families.
As a parting gift we all share boiled sweet potato dipped in palm sugar – YUM! After a quick pit stop at a pagoda to re-fuel our bellies, we carried on to Krous Village where we heard about the water irrigation system which has been installed. Cambodia only produces one rice harvest a year – the dry season is so extreme that farming can be almost impossible. However, with the installation of the new pump and correct irrigation channels, they will soon be able to produce three rice crops per year. This will enable enough food to be produced for the village, and enough to sell for an income. To see the sheer delight this has brought to the people of Krous Village is absolutely priceless.
For everyone there today – the exchange of cultures will never leave our hearts and minds – swapping information and stories, asking questions and the exchange of laughter was just so special.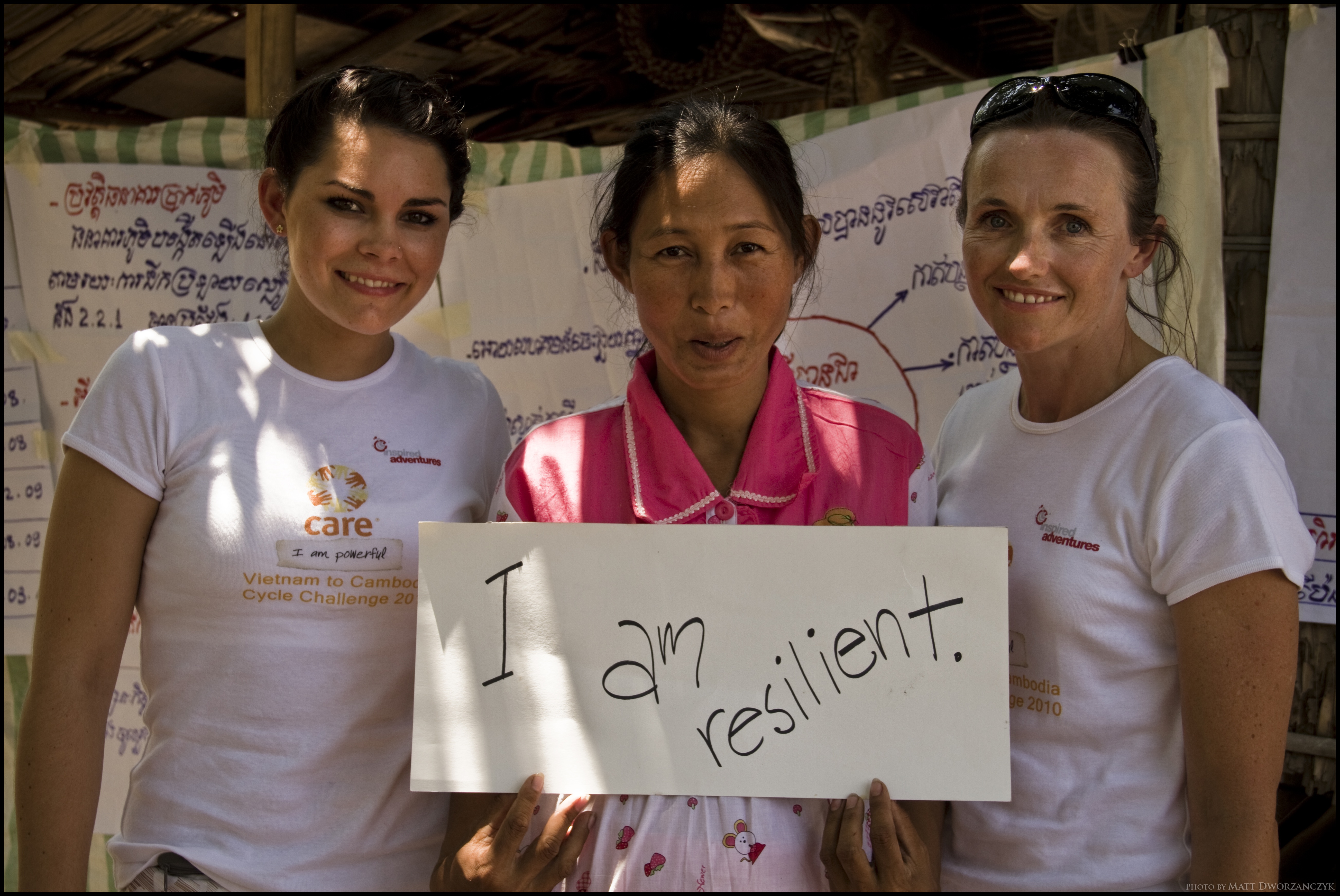 It just goes to show that all women around the world are the same. We think the same, we understand the same things, and at the end of the day – not speaking the language is not even a barrier.
Day eight: This morning was just beautiful, the temperature had dropped about 20 degrees overnight and the sky looked like there was chance of more rain to come, possibly thunderstorms. The route took us 24 kilometers out of Battambang town. We cycled through villages with plantations as far as the eye could see. Such a contrast from the day we travelled to Prey Veng – these villages had plenty of water, the cows were well feed and the chickens had most of their feathers! As we cycled people would stop what they were doing to look and stare…hellos were coming from both sides of the roads, along with huge smiles and frantic waving.
Our half-way point for today's cycle was Vo Banan, an 11th century temple completed by King Jarvarman VII, built on top of a 400 metre hill. The 350-odd steps to the top were felt by all as our quads had just had a good warm up from the ride. The views of course were worth every step. The region around Battambang produces large amounts of watermelon. So, our special treat for today, once we completed our 48km cycle – a watermelon party!! Siem Reap is our destination for tonight. Sadly, this is the last stop on our Cycle Challenge. We have been cycling for 7 days, with only 2 to go and it has been the experience of a lifetime.
Li Hai for now (goodbye for now!)
Watch a video of one of the participants in Cambodia.