Dr Julia Newton-Howes AM has been CEO of CARE Australia since 2007. During this time she has focused on ensuring that gender equality and women's empowerment as central to CARE's poverty-fighting programs.
CARE Australia's Walk in Her Shoes Challenge is CARE Australia's biggest fundraising event. In March, thousands of Australians take on the challenge of walking 25km, 50km or 100km over the course of one week to raise money for women and girls living in poverty. Visit www.walkinhershoes.org.au to find out more.
Who is CARE Australia?
CARE Australia is an international humanitarian aid organisation fighting global poverty, with a special focus on working with women and girls to bring lasting change to their communities.
Of course, none of this work would be possible without our supporters. Together, we are able to offer practical help to those facing disaster, poverty and injustice.
What do you believe are the driving factors for continued success, both from an organisational and personal perspective?
Passion and hard work, pursuing opportunities and putting a hand up to take on new challenges can play major roles in success. I believe in surrounding yourself with talented, clever and committed people: for an organisation like CARE, it is our staff that powers us and their energy and expertise is vital.
Also, I personally feel lucky to be able to work on issues I am deeply committed to. I am privileged to have had access to a fantastic education, job opportunities and wonderful colleagues. I am very conscious that many people don't get these opportunities.
In terms of leadership, what do you think are the key characteristics that make a strong leader?
There are many different leadership styles, but I think all good leaders are able to make their vision come alive for staff and all those with an interest in the organisation. CARE Australia has nearly 1000 staff, with 95% of our staff are nationals of the country they are based in. Working across different cultures and time zones adds to the excitement of my role. I know that it is important as a leader to have people who you can go to for support and advice. I have been very fortunate to have been supported by a wonderful range of people during my career. A strong leader will empower and inspire staff to reach their full potential.
What is CARE Australia's vision?
Our vision is a world free of poverty where everyone can live with dignity and security. Around 70 per cent of the world's poorest people are women and girls, because they face entrenched discrimination which limits their life choices. Supporting women and girls, ensuring their voices are heard in decision-making, ensuring girls go to school and stay there and women can access credit, these are the best ways to bring lasting change to poor communities. We won't overcome poverty unless we can also address the discrimination which shuts people out of the opportunities which could change their lives.
Why is a focus gender equality and women's empowerment important to helping communities to overcome poverty?
Whether you are born a boy or a girl, should not impact on your chances of being poor, but it does. To put in simple numbers: 70 per cent of the world's poorest people are women.  We know that each year of schooling can boost a girl's future earnings by 10–20% – and that the children of educated mothers are 40% more likely to live past their 5th birthday.
At CARE we focus on women and girls because we know that empowering women is the key to ending poverty. The stats tell the story: for every additional year a girl spends in school, she'll raise her family's income by 20 per cent. When women earn an income, they reinvest 90 per cent of that income into their family.
And this principle that is central to CARE's work; that if you help one woman lift herself out of poverty, she'll bring at least four others with her and usually, the whole community benefits.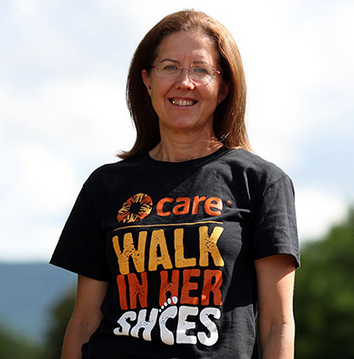 #WalkInHerShoes
I passionately believe that we can be the generation to end extreme poverty. That's why this year, I will be joining thousands of Australians, in taking part in CARE's annual Walk In Her Shoes Challenge. Last year we raised more than $1 million to provide clean water and nutritious food close to homes so women and girls can spend more time in school, earn an income and improve their families' lives.
From 16-22 March 2015, you can join thousands of Australians taking part in CARE Australia's Walk In Her Shoes Challenge. The money you raise by taking part will help fund CARE projects that help women, girls and entire communities overcome the devastating cycle of poverty.
To take the first step, simply register online today at Walkinhershoes.org.au.