"This is my third night sleeping on the streets. Right after the explosion, I came back from the hospital, and I, since I no longer had a home, took a plastic chair and I dozed off, sitting on the pavement. Tonight I'll be sleeping on the street too," said Siham, 67, who lives above the grocery store she runs. Her home and the store were blown away by the explosion.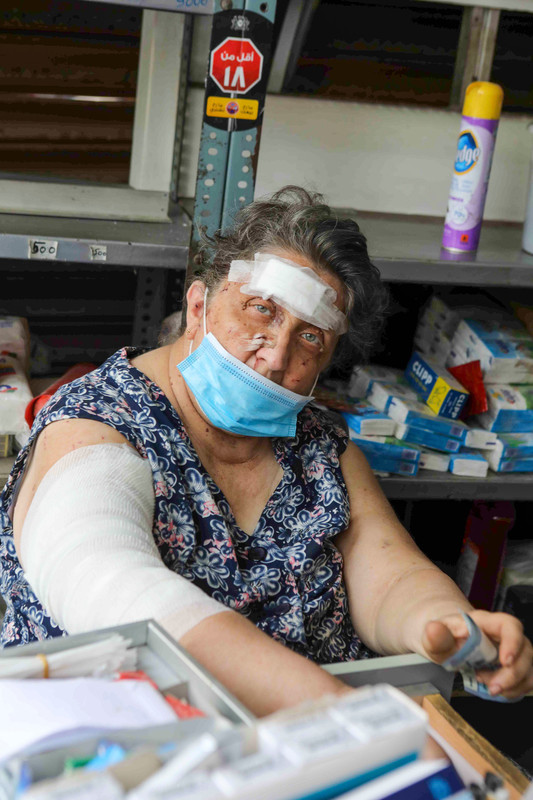 She has 15 stitches in her arm, five in her forehead, 10 in her stomach, and her body has been grazed by broken glass.
"I was home when the explosion occurred. To me, it's like life had stopped for five really long seconds, and then I saw blood, nothing but blood, all over my body. There was nothing left of the house.
Siham lives in Mar Mikhael, one of the oldest neighborhoods in Beirut, and very close to the port. The town is more than 100 years old, and is home to its old inhabitants like Siham, and to its newcomers, especially young people.
"I've lived here for 37 years and my husband was born in this neighbourhood. I lived through the Lebanon War, but I have never seen something of this magnitude. I have nothing left, no furniture, no clothes, no sheets, everything has been torn apart by the glass debris."
Siham is now dependent upon the kindness of others to help get
her grocery store up and running again.
"I want to rest, I'm tired and my heart hurts." 
Please help support survivors of the Beirut explosion by giving generously to CARE Australia's Beirut Explosion Response Appeal.