Khaled Mostafa is Advocacy and Communications Advisor for CARE International in Northern Syria
It is hard to believe things could get worse in Aleppo, Syria, but recent weeks in the eastern part of the city have seen unprecedented destruction. What's happening is brutal—nothing is normal in any sense of the word. At least 250,000 civilians in the ancient city are under siege, faced with continual bombardment and no place to flee.
Since July, an ongoing offensive led by Government of Syria forces and their Russian ally have besieged the city of Aleppo and attacked neighbourhoods. The ongoing siege has suspended life as roads have been sealed off and civilians caught inside. Schools haven't started yet as underground classes could be hit by bunker-busters at any time. Hospitals are running out of medical supplies, and there is a shortage of doctors. There is no electricity, no fuel for cars and no public transportation. People have few basic resources. Shops are almost empty of food, electronics, and in the rare case where there are goods, they are double the price. Mobile networks have collapsed. The only communication is through walkie-talkies, if you can find one. Following the bombing of the central water station, residents of Aleppo face an increased danger of outbreaks of disease as they are forced to use unclean groundwater.
I recently spoke with Hassan Alhalabi, a 29-year-old field manager responsible for ambulance services for Shafak, a Syrian humanitarian non-governmental organisation and CARE International partner in northern Syria. Hassan used a pseudonym for security reasons. During our call, which lasted about an hour using a social media app on an intermittently operational internet, I hear two explosions. Hassan tells me they were only a half kilometre away.
"Over the last month I couldn't sleep because of non-stop airstrikes," Hassan said. "If you feel like there's an earthquake, this is a bunker-busting bomb. If night lights up like day, this is a phosphorous bomb. If you hear multiple loud explosions, then it's a cluster bomb."
Hassan has worked in aid for almost four years and currently manages four ambulances in addition to some hospital administration work. Before the war, he said he knew nothing about rescuing bomb victims. He was a university student majoring in economics and working part-time at the Aleppo railway station. Now, he says he spends most of his time transporting the wounded from bomb sites to hospitals.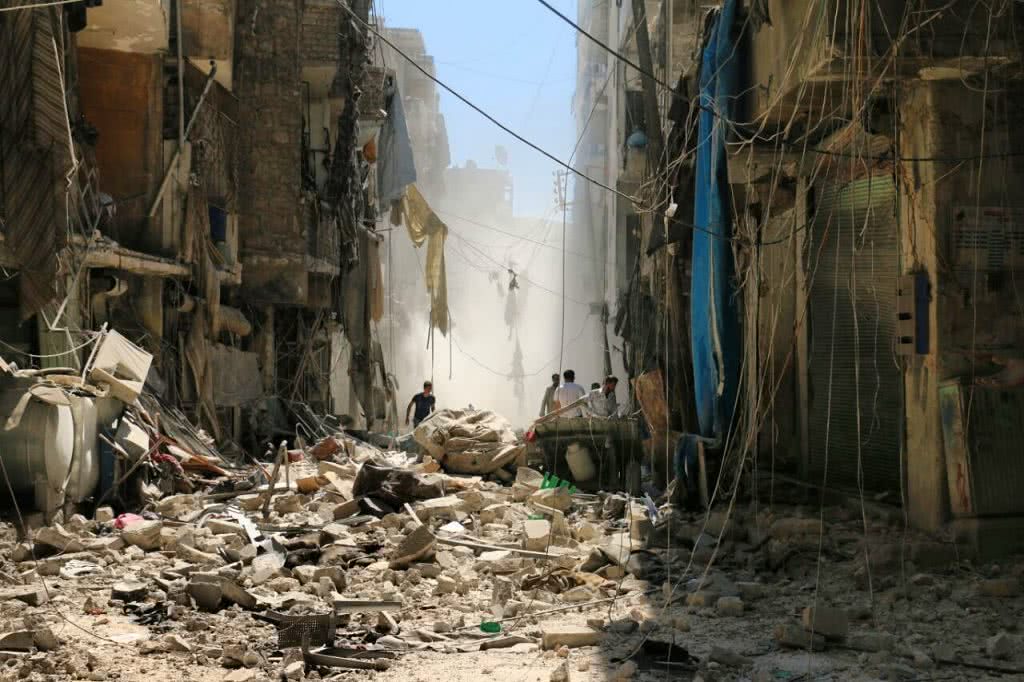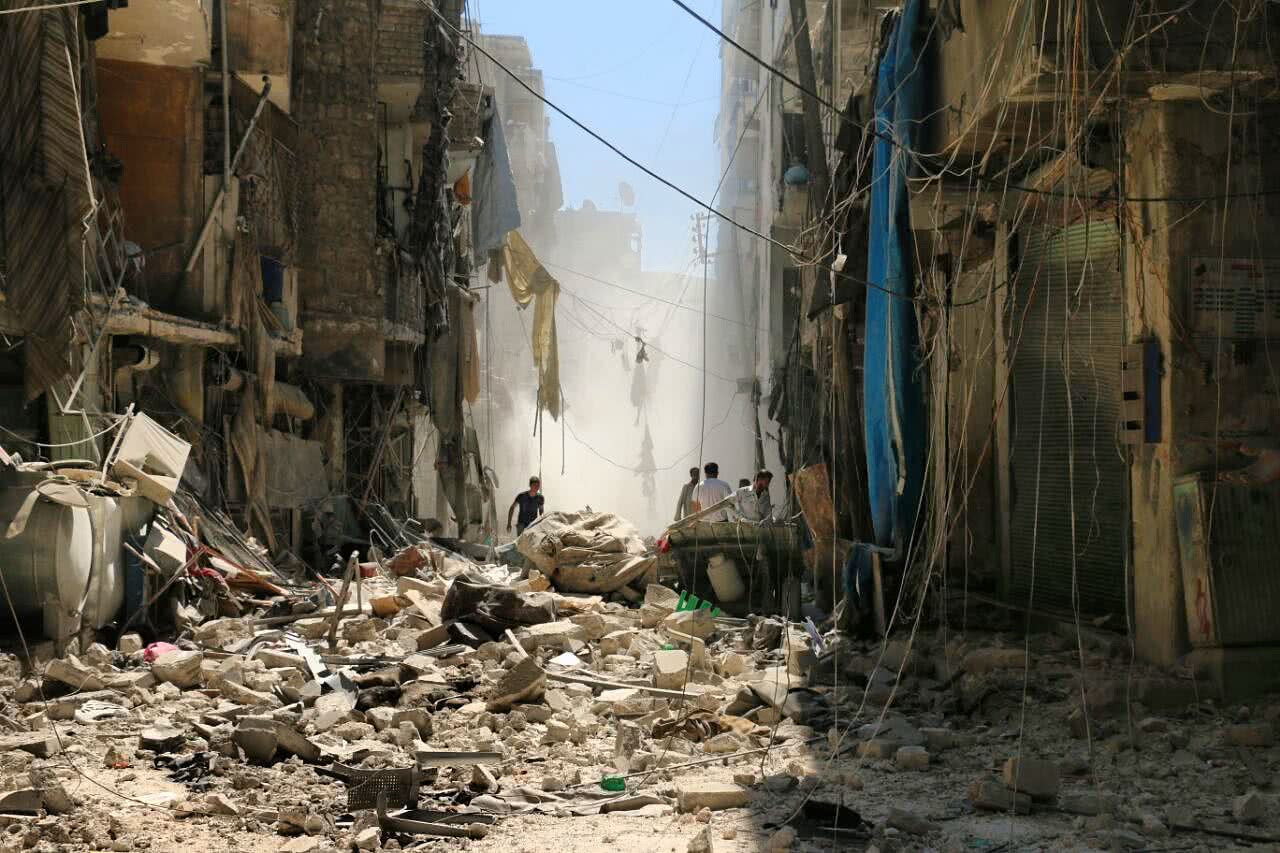 "After a rocket hits a building, I should be the first one to arrive," Hassan said passionately, describing his personal rule.
The heavy shelling makes rescuers and humanitarian jobs harder, exhausting and extremely dangerous—from the rubble blocking the roads to the countless hours spent pulling civilians from the rubble, all while jets fly overhead.
Warplanes do not differentiate between hospitals and infrastructure, and they target any moving element on the ground. "They don't allow us to help the victims. I was there when seven airstrikes targeted a hospital and the surrounding 50 metre radius," Hassan said, explaining the systematic targeting of medics. Some victims beg him to drive them home, not to hospitals. "Every time I survive through a miracle from God."
Physicians for Human Rights has documented 382 attacks on healthcare facilities and 757 personnel killed since the conflict began in 2011 until today. CARE with other international agencies continues to call for an end to all attacks on civilians, hospitals and schools, and for immediate unfettered humanitarian access to those in need.
Still, life gets worse with each passing day. Hassan and other humanitarians are struggling to help the needy. Recently, his ambulances were targeted six times during a week. Exploding shrapnel has hit the vehicle, damaging the car body and tyres. Not a window remains in any of the ambulances. "I can't find spare parts in Aleppo. Two ambulances are already broken-down," he said.
U.N. Special Envoy for Syria, Staffan de Mistura, told journalists earlier this month that at this rate, the city of eastern Aleppo could be totally destroyed in the next eight to 10 weeks. "Thousands of Syrian civilians, not terrorists, will be killed. And thousands and thousands of them may try to become refugees in order to escape from this," Mistura said.
Against these odds, Hassan refuses to give up. "I'm doing this for my country and my people, it's a cause I've devoted my life to," he said. "When I help someone who has patiently been waiting for me, and he prays for me, it means everything."
While millions have fled Syria, thousands of aid workers have remained, sacrificing their safety to rescue others left behind. "What makes me remain here is saving one child or a wounded person," he said.
"Everything has become obvious now to the U.N. and the world," Hassan said. "Have you seen the rockets that demolish a five-story building and penetrate to the basement, exploding, killing all residents? Does international law really accept that civilians are being killed and wounded, and medics are being assaulted for helping them, and no one can do anything? I want you to ask every free and righteous person to help save Aleppo even with only a word or a prayer."
 Read about our work supporting those affected by the Syrian crisis at care.org.au/syria
This article was originally published in TIME magazine on 28 October 2016.