A lesson in positive living
November 29, 2012
1 comment
Margaret laughs loudly as several pigs run underfoot.  It's feeding time for her menagerie of 10 pigs and five goats.
'Once upon a time I never dreamed I would have so much wealth,' says 47-year-old Margaret pointing to her animals. 'Sometimes I have to pinch myself to make sure all this isn't a dream.'
Several years ago Margaret was struggling to survive.  She and her husband had no money and barely enough food to feed her four children.  Each year their plot of land produced less food than the previous year.  As Margaret puts it, 'we were on the road to nowhere.'
Then her husband died from HIV.  'I thought things were bad, but when I lost my husband, my world started to fall apart,' she says. To add to her grief, Margaret soon found out she also had HIV.
It is estimated that 920,000 people in Malawi are HIV positive.  With one of the highest adult prevalence rates in the world, the epidemic has exacerbated social problems such as food insecurity and education and gender inequality.
At a local level HIV-related stigma and discrimination is widespread.  Stigma not only makes it more difficult for people trying to come to terms with HIV and manage their illness on a personal level, but it also interferes with attempts to fight the HIV epidemic as a whole.
'Early on my health was very bad, which meant I couldn't work on the farm. The children and I would go for days without food and out of desperation I started begging.  It was humiliating and depressing.'
During this time, Margaret faced discrimination from many people in her village. 'I felt pity for myself because everyone in the village was laughing at me and no one offered to help my family when I was sick,' she says.
In 2006 Margaret's luck changed.  The village elders selected her to take part in CARE's Supporting and Mitigating the Impact of HIV/AIDS for Livelihood Enhancement Program (SMIHLE), which worked to address the relationship between chronic food insecurity and HIV and AIDS.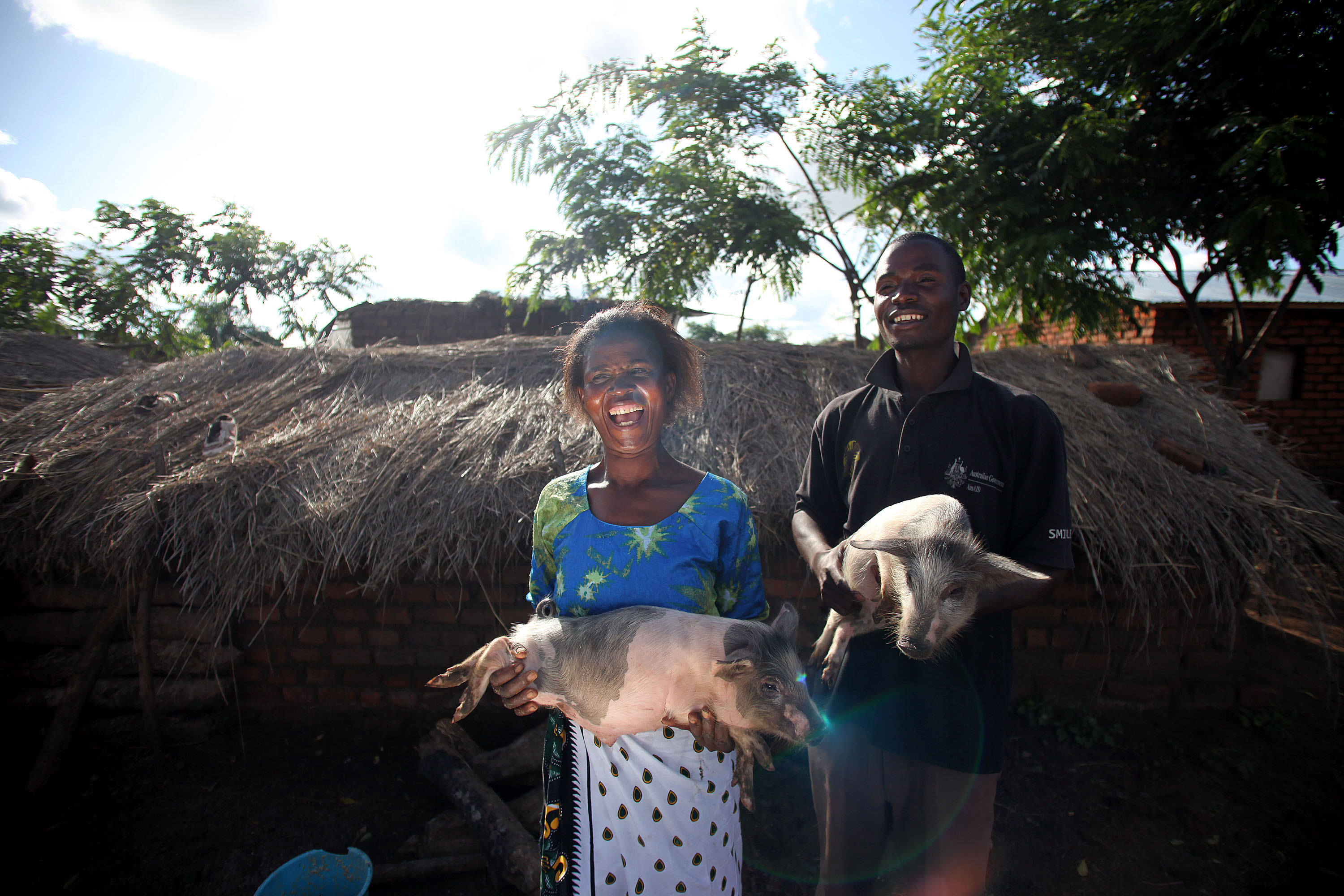 Through SMIHLE Margaret received counselling and training in positive living including nutrition advice and cooking skills.  She also joined a Village Savings and Loans group with other HIV-positive women from her village.  Within three months Margaret took a loan of 5000 kwacha, which she used to buy fertiliser for her crops and to start a small business mending and selling second hand clothes.
For Margaret, and many other women throughout Malawi, SMIHLE has given them the opportunity to change their own lives and find support within their community they never knew existed. 'We rely on each other and have become friends through the Village Savings and Loans group,' she says.
'I am proud of myself. I have learnt how to save money, and how to invest and spend wisely.  I have also learnt how to start my own businesses.'
'I now know what I should be eating to stay healthy, and what's more, I have the knowledge to grow it and the money to buy it. My family can eat nsima, okra, pumpkin leaves, beans leaves and even drink tea with milk,' beams Margaret.
Margaret's experience and knowledge will be in high demand as her village continues to benefit from self-run Village Saving and Loans and HIV support groups.
'I want to help others to live positively,' says Margaret.  'I have learnt so much that I want to share my experiences and newfound knowledge with people from this village and beyond, because I believe more people should have the opportunity to achieve what I have.'