Your tax time gift can help women facing extreme poverty.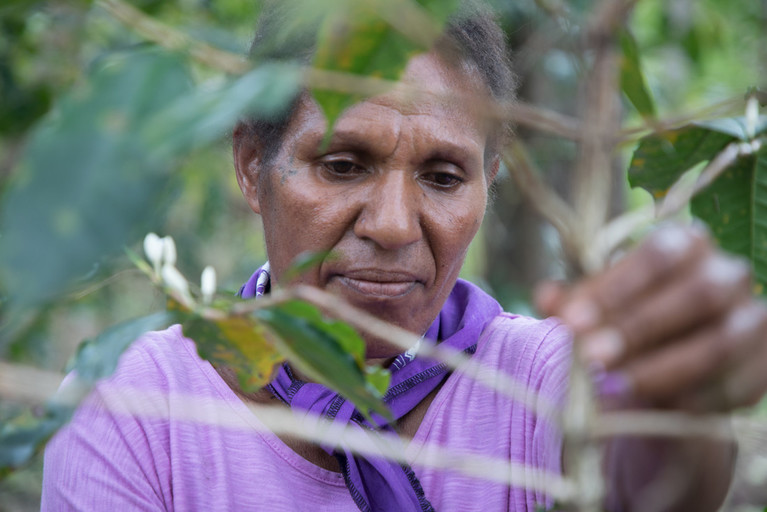 Your donation before 30 June can help provide women like Stella with crucial training, tools and support.
Stella's story
Stella lives in Papua New Guinea, where over a third of the population live below the poverty line and mothers face a daily challenge to provide for their children – a situation compounded by a recent and extremely alarming spike in COVID-19 cases.
When we spoke to Stella, she described her life before, with little-to-no money and constant worrying about the wellbeing of her children. She told us, "It was a painful period … I don't want my children to face the same problems I faced."
Stella's relief came in the form of a CARE project; Coffee Industry Support Project which improves the livelihoods of coffee farmers in Papua New Guinea by harnessing the power and potential of women like Stella. Local CARE staff deliver essential tools and support — encouraging women to play an active part in farming and farm management.
When we last spoke to Stella, she was incredibly proud to announce their sales of coffee at the market have nearly doubled. And with that pride comes tremendous relief that she and her husband are now able to better provide for their children with food, soap, medicine, repairs to the house and fees for school.
This is precisely what a crucial gift before 30 June can mean — more confident, empowered women working alongside their husbands to create a healthy, hopeful future for their children. Please donate today, your tax-deductible gift today will ensure this vital work can continue.
Donate by phone
Call 1800 020 046 toll free and pay by credit card.
Donations over $2 are tax deductible.
Donations over $2 are tax deductible. Your donation will go where it is needed most at this time. You are helping families living in poverty, many without access to healthcare and sanitation. Together we can help save lives and provide the most vulnerable with the critical assistance they so desperately need.