East Africa Hunger Crisis
East Africa Hunger Crisis
Millions at risk of starvation
Millions at risk of starvation
A series of severe droughts and conflicts have left more than 26 million people across East Africa at risk of hunger and in urgent need of help.
South Sudan is one of the most food insecure countries in the world, with over half of the country facing life-threatening hunger. The situation is expected to further deteriorate throughout 2018. Families are barely surviving by eating leaves and roots and children are suffering from excruciating hunger.
In Somalia, more than 380,000 children are acutely malnourished. When famine hit Somalia in 2011, nearly 260,000 people perished – half of them were children under five. We cannot let this happen again.
Kenya and Ethiopia are also affected by this region-wide hunger crisis.
Families desperately need your help to feed their children before it's too late. Please donate to our East Africa Hunger Appeal now.

Choose a payment method
Secure payments by

Disclaimer
CARE Australia will use your information to process your donation and to tell you about our work: see our privacy policy. We don't rent, sell or exchange your information without your permission.
"I worry all day about how I'm going to feed my children. If my husband gets work that day, we eat. If he doesn't, we don't eat. We didn't eat anything yesterday…
"My children cry for food, but I have nothing to give them. Sometimes I don't eat because I only have enough food to feed my children."
– Mother Deeqo has brought her youngest nine-month-old to a CARE Nutrition Centre in Somalia.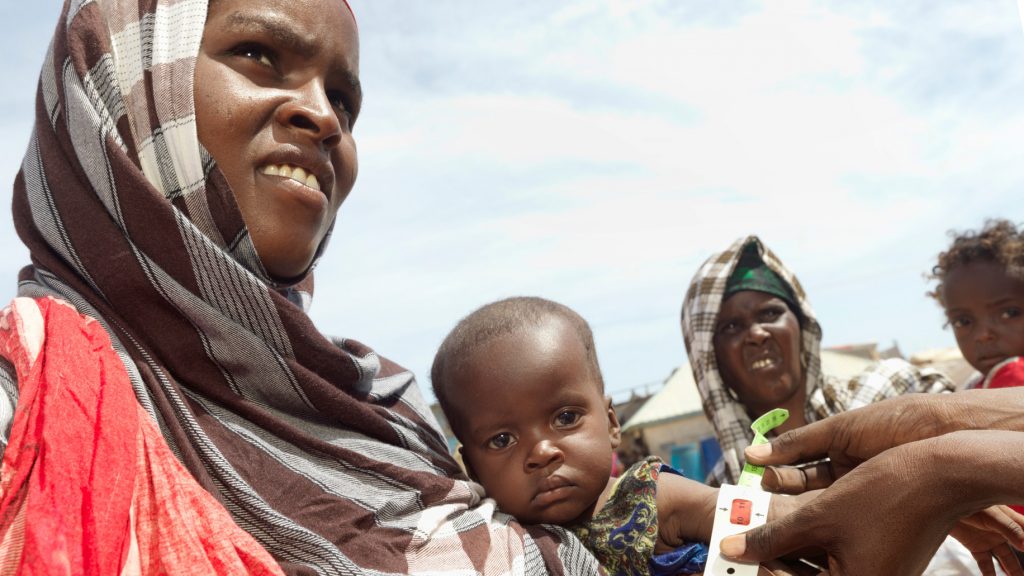 Women and girls are particularly at risk. When families resort to skipping meals and eating once a day, women and girls eat least and last. Women and girls are also responsible for collecting water, but as drought conditions worsen they have to walk up to 50 kilometres per day in search for water.
We need your help. Right now, CARE's teams are on the ground providing lifesaving support in some of the worst affected areas:
We are providing critical medicines and healthcare to children suffering from malnutrition, diarrhoea and cholera
We are providing food aid and cash vouchers to parents so they can feed their children
We are distributing seeds so families can replant devastated crops
We are making sure families have clean drinking water
We are already providing emergency help to 435,000 people in South Sudan, 160,000 people in Kenya, 1.6 million people in Somalia and over 1.5 million people in Ethiopia.
But we must do more to prevent famine.
Famine is declared when certain measures of mortality, malnutrition and hunger are met. These are:
at least 20% of households in an area face extreme food shortages with a limited ability to cope;
acute malnutrition rates exceed 30%;
and the death rate exceeds two persons per day per 10,000 persons.
Please donate to help hungry families in South Sudan, Somalia, Kenya and Ethiopia before it's too late.
Donate by phone or mail
Call 1800 020 046 toll free and pay by credit card. Download this form, print it out and mail it, including a cheque or credit card information CARE Australia Reply Paid 61843 Canberra ACT 2601 Donations over $2 are tax deductible. Should the funds raised through an emergency appeal exceed the amount required to meet the immediate and longer term needs of the people in the affected areas, or if there are changes in circumstances beyond CARE's control which limit its ability to utilise all funds in the affected areas, CARE will direct excess funds to other emergency relief activities in the future.