Cyclone Winston Emergency Appeal
Cyclone Winston Emergency Appeal
CARE and Live & Learn responding after disaster
CARE and Live & Learn responding after disaster
CARE and Live & Learn are helping families to recover from disaster
Cyclone Winston, the strongest storm ever recorded in the Southern Hemisphere, swept through Fiji on Saturday 20 February, devastating the Pacific nation. Altogether, 350,000 people were affected with 42 killed and 131 injured.
CARE Australia and local partner Live & Learn responded immediately, providing lifesaving aid to tens of thousands of those affected, thanks to the generosity of our supporters. Our teams continue to support children and families to recover from the disaster.
The partnership between CARE and Live & Learn is a great example of the importance of working with local partners, you can find a case study about this localised approach here.
Thank you to all our generous supporters who have donated to CARE's Cyclone Winston Emergency Appeal.
How we are using your donations on the ground
Through our emergency response and recovery projects, CARE and Live & Learn have reached more than 25,000 people across 231 villages and 19 schools. We have:
distributed emergency shelter kits, shelter repair toolkits and conducted safe building training to 2,500 families
distributed hygiene kits including soap, toothbrushes and toothpaste, water purification tablets and water containers to 4,196 families and 10 schools and provided training to ensure children and adults stay clean and healthy
rehabilitated or constructed clean water supply systems
constructed and repaired toilet facilities
distributed seed kits to 4,290 families and established plant nurseries so communities affected can start to grow crops again to eat and sell
rehabilitated or established eight community plant nurseries and conducted agricultural training in 231 villages
The generosity of our supporters continues to make an impact in Fiji and is helping families to rebuild and recover from the devastating cyclone.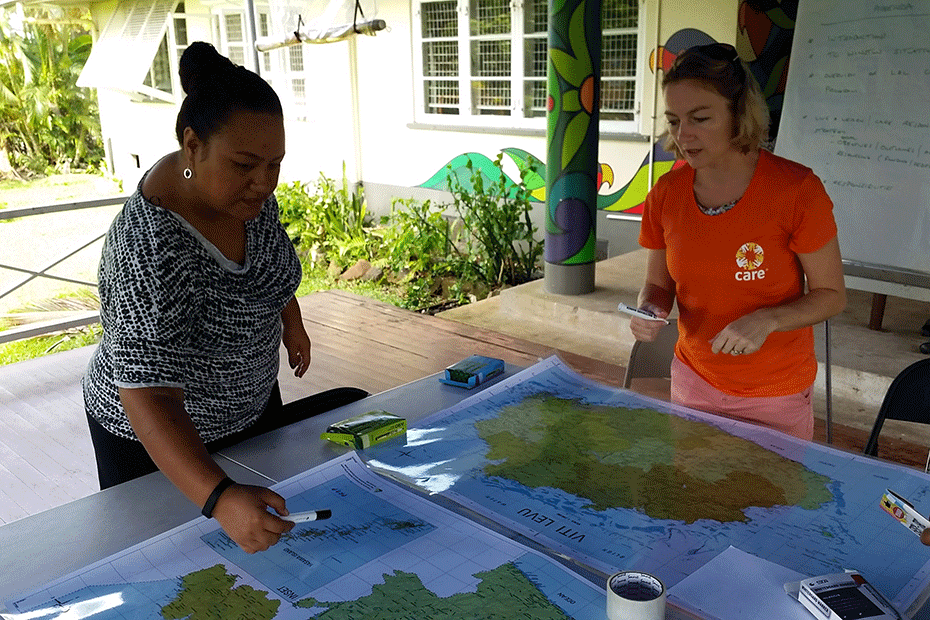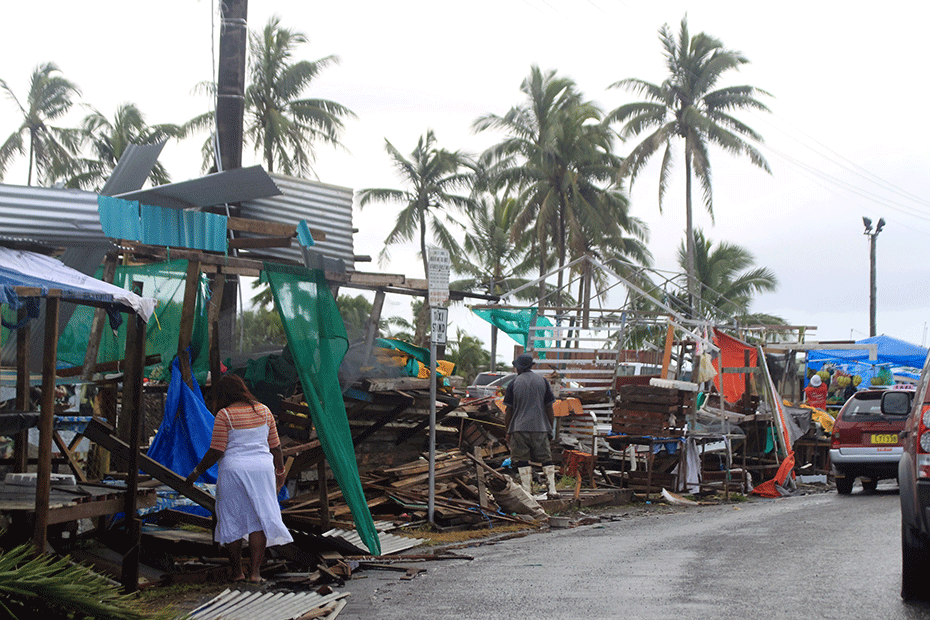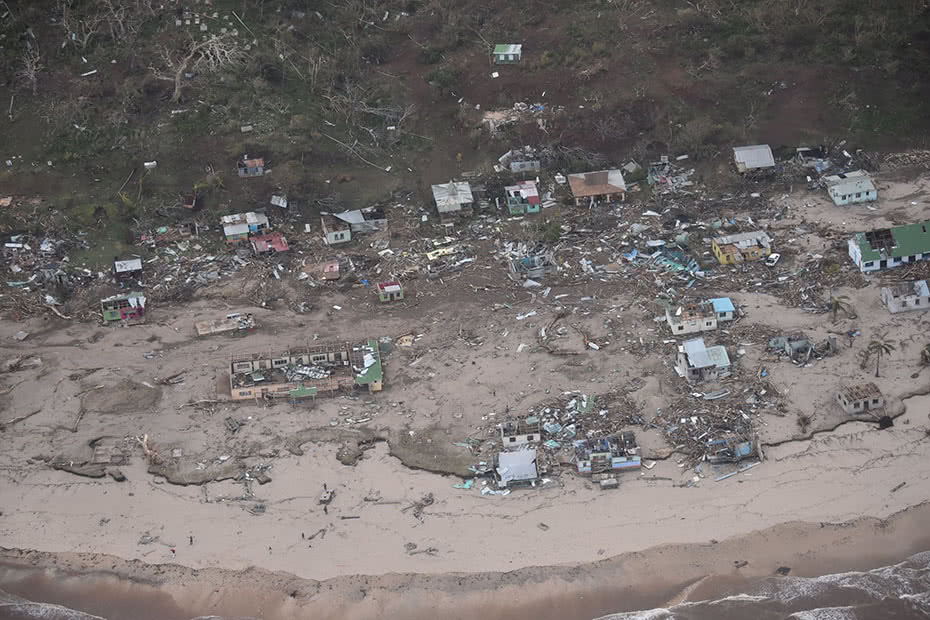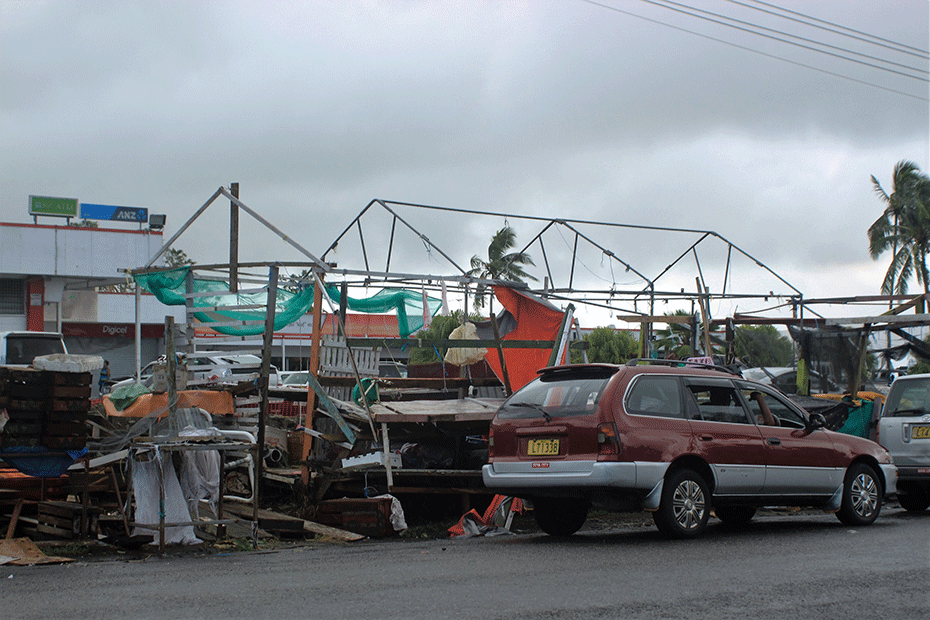 Middle image courtesy of Fijian Government.
There is still work to be done. Please donate to our Cyclone Winston Appeal
CARE's emergency response experts are working to ensure the most vulnerable, including children, women and girls, can recover from what they have been through and get back on their feet.
Mother of two, Madhu Lata, and her family survived the cyclone but their kitchen was blown away from their house and they lost many belongings. Water and food sources in their village were wiped out by the massive storm. CARE provided the family with shelter materials, hygiene kits and seeds.
"We are so thankful to CARE and Live & Learn. The purification tablets and soaps that were provided in the hygiene kit assisted us a lot. At least we did not have to worry about catching diarrhoea or other diseases. We are thankful for the provision of seeds including cucumbers, tomatoes, beans and eggplants. We are now harvesting for our daily food needs," said Madhu.
We need your help to support families and communities devastated by natural disaster. Please give generously to CARE's Cyclone Winston Appeal.

Choose a payment method
Secure payments by

Disclaimer
CARE Australia will use your information to process your donation and to tell you about our work: see our privacy policy. We don't rent, sell or exchange your information without your permission.
Donate by phone or mail
Call 1800 020 046 toll free and pay by credit card.
Download this form, print it out and mail it, including a cheque or credit card information
CARE Australia
Reply Paid 61843
Canberra ACT 2601
Donations over $2 are tax deductible.
Should the funds raised through an emergency appeal exceed the amount required to meet the immediate and longer term needs of the people in the affected areas, or if there are changes in circumstances beyond CARE's control which limit its ability to utilise all funds in the affected areas, CARE will direct excess funds to other emergency relief activities in the future.