Working Together to Rebuild Communities
Working Together to Rebuild Communities
Help women lead their communities to a safer future. Donate Now.
Help women lead their communities to a safer future. Donate Now.
There isn't time to lose for our Pacific neighbours. The Asia and Pacific regions are the most disaster prone in the world. And it's often women whose lives and wellbeing are most at risk.
Resilient women, families and communities in places like Vanuatu are currently rallying together to recover from recent disasters.
With your support, CARE Australia can continue working with local partners and community leaders to provide the crucial tools and resources needed to recover from crises.
Now more than ever, we must work together to support women to build their skills and help their communities be stronger and more prepared than before.
Susan's Story
Susan lost her beloved family home in April 2020 when Tropical Cyclone Harold tore through her village on Pentecost Island, Vanuatu. She remembers how it felt, having survived such a terrifying night, to realise how much her family had lost:
"Oh when I came out in the morning and I saw my house I felt terrible, I was devastated because my house fell down. My heart was too sad."
Seeing her community destroyed again and again motivated Susan to become a disaster representative for her community. She received training from local CARE staff in how to implement early warning systems for approaching disasters; assist families to prepare for crises; and support others to recover once the immediate danger has passed.
In the days following Cyclone Harold, Susan helped distribute essential items like Kitchen Kits and Tool Kits to help her neighbours recover and rebuild. Susan remembers the incredible community spirit:
"When [the Tool Kits] came, we shared them with individual families, they took them and went and rebuilt their kitchens and their houses. They were so happy."
The support you show today will mean more women like Susan can access the lifesaving tools they need to not only recover from crisis, but lead their communities out of hardship and poverty once and for all.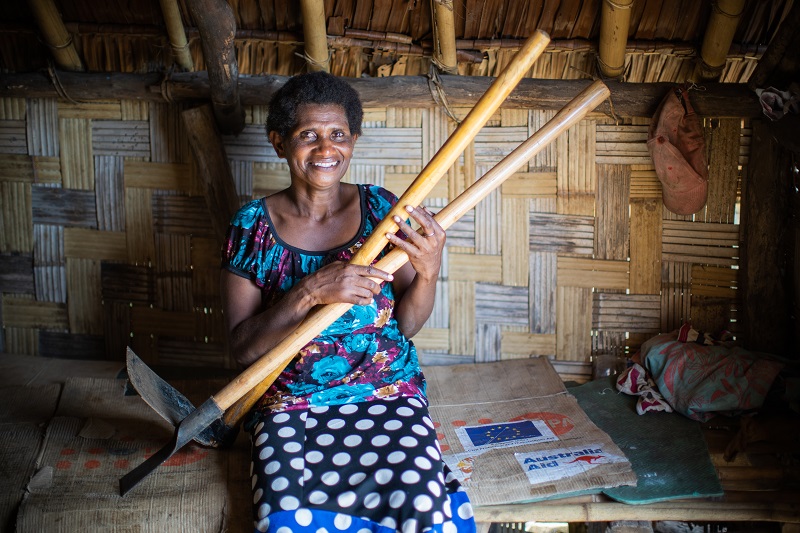 Donate by phone
Call 1800 020 046 toll free and pay by credit card.
Donations over $2 are tax deductible.
Your donation will go where it is needed most at this time. It will support women who are working hard to defeat poverty and build better lives for themselves and for their families and communities.